This post was written by Lauren Addis.  Lauren Addis is an event planner, designer and resides in Wayne PA.
Planning
The Fourth of July is a favorite week of the year. The family, food and fun that is packed into one summer holiday weekend is difficult to top.  Every year I grow nostalgic on summer holiday weekends, reminiscing over my childhood on the Long Island beaches.  So this year I am setting out to add another event to the roster and entertaining at home for friends over the weekend.
First, I compile a guest list, keeping it to family & friends with a target of 20 people. Knowing who will be at the gathering naturally shapes my decisions to follow. Invitations (via Paperless Post) will be simple and festive with a hint of fun.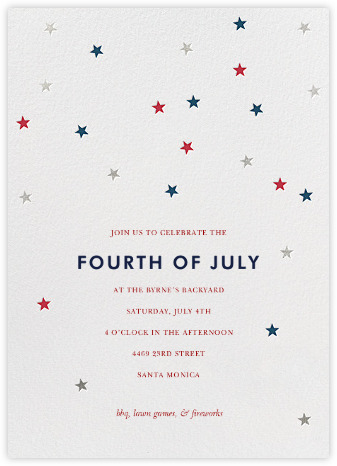 Design And Flow
I move to design next, simply because I enjoy the design details more than menu planning & cooking.  My design incorporates patriotic prints & patterns with a refined rustic touch.
Make a statement at the entry. An oversized opaque balloon custom filled with patriotic tinsel and ribbons will compliment my entry planters with ferns and flags.
Use linen tablecloths in chambray or denim and napkins cut with Pickering scissors in vintage red, white & blue prints.  For this event the idea came to me to create DIY splatter chambray napkins.  I decided that this would be the perfect project to complete with my daughter. The napkins turned out great and we had a wonderful time together.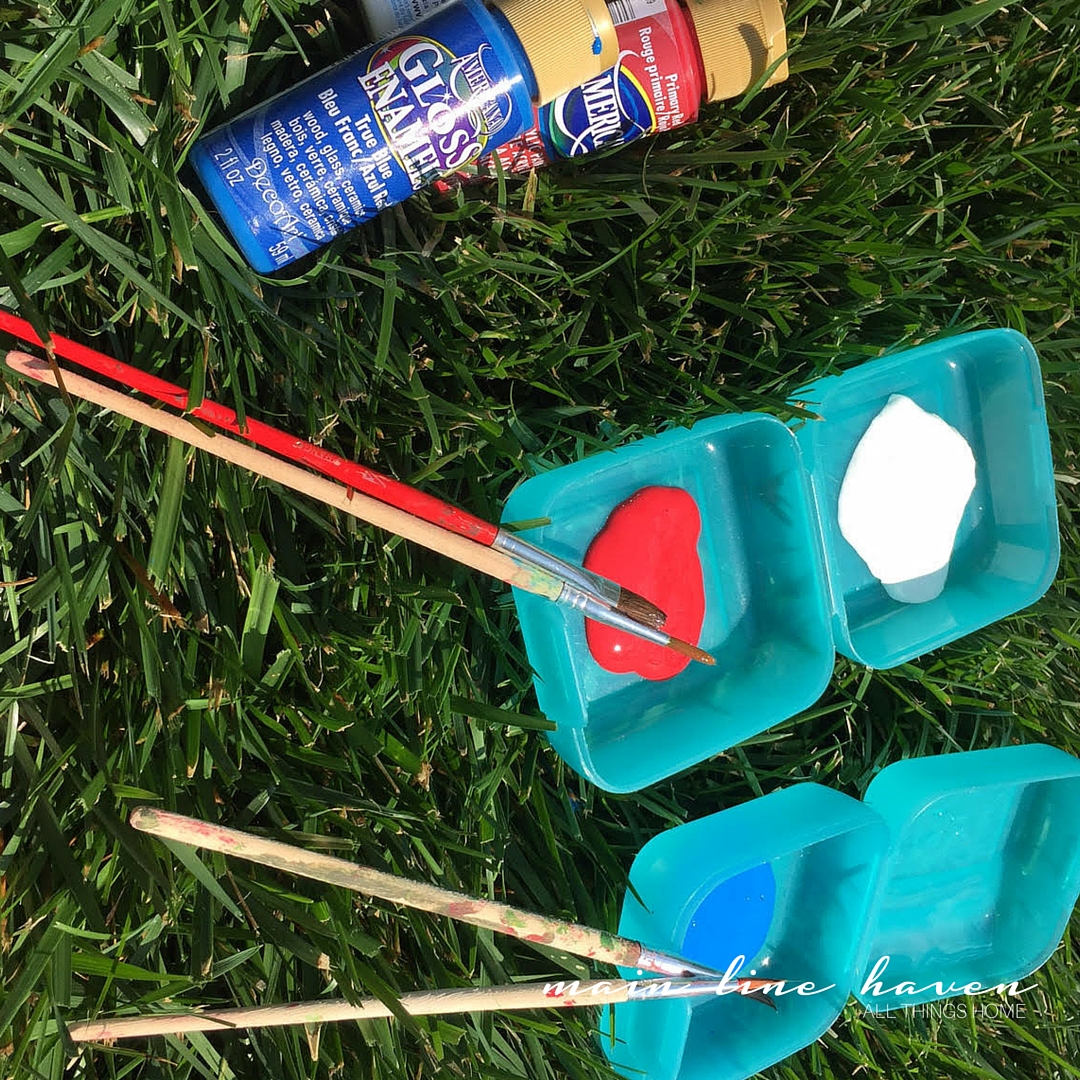 When it comes to plates and silverware, keep it casual with melamine for the adults and biodegradable kraft boats for the kiddos.  When entertaining outdoors for over ten guests, I typically go with paper napkins and birch cutlery (an elevated plastic with link and photo below).
There are many paper/plastic 'upgrades' and fun choices that are biodegradable and recyclable, which makes it so much easier on the host.
A self-service bar with beer served in bottles, mixed specialty drinks in a fun plastic glass, and wine in traditional glassware.  I use Riedel stemless wine glasses to help minimize breakage. Don't forget to place a trash can next to the bar & food station to minimize cleanup!
Floral Arrangements
For floral, I mix together simple containers in silver, wood and/or glass.  Adding seasonal white and green flowers with some textured greenery from the garden completes the look.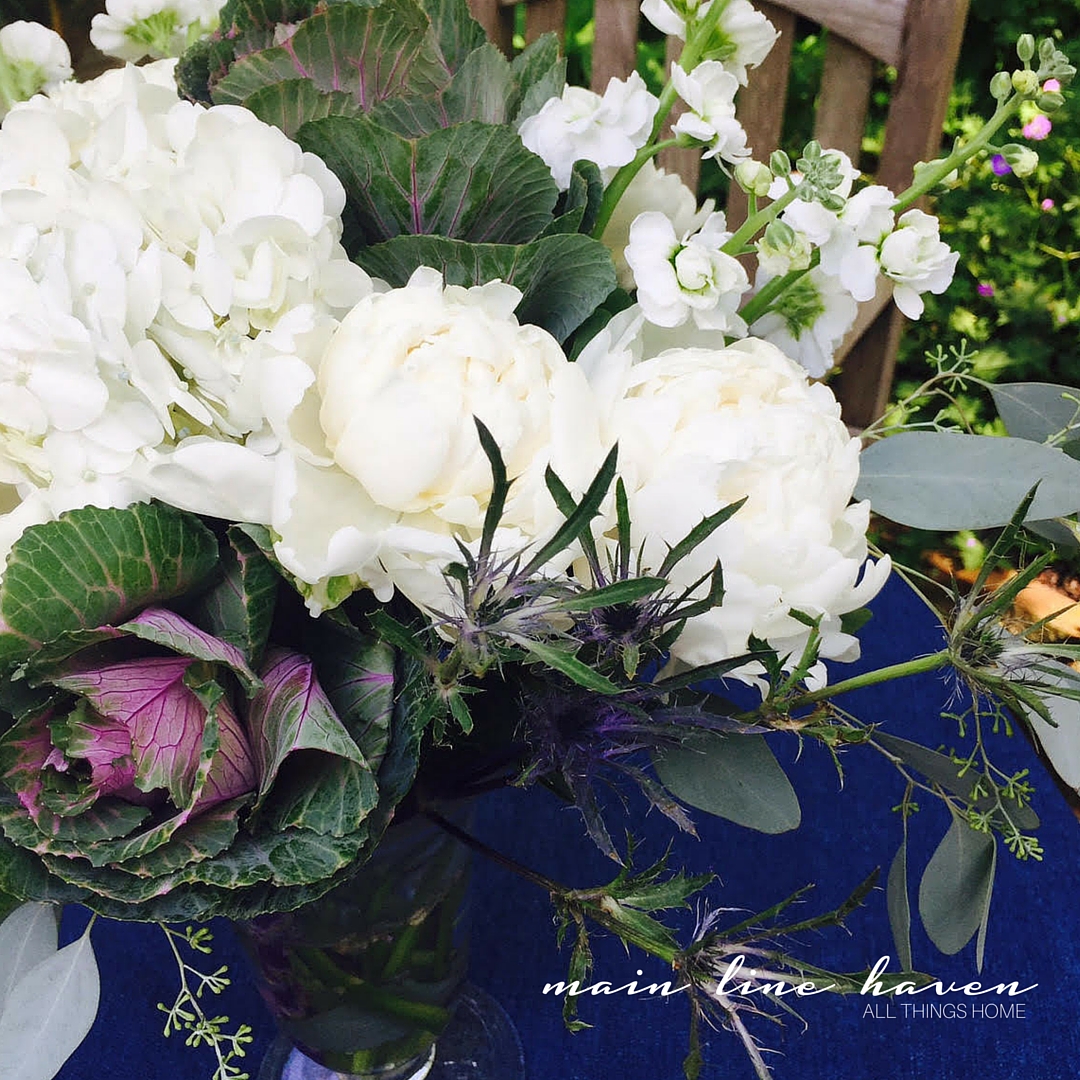 Crafting The Menu
The menu is written with simple & kid friendly food. It is then refined a bit with plating & presentation. Most of the items will be either prepped or fully made the day before. The day of the party the focus is on design and details!
Also, I either have guests bring dessert or order from a bakery to keep the mid-party switch from dinner to dessert stress-free. Add to-go bags on the dessert table in case guests need to leave early.Here is a sample menu:
Grilled Chicken with Blueberry-Lime Salsa (prepare salsa / marinate chicken day prior)
Potato Salad with tri-colored peppers, green onions and champagne mustard dressing
Arugula salad with strawberries, cucumber, goat cheese, sunflower seed mix & mircogreens
Grilled corn – served in bowl, cut off the cob (make day prior)
Grilled veggie platter – grill as skewers with Borsari salt sprinkled on top the day prior and serve on platter at room temperature
Dessert – Patriotic custom cookies from the Createrie!
Lemon Cupcakes with raspberry icing from Sweet Freedom(allergy free bakery).
Kids Corner
Placing out a few lawn games will be sure to keep the little ones and sometimes all the guests entertained.  Cornhole,  sparklers, hula hoops & ladder golf are some of our favorites!
Have Fun
Whether you consider yourself a professional party thrower or you are a little nervous about having a party at your home, the most important thing to remember is to have fun.  Once the party starts, it's all about enjoying yourself and making memories with friends and family.  I hope this post inspires you to have a gathering at your home soon because it's a wonderful way to connect with family and friends.
Wishing you and your family a wonderful 4th of July from Lauren Addis and your friends at Main Line Haven.
If you want to learn more about Lauren Addis, visit her website here.  Lauren is an event planner and designer and resides with her family in Wayne, PA.  When she's not with her family she is consulting with Urban Outfitters Inc. on art and development and working with private clients.  Lauren is a woman with many talents and I couldn't be more excited that she is going to be sharing more of her knowledge with us. Lauren is all about making memories with friends and family, highlighting amazing artwork and celebrating with champagne! Be sure to subscribe to the blog because Lauren will be coming back and sharing more with us soon.