I'm not only refreshing my home for spring…I'm also editing my closet, replacing items I no longer wear with more updated, versatile picks to stylishly (and comfortably!) carry me into summer. My job keeps me on my feet most of the day––with lots of client meetings and house tours sprinkled in––so I need classic, tailored pieces that wear well. My longtime friend and stylist extraordinaire Noelle Hagan of Noelle Et Toi is helping me streamline my wardrobe, and she has some great advice to share!
TODAY AT NOON I'll be chatting with Noelle on Instagram Live. I hope you can join me! (If not, you can access the chat here anytime.)
Keep reading for my top spring fashion finds (with links!), followed by a Q&A with Noelle and a clothing source list from today's chat.
• Chambray Shirt – A J.Crew classic. Size up!
• Coin Pendant – From local jewelry designer Jane Win.
• Sunglasses
• Bag – I tend to switch up my tote bag each season. This one is a gorgeous, creamy off-white.
• Black Flats – Slip on and go!
• Spring Dress – This just arrived and the color is even more beautiful in person.
• Striped Knit Sweater – Perfect transitional piece.
• White Sneakers – A Tory Burch fav!
• Cashmere Travel Coat – Instantly elevates any outfit.
**Q&A with Stylist Noelle Hagan**
Can you tell us about your fashion background?
It all started with Carolyn Bessette-Kennedy. I admired her classically cool NYC girl look and learned that she was a fashion publicist. After graduating, I moved to NYC and started working at a fashion PR firm. My job was to build relationships with top fashion publications and publicists to secure press for clients like Rock & Republic and Eberjey. I was also VIP Wardrobe, which meant that I was responsible for dressing celebrities. I worked with top stylists, costume designers on television shows and movie sets, celebrity publicists and agents. I spent a lot of time traveling back and forth between LA and NYC, especially during awards season. It was definitely a really exciting career and time in my life.
What are some staples we should all have in our closet?
• Striped sweater
• High-quality, tailored navy blazer
• White button down
• Flattering pair of jeans
• White sneakers
• Ballet flat
• Perfect white t-shirt
• LBD
• Accessories: Gold earrings (hoops), structured tote and sunglasses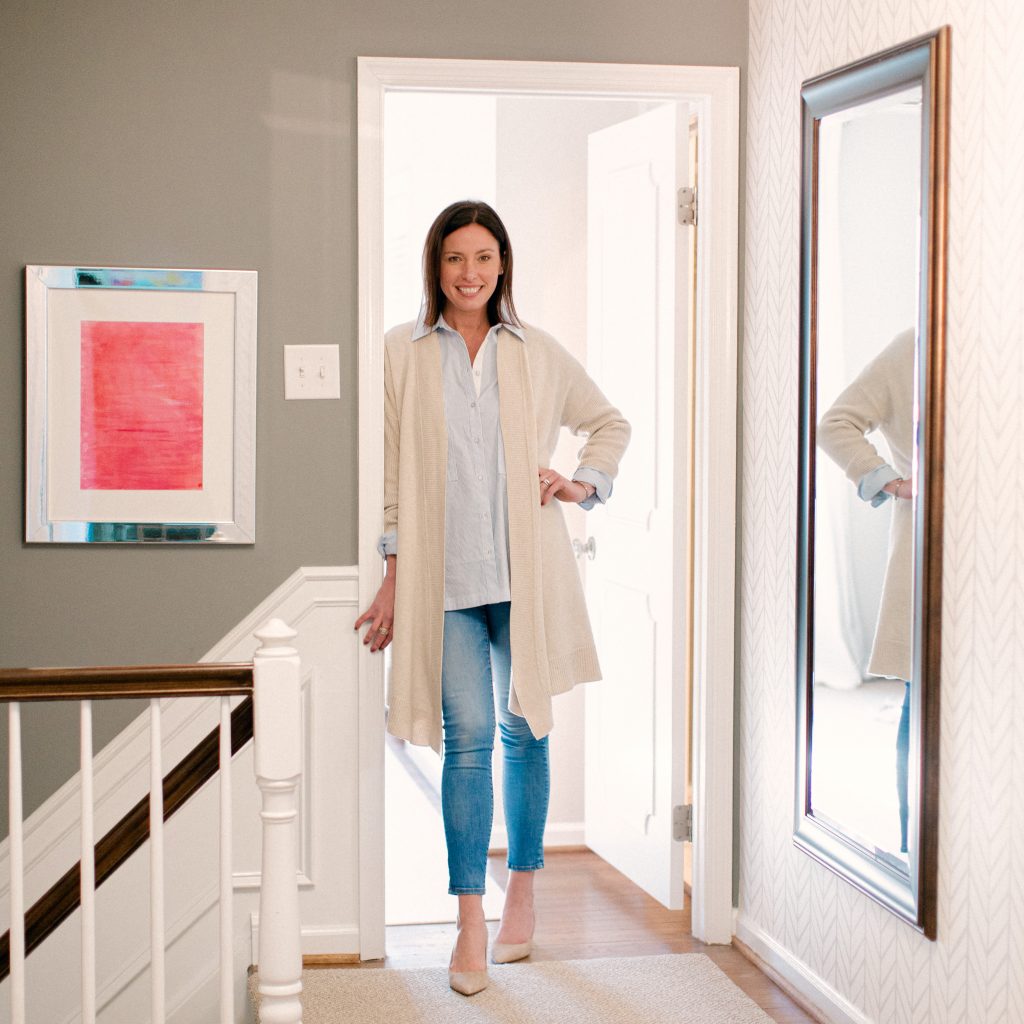 What's the best way to edit your wardrobe?
Get rid of anything you don't wear or love. The process of getting dressed is much easier if you have an edited closet. I just read that we should set aside 15 minutes every month and just purge. Make three piles (donate, sell and toss) and get to work!
What are your top splurge-worthy items?
A pair of well-fitting jeans, a great bag and a classic shoe.
What are your favorite places to purchase designer pieces on consignment?
Locally I like Rachelle's in Bryn Mawr and Revivals in Narberth.
What are your top three shopping tips?
1. Shop lots of different stores and price points…everywhere from Neiman Marcus to Net-a-Porter to TJ Maxx. That's how you develop a unique and interesting style.
2. Don't buy anything that doesn't fit well, unless you have a great seamstress.
3. Try not to make impulse purchases when buying big ticket pieces.
**My Clothing Rack on Instagram Live: Retailer Source List**
Here are the clothing items referenced in my Instagram Live chat with Noelle:
• Black & White Tops by Hill House Home
• Pale Blue Top purchased locally at Gingy's
• White Scoop Neck tee by Banana Republic
• Chambray Shirt by J.Crew
• Gray V-Neck by J.Crew
• Striped Knit Sweater by Mango
• Cardigan by Burgess Sweaters
• Navy Open Front Tweed Jacket by IRO (purchased locally at Skirt)
• Navy Blazer by J.Crew
• Bold Blouses by Ann Taylor
• Flare Denim by Good American
• Straight Leg Denim by Paige
• White Blazer by Cinq A Sept (purchased locally at Skirt)
• Knit Skirt & Sweater by 525 America
• Floral Print Dress by Draper James
Feel free to message me with any questions! Special thanks to Noelle for her fashion-forward advice and expertise.