The traditional floor plan is evolving.  Long gone are the rules of the past that say floor plans must follow certain criteria.  The fact that a room is labeled as a dining room or a living room, doesn't mean that's the only possible use for the space.  Our team is seeing more and more examples everyday where homeowners are realizing that they can use the space within their homes in new and exciting ways and in ways that match their creative style and functionality needs.
I believe that we don't always need more space, we just need to use our space better.  If a space isn't serving your needs, it's ok to re-imagine its use.  As someone that tours many, many homes, and someone who might spend a little too much time browsing Pinterest and Interior Design Magazines, I can tell you that I'm seeing more creative uses of spaces and I think it's exciting.
As one example of a non-traditional lay-out, one of my neighbors (who I featured in our first home tour), turned  her living room (pictured above) into a large dining room that can accommodate family meals for their large extended family.  She also turned the space that was originally the dining room into a home office.
The same owners also took a small bedroom that was positioned next to their master bedroom and turned it into the most fabulous walk in closet.  That then allowed them to use the space from what was the original walk in closet and bathroom and make one large master bathroom spa.  You would never see a master suite like theirs in a home of their age and size.  But with their willingness to renovate and use their space in a creative way, they created the master suite they always wanted.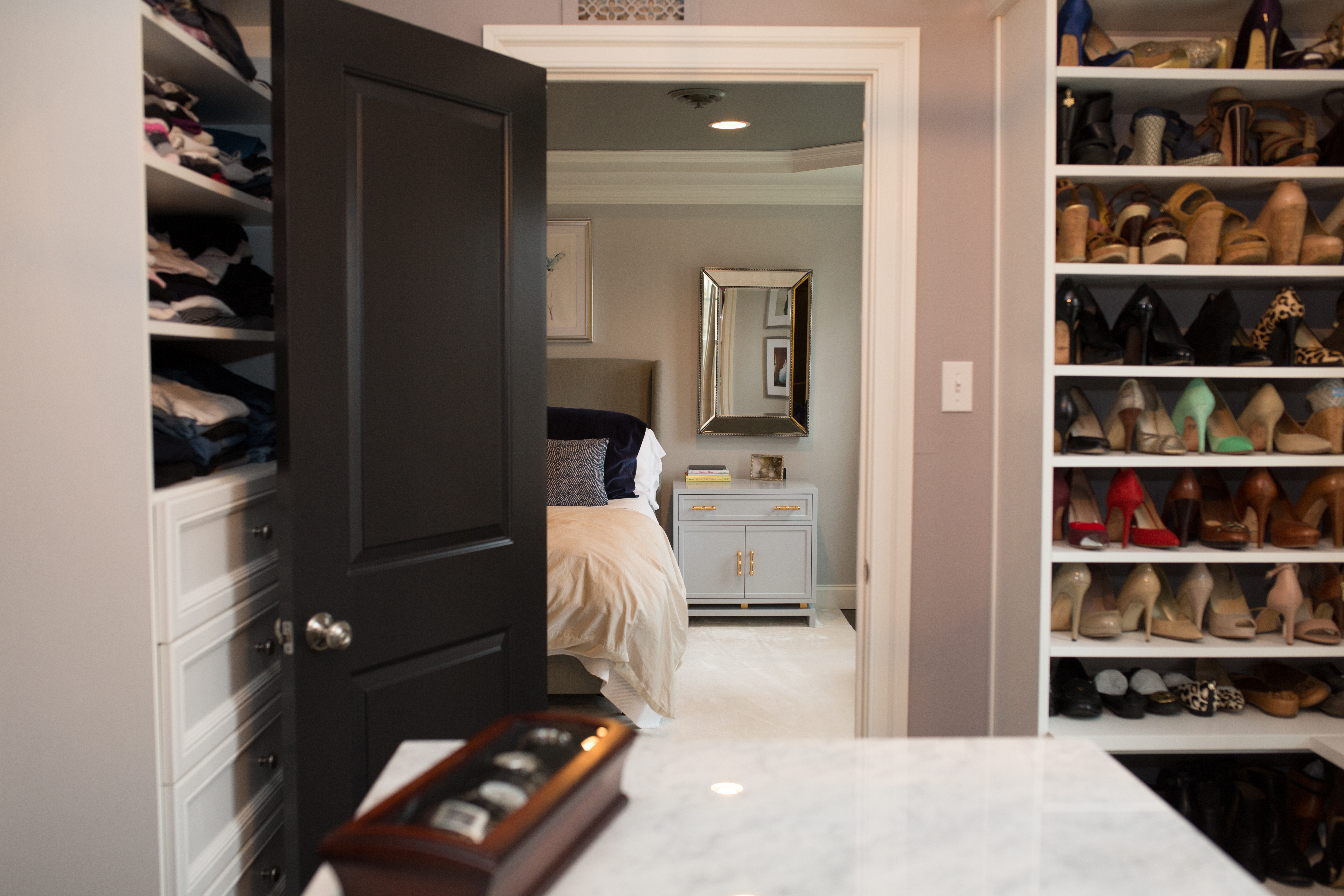 Above is the walk in closet that was created by opening up the wall seen here to connect to a smaller unused bedroom in their home.
Do you like the idea of this but are afraid of getting rid of a bedroom, consider just making a separate dressing room, like the one below.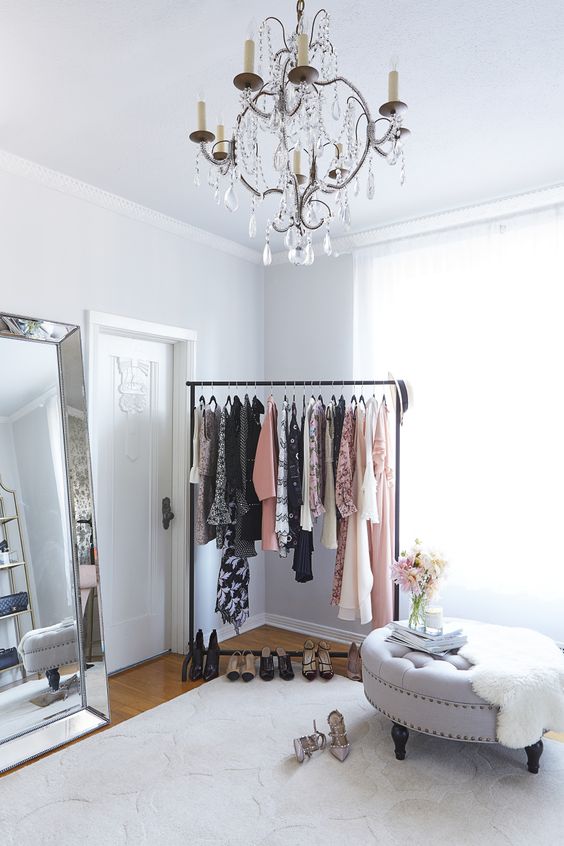 Want to see more of your children?  Take an used space and turn it into a game room.
There isn't a one size fits all anymore when it comes to how we use our homes.  Thinking outside the box is one way that we can make our homes work best for us. People often think they want a larger home to accommodate their needs. Instead of a larger home, it's possible you just need to give yourself permission to transform your space into a configuration that properly suits what you require and want in a home.
We've been seeing more and more people who are opening up the wall between a kitchen and a dining room.  Having completed this project in our last home, I can tell you that it made our smaller home feel so much larger.  It's also something that extremely desired for resale, especially if it is done in a smaller home.
Maybe you want a large eat-in kitchen but are afraid to get rid of the dining room?  Our current home has an eat in kitchen and a separate dining room, but if we combined the two spaces we could have one amazing eat in kitchen space. After debating it for months and probably overthinking it with my realtor hat on, my husband and I decided that we are going to open up the kitchen to the dining room and create one fabulous eat-in kitchen when we renovate.
This was a hard decision for me because I'm someone who loves to entertain and I like the idea of a formal dining room.  My dining room also happens to be my  favorite room in my house, due to the large picture window and a wallpaper that I love.  The thought of getting rid of this room, even if it would allow us to have a fabulous eat in kitchen complete with a large island was definitely giving me a reason to pause. However, if I'm being honest with myself, I can count the number of times that we have sat in our dining room (three times)  on my one hand in the  past 12 months. This realization makes me see  that I'm not even enjoying this room very often.  It's my perception of the situation that needs to change.  I'm not really losing a dining room but actually gaining a more functional room that I can really enjoy every day.
I think that there will always be people who believe you need to have a room function a certain way for resale and perhaps there may be some truth to that.  That being said, I think buyers are more open to creative layouts that fit their needs.  When older homes in our area were built, it was desired to have the kitchen separate.  This is certainly not the trend today.  In fact, most homes being designed today focus around the kitchen functioning as the center of the home.  If you're living in an older home but you want more of an open floor plan, you might have some hard choices in regards to the best way to go about it.
Here are some other fun creative uses of spaces I've been seeing around.
If you have space in your kitchen for a small table, but either never sit at the table or don't even have a table, consider turning that space into a desk area or command center.
Not using your living room but feel like you have kid stuff everywhere?  Why not just embrace this time in your life and make a wonderful first floor play room.  This might just become the most used room in your house.  Play date anyone?
My husband Patrick Duddy, owner of a residential construction company in our area thinks this trend is really just getting started, but agrees that we will be seeing more and more of overtime.  He's been meeting with homeowners who not only want to renovate spaces, but also want to change how their rooms are functioning.   He recently met with clients along the Main Line who plan to make one large kitchen by combining the kitchen and dining room space.  They plan to make a smaller dining area and small seating area in what was the formal living room.  He says that he thinks it will be a nice cozy space as the room has a fireplace and will be still located off the kitchen.  Being that they still have a family room off the opposite side of the kitchen, he believes this new design will have more features that people seem to want in their homes today.
Thinking outside the box and knowing that floor plans can be flexible helps my buyer clients identify homes that may actually fit their needs.  In this competitive area, it helps to work with an Agent with vision.  As a recent client said, "Haven not only sees a home for what it is but for what it can be.  She has wonderful vision which she can clearly articulate so that we too can see the vision for what can be".
I hope that I've given you some ideas for how to get the most out of your space within your home. Our team is here to help you find creative ways to make your home work for your needs or we can help you find a new home that meets your needs.
If you like our posts, please share with your friends!