There were 17 single family homes that sold in Radnor Township in February 2017.  The final selling prices of these single family homes ranged from $106,000 to $2,000,000.  This month we saw a slight increase in inventory of homes for sale over January, which you can see on our Radnor Township monthly market data sheet.
Worth noting is that nine out of the 17 homes that sold in February in Radnor Township were priced under $350,000 and four of the properties that sold were under $200,000.  These lower sales probably explain the sharp dive in the average sale prices.
Properties like The Radnor House at 1030 Lancaster Avenue in Bryn Mawr, PA show that there are affordable options for all price ranges in Radnor Township.  This specific building has a gym, pool, large lobby and is within walking distance to the R5 train.
Below is the list of all 17 homes that sold within Radnor Township in February 2017 from least expensive to most expensive.  All of these properties were listed and sold by various real estate companies along the Main Line.
The spring market has certainly started and the market seems to be buzzing with buyers.  In some price ranges, there is low inventory.  If you're looking to purchase a property, you'll want be pre-qualified with a lender and working with a team, like us,  that can alert you to good properties when they hit the market.  You'll also want to  be prepared to make an offer quickly due to the fact that well-priced properties in desirable neighborhoods tend to sell fast.
Our team has a home coming on the market in Wayne mid April, which we working hard to get ready for the market with new paint, fixtures, etc. The house is a 4 bedroom 2.5 bathroom split level located in Wayne on a quiet cul-de-sac.  The house will be listed in the $500K's.  If you would like more information when the house will be coming on the market, reach out to our team.
If you're thinking about selling your home, you may want to put your home on the market sooner than later due to the shortage of available inventory and the fact that the market is busy with buyers.  We have been seeing more and more homes hit the market every day, which is great for buyers but also makes the market more competitive among sellers.  For some price ranges we are seeing multiple offers but in the same sense, buyers are wanting to make sure that they are paying a fair price and getting a good value.  Buyers are anxious to purchase but are also reluctant to over pay for properties.
Buyers today are part of the HGTV era.  They want a home in good condition, that looks picture perfect and is priced just right. Bottom line, they want it all, and who can blame them? If you are looking to sell your home for top dollar in today's market, you need to work with a Realtor and team, like us, who will position your property to be the best in it's class.  How do we do this?  Well, our team offers a complimentary prelisting home inspection, a complimentary home appraisal, 4 hours of professional staging, access to construction resources for estimates and repairs and professional marketing.  We provide all of this to our clients because it is what is required for a successful home sale in today's market.
Radnor continues to be one of the most sought after townships in suburban Philadelphia. If you're looking to buy or sell a home within Radnor, our team is ready to help.  You can learn more about our teamhere.
Want more detailed information specific to your home and neighborhood?  Sign up for our free Market Snapshot, which is a real time market snapshot of your home and neighborhood.  You can choose to receive this report by email monthly or bi-weekly, which you can preview below.  Regardless of whether you're looking to sell, it's always a good idea to stay on top of real estate values in your neighborhood.  If you're interested in getting a more detailed property evaluation, our team is happy to come to your home and provide a a more detailed CMA.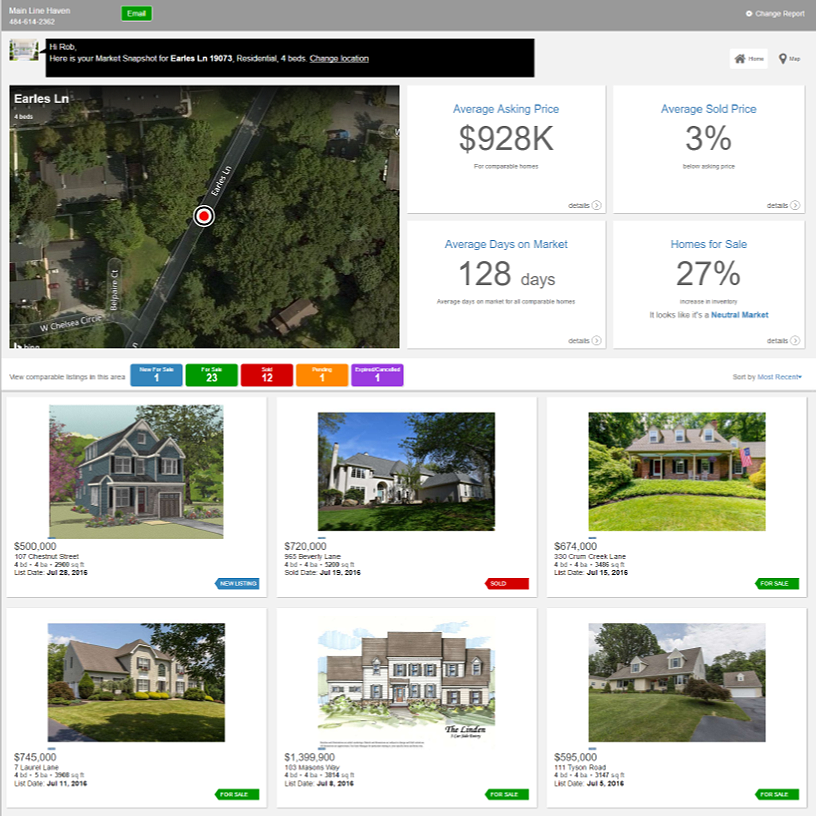 This information included in this post was pulled from the Trend, the Multiple Listing Service in our area and information that we received from Suburban West Realtors Association.  All information, regardless of source, should be verified by personal inspection by and/or with the appropriate professional(s).  The information is solely for the purpose of marketing, may not be exact, and should not be relied upon for loan, valuation or other purposes.