Patty and Kevin Hicks and their three children moved to Wayne 12 years ago and bought a beautiful Victorian home in downtown Wayne. Patty recalls the market in 2005 being quite competitive.  With houses going under contract quickly with multiple offers, the Hicks knew that they needed to move quickly to secure the purchase.  The house was being renovated by a builder and they were excited to be able to pick the finishes throughout the home.  Kevin also works in Wayne so the family so being close to downtown was a big plus for this home.
When I first met Patty at her home, it wasn't the first time that I had been into her house. During high school I was friends with the son of a previous owner.  In fact, there were about five kids who I went to school with who all lived right next to each other on this street.  I remember all the kids being friends and the families all being close.  I recall thinking that it seemed like such a great place to live.  Although some of those families have since moved, it's obvious that the neighborhood still has that close-knit feel.
You can't help but smile when you walk into their yellow Victorian home. The home has a modern farmhouse feel which blends perfectly with the traditional Victorian exterior.  Light walls, neutral décor and a sense that their home is a gathering place for many friends and family.  While getting a tour of the house, I was impressed that many of the selections that Patty chose in 2005 are exactly what people want today.  She wanted white cabinets and white subway tile which wasn't a common selection in 2005.
Although their house was renovated when they bought it, they recently completed a porch renovation which is the room that we wanted to feature. Previously a screened in porch, they enlisted the help of Jeanna Ventura, a local architect, to create a design so this space could be enjoyed all year long, while making it feel like this space was original to the home.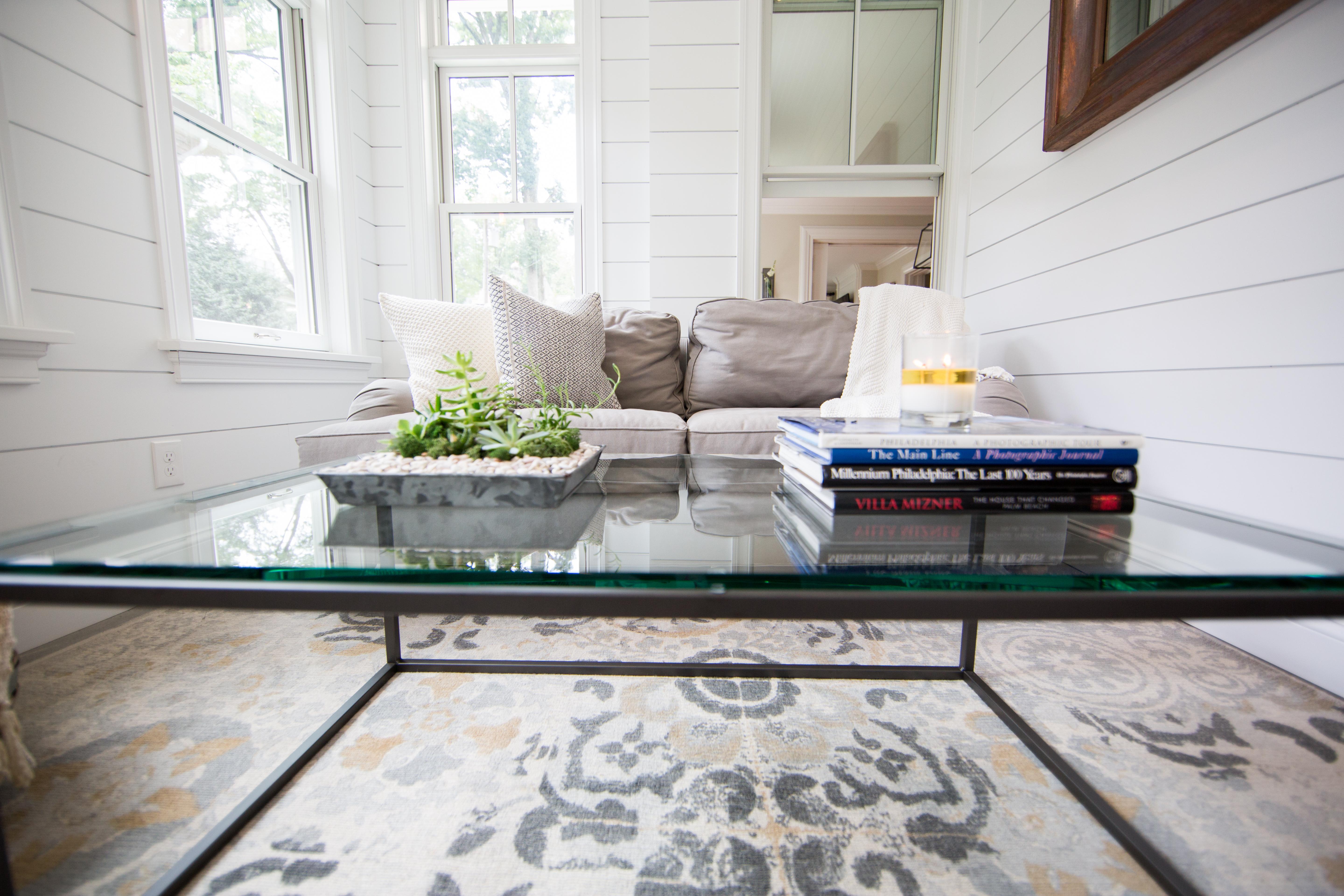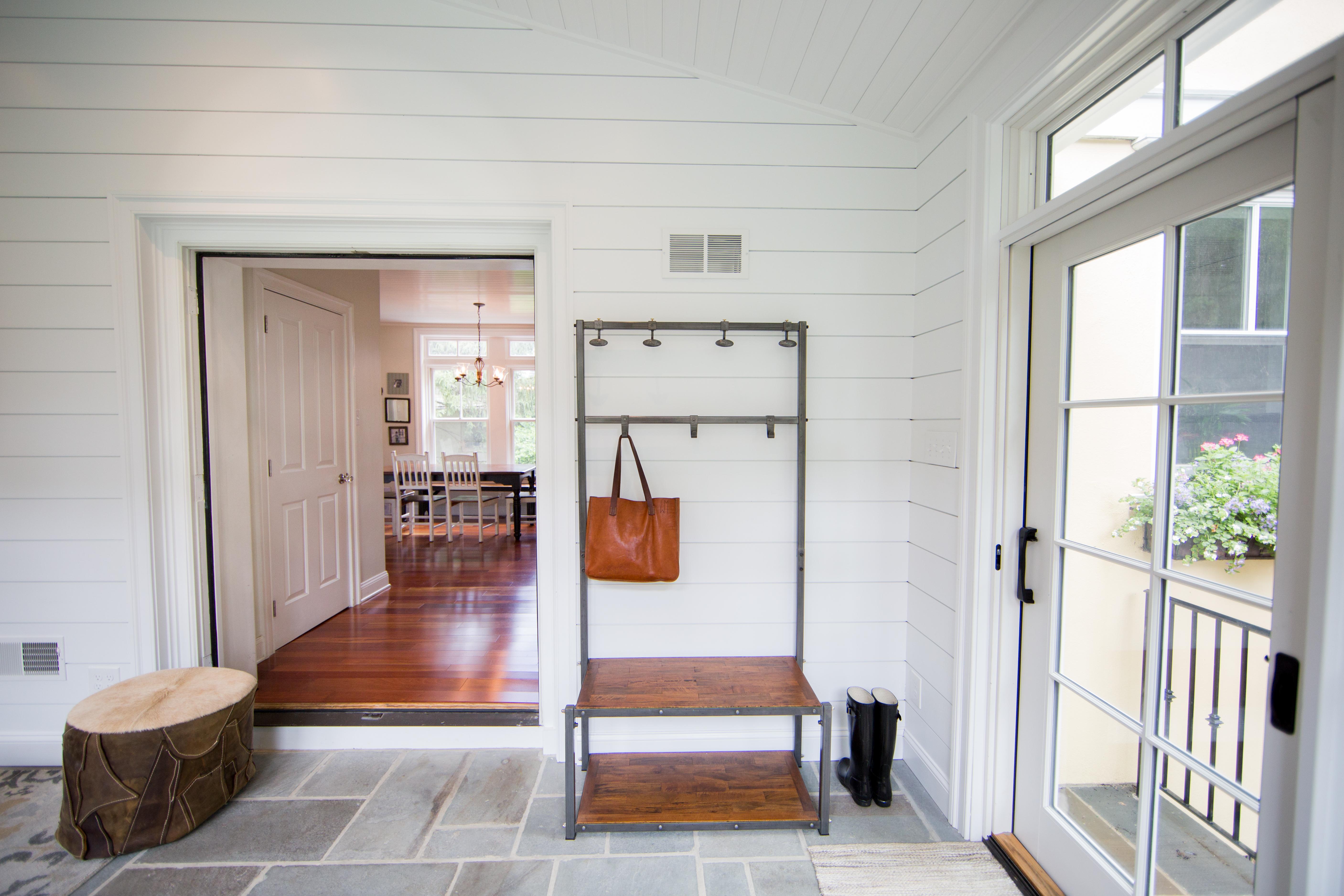 Shiplap walls, bead board ceilings, flagstone floors and long Pella windows seem like they were meant to fill this space. This room is such a great example of how you don't need a large space to have a great space.  This room is located right off the kitchen and Patty says it's the perfect room to start the day with a cup of coffee or end the day with a glass of wine.  Proclaimed TV people, the Hicks purposely decided not to put a TV in this area, and the quiet of the room creates the perfect place for the children to sit with a book or an iPad.
The design of this space fits perfectly with the overall modern farmhouse feel of their home. They choose white trim and white walls.  They mixed grays and browns and added a glass coffee table that keeps the space feeling airy.  Walking down Wayne one day Patty spotted this pouf sitting outside Waltzing Matilda, which she knew belonged in her new room.  We agree and apparently so does their cute dog Rufus.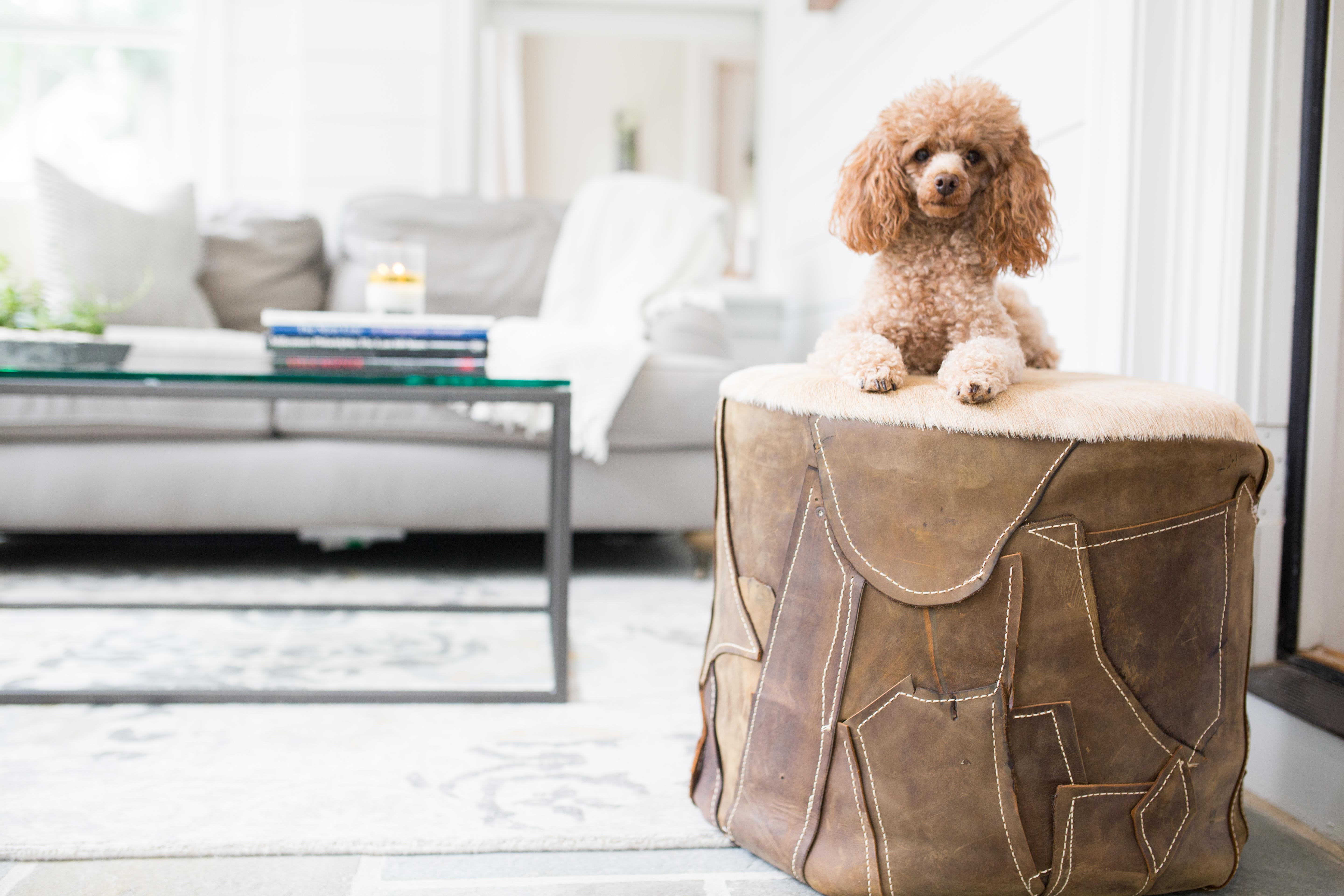 The Hicks Family: Patty, Kevin, Kieran (12) Grace (11) Brendan (9) and Rufus.  This article was featured in the Radnor Lifestyle Magazine.
Architectural Design by Jeanna Ventura. Construction completed by Rockwell Custom.  Photography by Perfectly Paired Photography.