This post was written by Marilyn, our resource for all thing beach this summer.  Marilyn is a Realtor, investor, home stager and lover of all things home.
One of the benefits of living in this area is the fact that we have four seasons.  My favorite season is summer, but I am becoming a fan of the fall as well.  A big change along the Jersey Shore is the addition of large decks and outdoor living areas in new construction.  In the past, the houses were charming Cape Cods and one-story ranch houses with a front porch and a yard for the BBQ.  Now it is common to see a house with four decks, patios, swimming pools and fire pits.  Oh…and outdoor kitchens!  How do you find the best furniture and accessories to dress your space?
Need inspiration for outdoor living space?  Check out this photo above from Luxe Interiors. This seems like the ultimate outdoor porch and deck space. You don't need a grand space to have a great space. At the beach, it's all about maximizing your outdoor space.
Blufish in Avalon, NJ has an extensive collection for all of your outdoor needs.  They offer sectional sofas, lounge chairs, dining tables, rugs and wall art.  One of my favorite items is the unique fire pit that is positioned in the middle of a table.   How fun would this be on a cool summer night to relax and unwind by the fire?
Another piece I love is the "couples chair" as I have named it.  It is a large chair with an ottoman and shade cover that is perfect for a lazy summer day spent lounging by the pool.  Add some fun coastal pillows, a cocktail and a good book and you have the recipe for a perfect day.  And just how will you find the makings of a cocktail?  Blufish offers a selection of outdoor bar furniture made from reclaimed wood ready for your next party.
No space is complete without accessories.  And my all-time favorite go to accessory is the wooden wall art.  School of fish?  Check.  Crabs and whales?  Check.  Mermaids and sailboats?  Check.  Blufish has it and more.  An exterior wall sitting empty is an opportunity to have some fun.  Many of the items may be ordered to your color specifications.  Don't like the look of your concrete or pavers?  Add an outdoor rug for a change.
The sky is the limit when you are decorating your outdoor space.  But remember to  get outside and PLAY while you are at the beach before these warm days come to an end.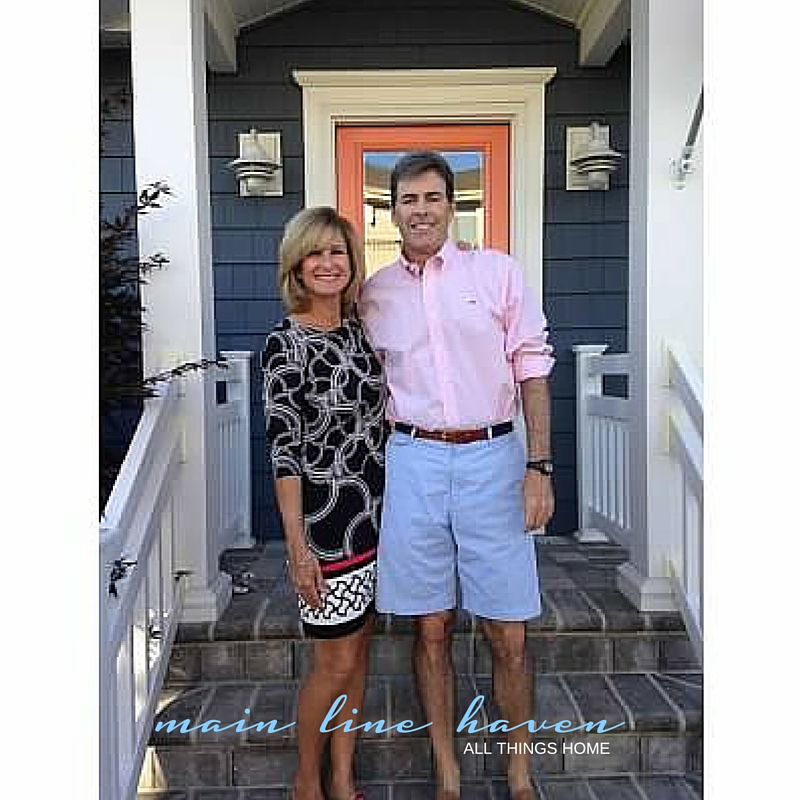 Marilyn and her husband Clark in front of their Avalon beach house.  Whether you are looking to rent or buy a home, Marilyn can help you will all your beach real estate needs.