Whether you're sprucing up or redesigning your home , these five décor elements will help you on your way to having any space looking great.
Start with a statement mirror.  Mirrors add depth and deceive us into thinking a room is larger than it is. This is also a great way to dress up your walls.  If you find a mirror that you love yet it's not quite big enough, consider adding a second identical mirror or even making four into a box shape to accommodate a larger wall.  My favorite mirror in my living room is actually three mirrors that I stacked together. Don't be afraid to go big with mirrors if the space allows!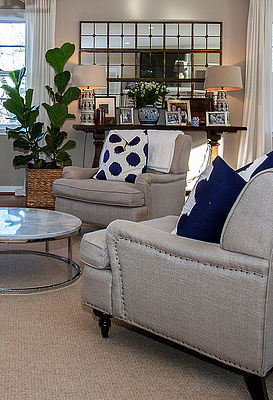 I purchased the above mirrors from Vintage Home in Paoli, which is one of my favorite local shops for home decor.  And for those looking to grab a 15% off coupon to Vintage Home this Sunday January 15th.
Paired on a console or each sitting on an end table between a sofa or bed, you can't go wrong with a pair of table lamps.  Lamps are a staple in any room and are something that should stand the test of time.  The lamps above I found from William Sonoma Home are my go to color scheme of white and blue and also resemble the ones that I have in my family room.
My husband often teases me for my obsession with pillows.  Pillows always top my list for an easy way to update a room. I don't think that I could ever have too many pillow covers, although my husband would certainly disagree.  I love how you can quickly change up the look of a room by swapping out pillows.  I've come to realize that higher quality pillow covers tend to stand the test of time for not only style but durability.  I usually only buy pillow covers and use the same inserts year round.  This saves money and also saves space on storage.
One of my favorite new places for pillows is Shop Society Social which is online but can also be found at The Blue Octogan in Malvern.  The photo below is from their website and gives a good example of their fun colorful style of products.  Link in photo to website.
Pillows aren't just for living rooms and bedrooms.  Consider adding a pillow to other spaces as well like in this entry below from one of our recent Main Line House Tours.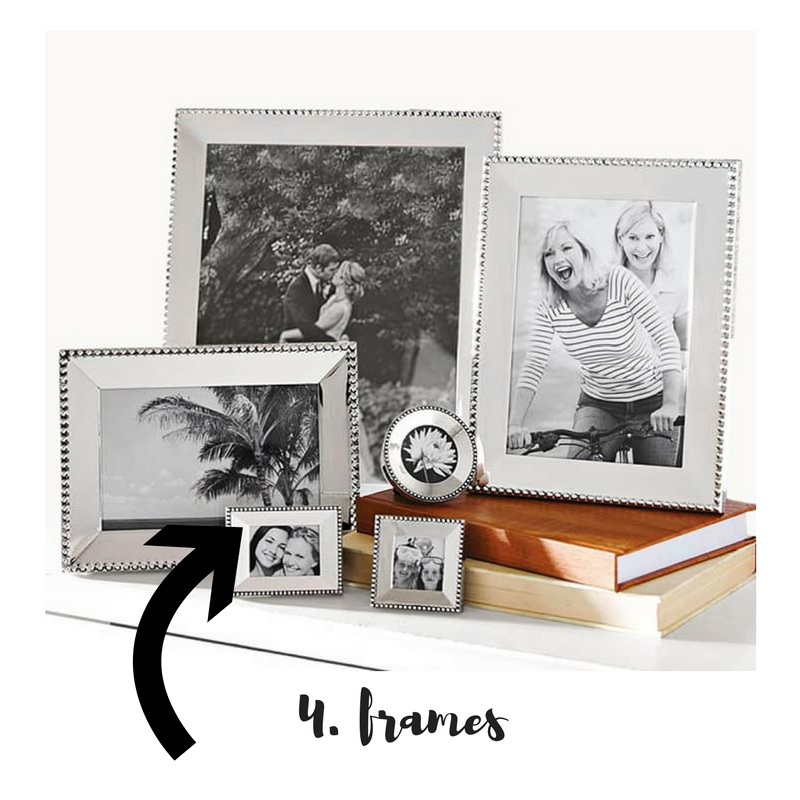 Having photos of my family and friends throughout my home is a something that I love.  It reminds me of our past and also allows our guests to get a better sense of our family and what matters most to us.  You can do a large table of photos or just sprinkle them throughout your home.  Feel free to use a variety when it comes to the style and size of frames. I just adore silver but gold seems to be on trend right now too.  Silver and gold also work well together so feel free to mix them up.  I tend to move my frames around as I add or eliminate other décor throughout my home.  The frames in the photo above are from Potterybarn, but Home Goods is such a great place to find inexpensive frames that look just as great as the expensive ones.  Check out this table of photos from one of our recent House Tours.
A tray on a table or ottoman instantly adds style and functionality.  It is a pretty place where you can keep small accessories, store your TV remote or place a drink.   This tray above is from Pottery Barn and is only $34.99.  Link in photo.  Trays work in almost any room.  Whether by the door on a small table to catch keys or on a dresser to catch your personal items, trays are a great addition in many spaces.
I hope you've enjoyed these five simple ways to change up your home decor! These five decor elements are sure to make any space look great.
Enjoy our posts?  Share them with your friends!  Subscribe to our site so you don't miss any of our posts on all things home! Follow us on Facebook, Instagram and join our Facebook group where we discuss all things home.
Main Line Haven is your resource for all things home along the Main Line.  From buying & selling, to construction and design resources, plus how to truly live in your home and keep it looking and feeling like your own personal haven. There is nothing greater than the possibility of home and what that can mean in our lives. Start your journey to creating a home that you love today.  To learn more about Haven Duddy, click here.