Those who have been following our home renovation journey probably remember me mentioning our very dated kitchen. It had been on our to-do list for YEARS! (When we purchased our home seven years ago as a fixer-upper, there were more pressing projects to tackle.) In hindsight, I'm so glad we waited. Living in our home for several years helped me understand exactly how our kitchen needed to function for our family. If we had renovated the kitchen right away, I would have made different choices that I'm 100% sure I would regret today. I'm a firm believer that you need to live in a space for awhile before tackling a major renovation. The time you spend understanding your family's needs and how you want your home to function and flow is always valuable. And let's face it–renovations are expensive and stressful; you want to get it right the first time.
Our kitchen went from being a major eyesore to the centerpiece of our home. It's where we love to eat, entertain, gather, talk and dream. When I designed it, I wanted it to feel more like a room and gathering space than a traditional kitchen, if that makes sense. And if you know me, you know that I love the Serena & Lily style–clean and crisp with that coastal chic vibe–and my kitchen definitely reflects that! I'm so thrilled with how it turned out (especially since I've been known to second-guess my design decisions!). While I've shared bits and pieces on Instagram, I realized that a blog post and complete source list are overdue. First up is a video tour of the new kitchen, followed by some before & afters and a source list. Enjoy!
Here's our kitchen before…
And here it is AFTER! Quite the difference, right?!?
Before (looking in the opposite direction)…
And after! We closed off the sliding glass door and added separate entrances to the porch and backyard on either side of the range wall.
We tucked away the microwave and toaster oven so that you don't see those smaller appliances when you enter the kitchen. I also chose two-toned countertops: a lighter color for the island and a darker shade for the range wall and small appliance nook to complement the stainless steel.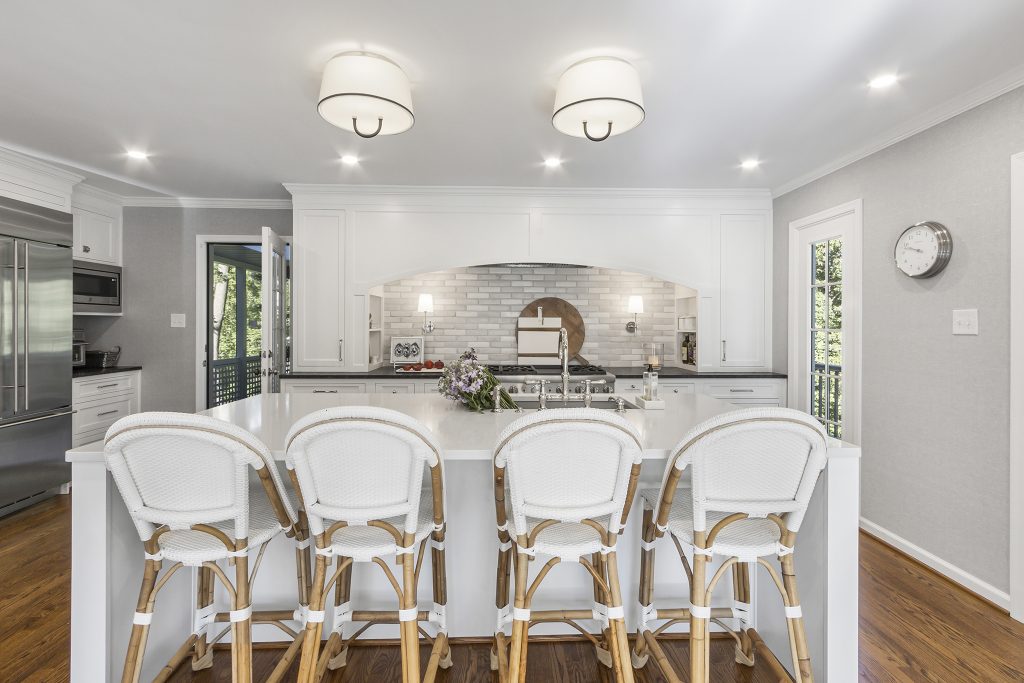 The oversize range hood is one of my favorite features. I designed it myself to not only hide the range but also to resemble a piece of furniture, which makes the space feel less "kitchen-ey." I'm SO happy with how it turned out, and I love the hidden shelf storage. It's hard to tell in the photo, but the backsplash incorporates shades of gray, white and blue, plus hints of lavender. Each tile is handmade, so no two are exactly alike.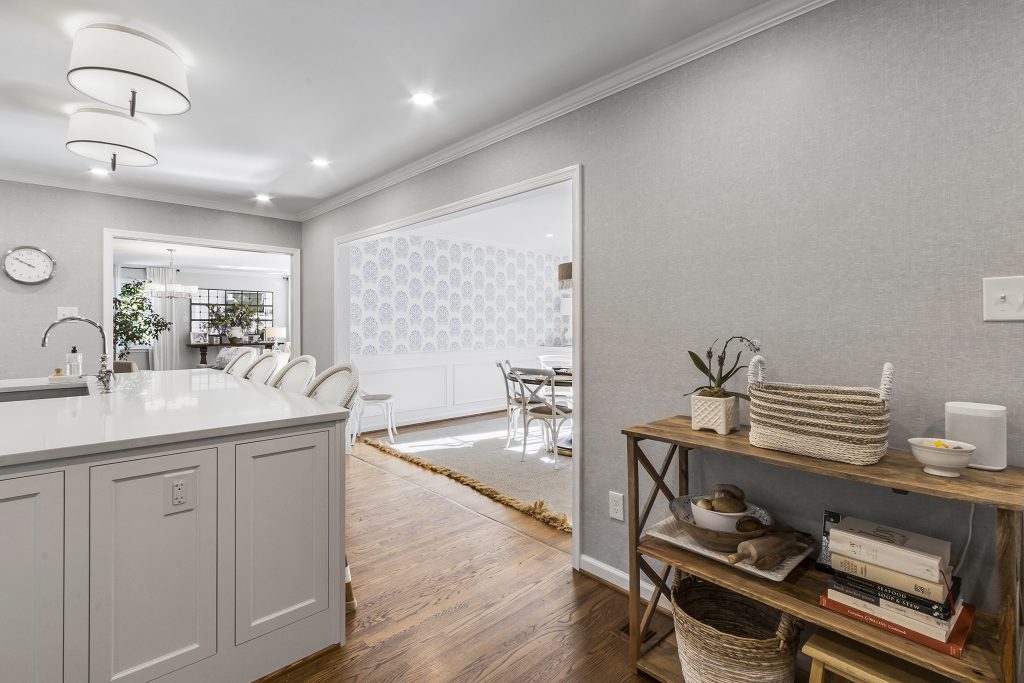 Installing grasscloth wallpaper and adding a simple wood console for extra storage are subtle details that make a big difference. I'm still searching for the perfect piece of art to hang above the console.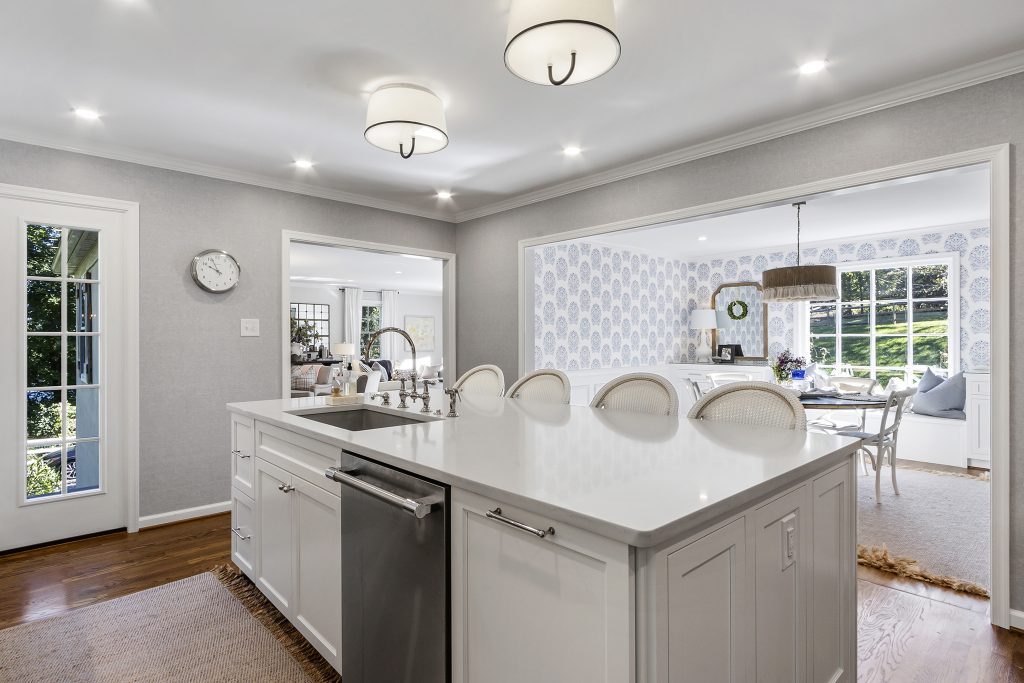 I love all the sightlines into my front yard, living room and side yard.
This was the opening to our dining room before.
Expanding the opening brought in so much natural light!
I purchased my appliances right after the new year and scored some major deals, including the 48-inch Thermador range and matching dishwasher. Keep in mind that many stores will hold purchased appliances for up to 12 months if you want to take advantage of a special sale but aren't ready to install just yet.
We also added a small butler's pantry just off the kitchen for drinks and glassware.
SOURCE LIST:

Construction: Duddy Construction (my husband's company)

Kitchen Cabinets: Omega cabinetry (inset for the exteriors and full overlay for the island) from Sterling Kitchen & Bath in Havertown (ask for Annette!)

Hardware: Top Knobs Kara Knob & Kara Pull (both in polished nickel), purchased at Ferguson Kitchen and Bath in King of Prussia.

Backsplash: Seneca Handmold Glacier Blend from Mohawk Tile in King of Prussia.

Lighting: Over Island: Lauren Ralph Lauren Katie Medium Flush Mount in polished nickel
Backsplash: Thomas O'Brien Bryant Sconce in polished nickel

Sink: Purchased at Ferguson Kitchen and Bath in King of Prussia
Faucet: Newport Brass Bridge Faucet and Spray

Countertops: Simple white with slight gray quartz for the island and honed black granite. Purchased from Atlantis Tile and Marble in Norristown (ask for Lucas!)
Stove: Thermador 48-inch range purchased at Queens Appliance in King of Prussia. I can't tell you how much I LOVE this range!
Dishwasher: Thermador
Console: HomeGoods
Rugs: RugsUSA
Stools: Serena & Lily Riviera Collection

Wallpaper: Phillip Jeffries Wild Petunia Grasscloth

Oyster Painting: Rachel Brown Fine Art