Christmas has always been one of my favorite holidays.  Probably because I love to decorate and entertain, which always happens at Christmas.  As a child, the Christmas season would commence with the annual bringing down of the boxes from the attic which held all the holiday decorations.
That tradition always felt like the kick off to the holiday season.  This year, I convinced my husband to pull down the boxes the day after Thanksgiving.  We turned on the holiday music, made some coffee and hot chocolate and spent the day decorating our home.
Each year, I like to mix things up.  There are some decorations that I use every year, but sometimes I try and create something new.  This fall a tree fell down on our property.  I asked my husband to slice it up to create tree slices which I knew I could put to use.  I sprayed them with "snow" spray paint from Michaels to give them a winter white look and then layered on the  garland.
Fresh garland is such an easy and inexpensive way to add holiday decor.   I buy mine from Produce Junction in Broomall.  I like to mix one or two different types since normally they are pretty thin.  I lay all the garland out on the driveway. I buy them in the 24 foot strands so it's easier to put them together this way and it also keep the mess outside. Then I add ribbon, pine cones and anything else that I'm feeling.  I then cut them into pieces to use throughout my home.  I use a lot of garland.  My opening to the family room requires about 14 feet.  This year I put together about 50 feet of garland for less than 50$.  I also save the pine cones, ribbons, etc each year so that I can reuse.
I bought the bell burlap ribbon a few years back from Vintage Home in Paoli and I have used it every year since.   My husband, Patrick put tiny nails on the top of the molding and I attach the garland with fish wire.  The nails stay up all year and can't really be noticed.
One of my earliest childhood memories is this train set above.  I played with the exact set when I was little.  My sisters and I would spend Christmas with our grandmother and grandfather who would put up an elaborate train set and village around the tree.  A few years back my grandmother split up the train set and gave it to my sisters and I for Christmas, which was such a wonderful present.
My children love playing with the train now too, especially my two year old son.  For those looking for a train set, there is a wonderful store, The Nicholas Train Store located on West Chester Pike in Broomall.  The train store is more for adults than children, which you will understand if you visit.  The year my grandmother gave me the set, I had no idea how to get the train running, nor did she.  I called the store and they were quickly able to explain over the phone how to set it up.  They are very helpful and are such a wonderful local resource for all things trains.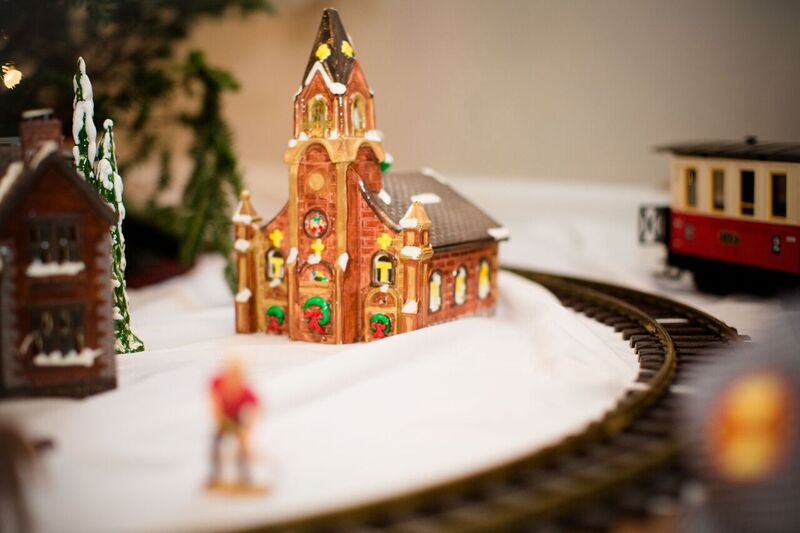 Each year we have two Christmas trees.   A more formal (and fake) tree for our living room and then a real, more casual and kid friendly tree in our family room.  I love adding ornaments that reflect our travels and places we love.
I also love to add the handmade ornaments my children bring home from school each year. I'm sure in 20 years, they will be my most treasured.
The stockings were all purchased the first Christmas for each of my children and are each monogrammed.  My second daughter, Lily wishes she had the reindeer stocking now, which belongs to Caroline, but I believe down the road, hers may become both of their favorites.
It's always a good idea to have a stocked bar around the holidays.  I turned this piece of furniture that I bought second hand into a bar for our family room.
Every year I like to add one or two things.  For those that know me, know that I have a thing for pillows.  This year, I added four of these D pillows from Ballard Design.   If you're looking for a place for holiday decor, be sure to check out Ballard Designs.  Their accessories and home decor works well with almost any style.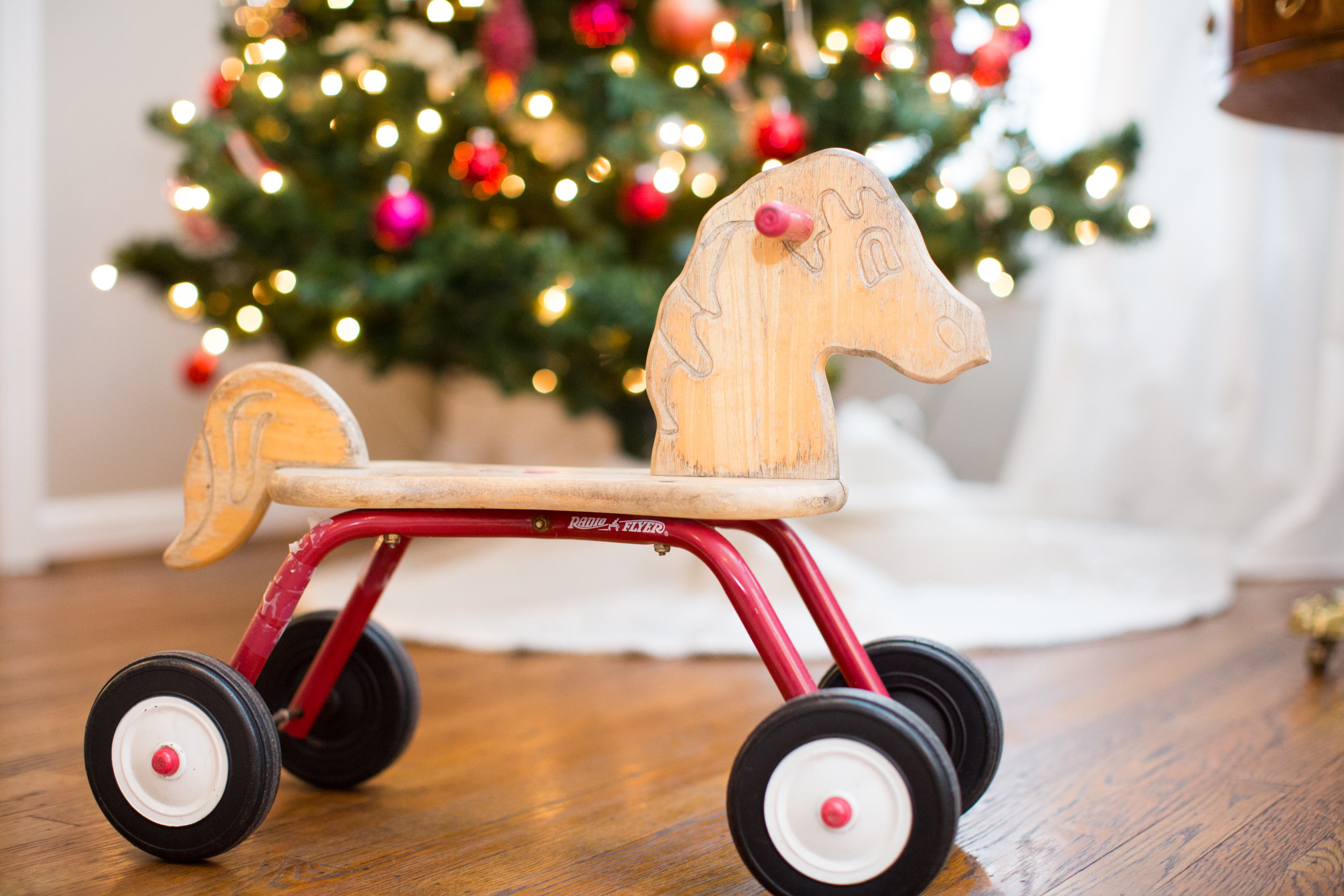 This toy gets used all year, but looks super cute at Christmas under the tree in our living room. Santa delivers the presents to the living room each year.  I love using this room on Christmas morning and it's probably the one time during the year when the five of us spend an extended period of time in this room.  Then once we are done opening the presents and want to relax and play with toys, we all move to the family room, leaving the mess for later.
Each year when I decorate, I first remove most of the everyday decor.  This allows me to put holiday decor around and then fill back in areas with our everyday items.  I couldn't have all my everyday decor up with my holiday decor because it would be too much.  I just place it into the Christmas boxes and then swap it out after the holidays.
This year I've been adding pink to my living room.  So, it just made sense that I should add some pink to the tree as well.
For my dining room, I like to keep it simple.  There's already a lot going on with the wallpaper so I just add some greenery to the table.  We host a Christmas dinner (the week before) for our family which we really enjoy.  Like most, our dining room doesn't get used often so it's fun for me to set up a formal table and use our china from our wedding.
I love these place mats that I bought from William Sonoma Home about 8 years ago.  Not only do I have a thing for plaid, but I have a thing for tradition.  There's something very special to me about setting our Christmas table with the same place mats and napkins each year.  I believe that our belongings become cherished when they remind us of special times throughout our lives.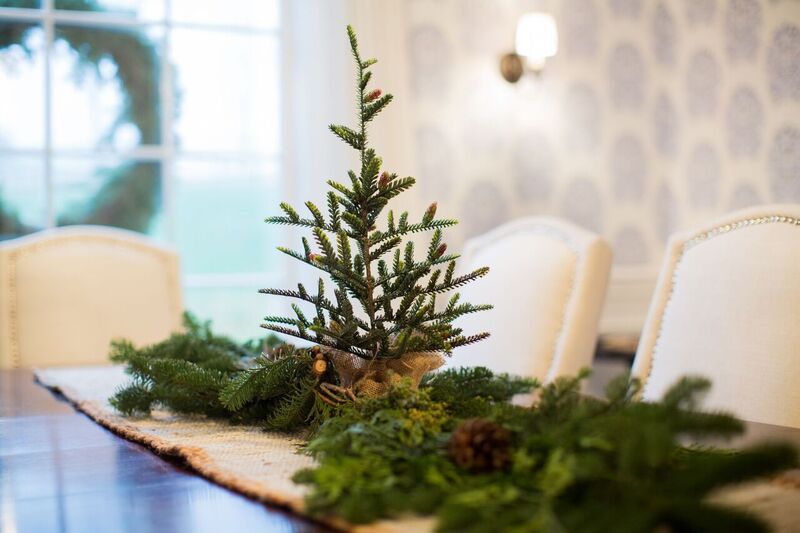 I want to give a shout out to my fabulous photographer, Amrit Gluck of Perfectly Paired Photography who did such a wonderful job of capturing my home this holiday.  Amrit always takes the most beautiful photos and I am forever grateful to have her taking photos for this blog.  From house tours to family portraits (including the Christmas card below) she has such a talent for capturing the moment.
Thanks for touring my home this holiday season.  From my family to yours, I hope that you have a wonderful holiday season!
I'd love to see your home this holiday season. Join our Facebook group and share your photos with us!