Jenny McGeorge of JGMG Design designed this kitchen for her twin sister Jill who lives in Ardmore with her husband and three boys.  Jenny has two sisters and has helped design each of their kitchens.  I've seen both of these kitchens and although each kitchen reflects the style and personality of each sister, they share common design elements.  Elements that I've decided I want to incorporate once I design my new kitchen.  Hear Jenny's thoughts on the overall design of her twin sister's new kitchen.
What was the overall design for the space?
We went for a modern farmhouse feel with the idea that we didn't want it to feel so kitchen-y.
What are your favorite elements in the room?
My favorite elements are the clean lines, open space, and the natural elements like the wood shelving.
How does Jill like having one large kitchen and eating space and giving up the dining room?
The trade-off was a no-brainer when we were planning the space. Being a busy mom with three young boys, the traditional separate dining space wasn't really something she wanted. Especially given the smaller home we wanted to maximize the square footage of the kitchen as it's the heart of the home. This is where a family spends most of their together-time and where everyone one ends up when it's time to entertain guests. She's held a couple of gatherings since the renovation and having the larger combined space has worked out very well.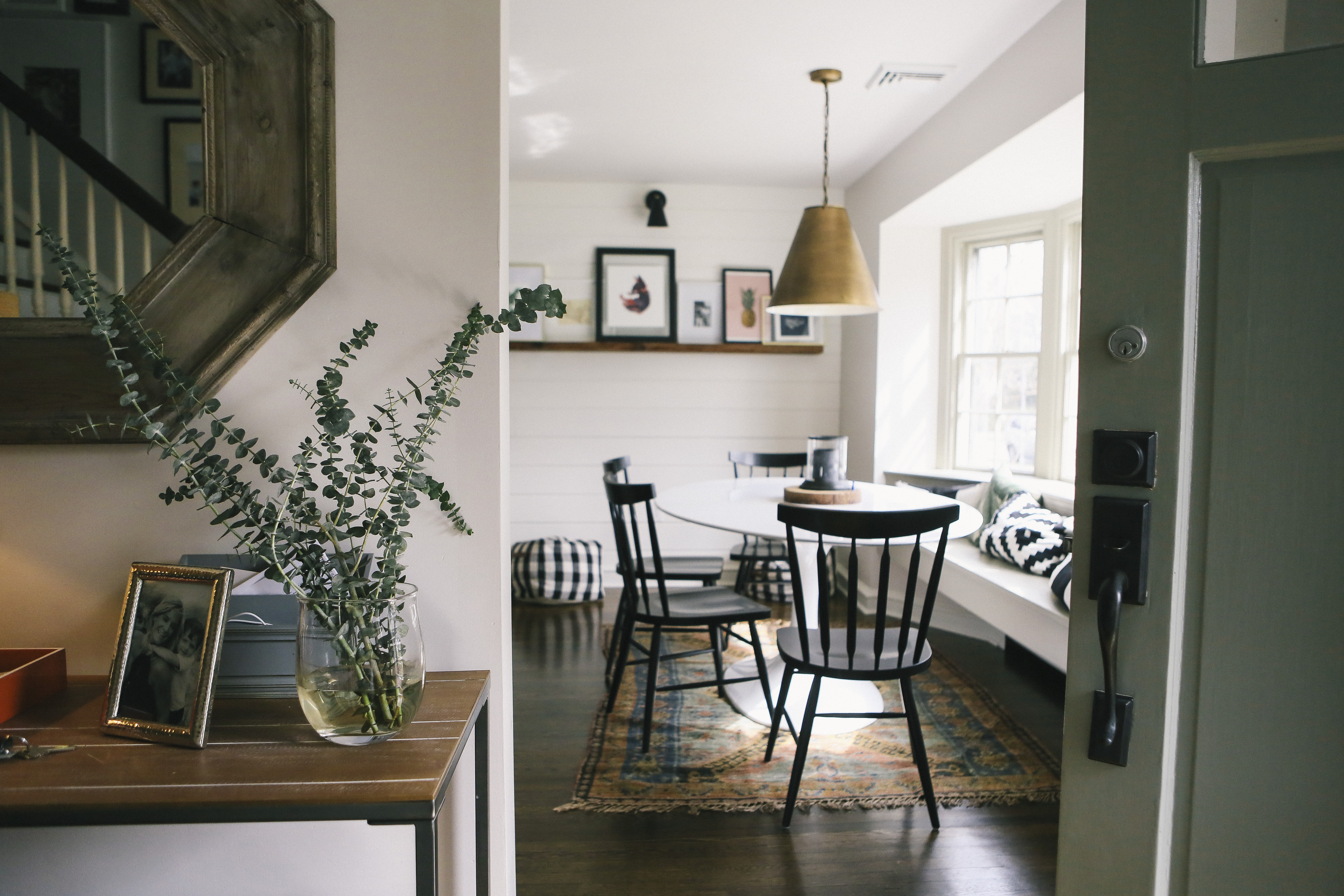 What were the challenges of the space?
The refrigerator placement was a challenge, we wanted it to feel built in and had to steal some space from a hall closet so that we could achieve that look.
How did you get the space to feel more like a more than a kitchen?
In trying to achieve more of a living space than a traditional kitchen we decided to do no upper cabinets, except for a wall pantry unit. It was important to us to keep the open feel, and allow more light in.  We also added a window seat in the kitchen, a statement art piece with lighting, an art ledge with lighting and a mirror to make it feel more like a living area.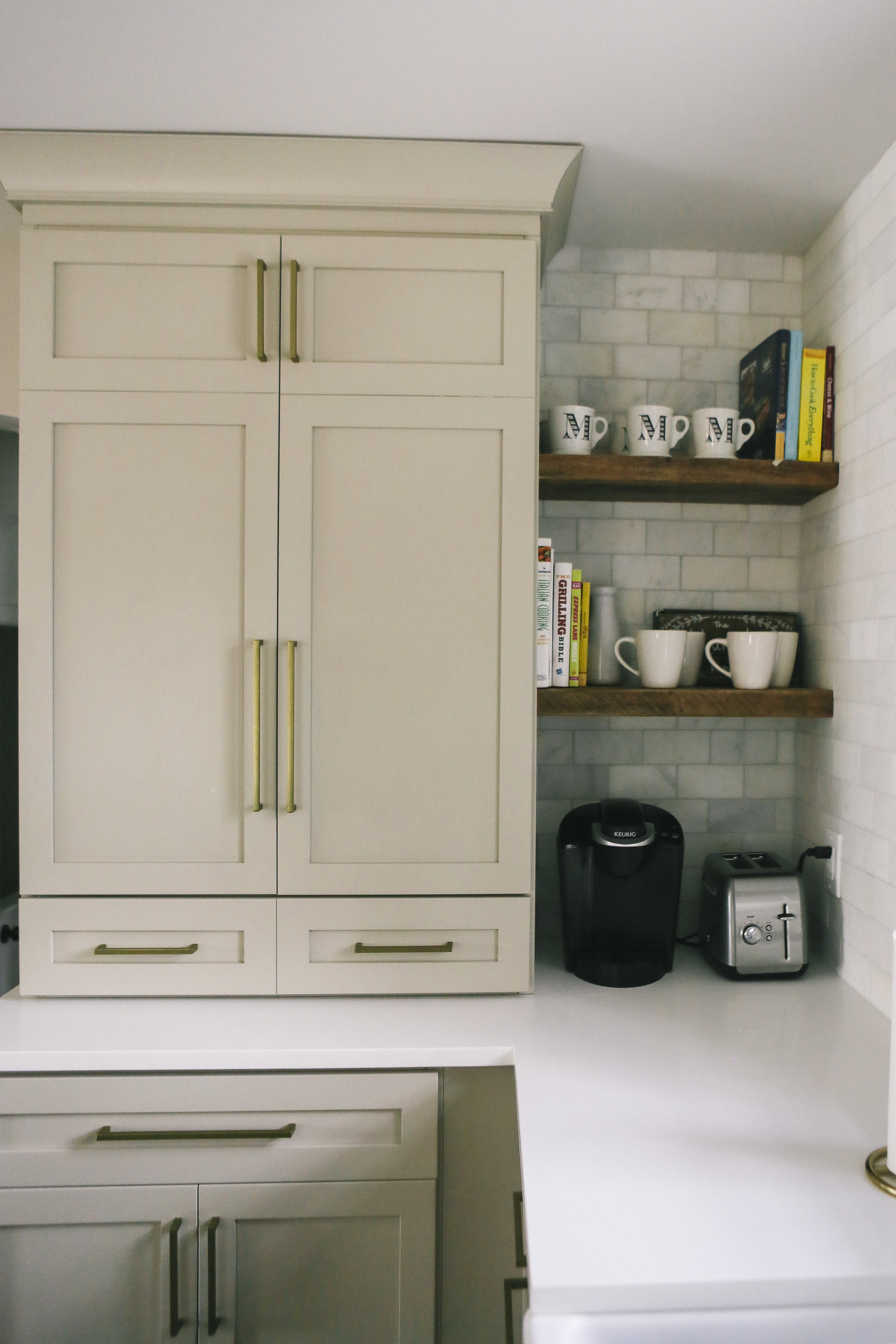 What was your thought process on not having many upper cabinets?
I'm not a huge fan of upper cabinets, especially in homes with 8 foot ceilings. Aesthetically I think upper cabinets make any room feel smaller by closing in the space. My recommendations if you need uppers are to (1) try and tuck them out of your first line of sight, (2) try to keep them away from windows and hood / ranges, and (3) use the countertop to ceiling upper cabinets I think they feel more custom and elongate the height of a room.
What is the color of the cabinets?
The color is a custom color that comes in that finish from the line of cabinets we used, but we painted the window seat in the kitchen to match the window seat and used Farrow and Ball Hardwick White.
What is the backsplash?
Daltile Marble Collection First Snow Tumbled Marble 3×6
What is the countertops?
Pure white quartz countertop
Here are the links to the table or chairs.  The puffs sold out from Target, but you can find similar ones here.
I love how you incorporate art and unexpected seating in your kitchen designs.
I love the idea of adding art in kitchens, it feels unexpected and adds to the idea of creating more of a living space while adding pops of color in a space where all the other elements are natural. The window seat is everyone favorite seat in the kitchen it's a perfect spot and creates a relaxed comfortable space.
Suggestions for people thinking about doing open shelving?
Open shelving in this kitchen was more for design and feel. We wanted to keep it along the back wall in this space as we felt that that was our "utility" section of the space and allowed us to display some nicer kitchenware, as well more decorative items such as candles and flowers. I like the openness that shelving provides. I am working on a design where we are using a bookcase so that the shelving feels a little more formal, like a dinning hutch. So I think there are all sorts of options with shelving, and I like the feel that it can bring to a space.
I'm going to be calling you to come give me some ideas for my kitchen when we get closer.  Can you tell me a little bit about yourself and your design company?  Can people contact you to design a kitchen?
I have loved space planning and design for as long as I can remember and have helped family and friends for many years. What I enjoy most is meeting with people in their homes to find out what they envision for their space and then build on that with ideas that push them a little on the design front while still keeping their style.
My Dad is a homebuilder so I have started working with him on a design / build concept. My company, JGMG Design is in the very early stages, which is very exciting for me.   Our idea is to be a one stop shop where you can design the space and then have the team to execute. People can reach me by e-mail at jgmgdesign@gmail.com.
Thanks Jenny and Jill for letting us tour your fabulous kitchen!  I had to throw in these extra photos of Jill's boys from the photo session.   To me this really shows how they created a beautiful kitchen that functions perfectly for their family.