I was a waitress in my early 20's, and in the restaurant business they have a saying, "mise en place."  It's a French culinary phrase that means "everything has its place."  By focusing on this mise en place concept if you will; there is an order, flow and functionality to everything.  Ultimately this allows the guests to have a more peaceful dining experience.
I always remembered this saying and I think that this concept can be applied within a home. We have busy lives and often have various things unfolding in our homes at the same time.   Sometimes we need to get a little more organized (I am trying to work on this right now) and other times we just need a solution.
A home should be a haven. I created Main Line Haven as a resource for all things home. A home should be a refuge from the busy world, but it also needs to function like a workhorse.  We demand a lot from our homes, from feeding our families to housing our belongings.  Each and every day our home is where our lives unfold.
Sometimes the solution is finding the right house (real estate), other times it's making changes to our home (construction), and sometimes all that's needed is for our home to reflect our style and function better (interior design).
Our mission at Main Line Haven is to show you how real estate, construction and interior design work together. We plan to provide inspiration, resources, and services in each of these fields to help you move forward with creating your own haven.  If you're feeling overwhelmed with your home and you're not sure which direction to take, we offer home consulting to get you headed in the right direction.
For me, September has always seemed like the start of a new year. This September we will be focusing on how to create a place or a space for the things we need in our homes, which creates order, flow and functionality and lends itself to a more peaceful home and life.  As I often say, we don't always need more space, but we need our space to work better.
Here is a sneak peek of some of our posts coming this September on the Main Line Haven blog.   Subscribe to our site on the home page so you don't miss any posts and join our Facebook Group where we have events, giveaways and talk about all things home.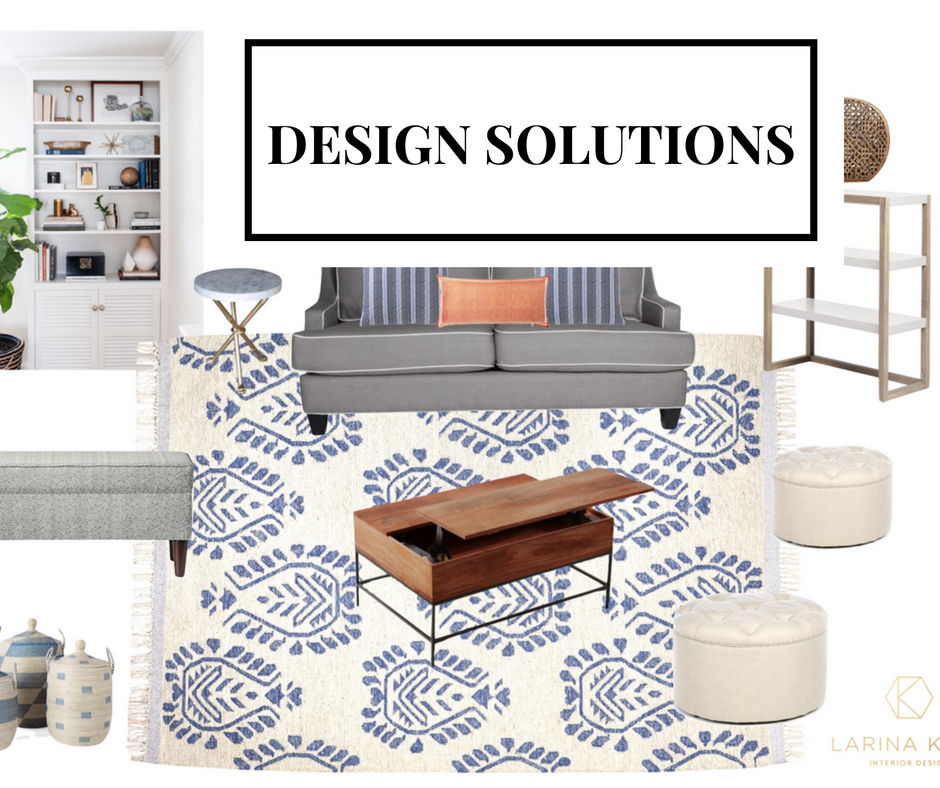 Throughout the month, interior designers will be providing room looks (with links to products), sharing tips and giving design advice that will focus on getting organized while creating attractive functional spaces.  This is a sneak peak of a living room design created by one of our favorite local interior designers, Larina Kase.
Larina and the other designers that we feature on the blog are pretty active in our Main Line Haven Facebook Group so if you have a quick design question, they are normally able to give their input.  Another reason to join the group!
Our favorite Main Line Construction company, Duddy Construction will be discussing the trend for building smaller additions and discussing ways to optimize your space, like built in cabinetry.  From mudrooms to garage conversions, sometimes we just need a little more space to make our homes work as seen in this above garage conversion completed by Duddy Construction in Rosemont.
Realtor Brooke Brennan of the Main Line Haven real estate group within Keller Williams of Devon/Wayne will be sharing why Ardmore is a town for everyone.  From first time home buyers to investors, Ardmore is hot right now and is our pick for the best Main Line town for any budget. Contact Brooke for her list of top Ardmore properties!
Turns out you don't need to join an expensive gym to be fit.  I worked out with Platoon Fitness at my house this past month and I can't wait to share how easy it is to incorporate fitness into your home.  These guys are the real deal and focus on getting back to the basics which I love.  From climbing stairs (bonus if you have a heavy basket of laundry) to the best way to start your day (try water instead of coffee or in my case at least before your coffee), they gave me the inspiration and push to commit to fitness this fall.  And if you needed another reason to join our private Facebook group, Platoon Fitness will be doing some fun stuff with our group this month too!
These and more fun posts coming this September.  Be sure to check out our new VLOG where we will share fun videos for all things home too!  From everyone at Main Line Haven, we hope that you had an enjoyable summer! Special thanks to Marilyn O'Donoughue, our resource for all things beach this summer who helped bring the shore to the Main Line. For anyone who is still enjoying the last moments of summer at the shore, be sure to check out my favorite new home store in Avalon that you can preview here.
Till next time!