This post will be part of our Q&A series where we'll be featuring our favorite local artists.
Art is an important aspect of any home and we are lucky to live in an area that has wonderful artists and we plan to feature some of our favorites on the blog.  Today we'll meet Jeannie Wolfington, Creative Director of Jeannie Wolfington Art and Design, where we'll tap into her many years of design experience and get to know a little bit about both her and her artistic style. I first met Jeannie at a school fundraiser earlier this year.  I was instantly drawn to her use of color and loved to see that her pieces were actually quite affordable.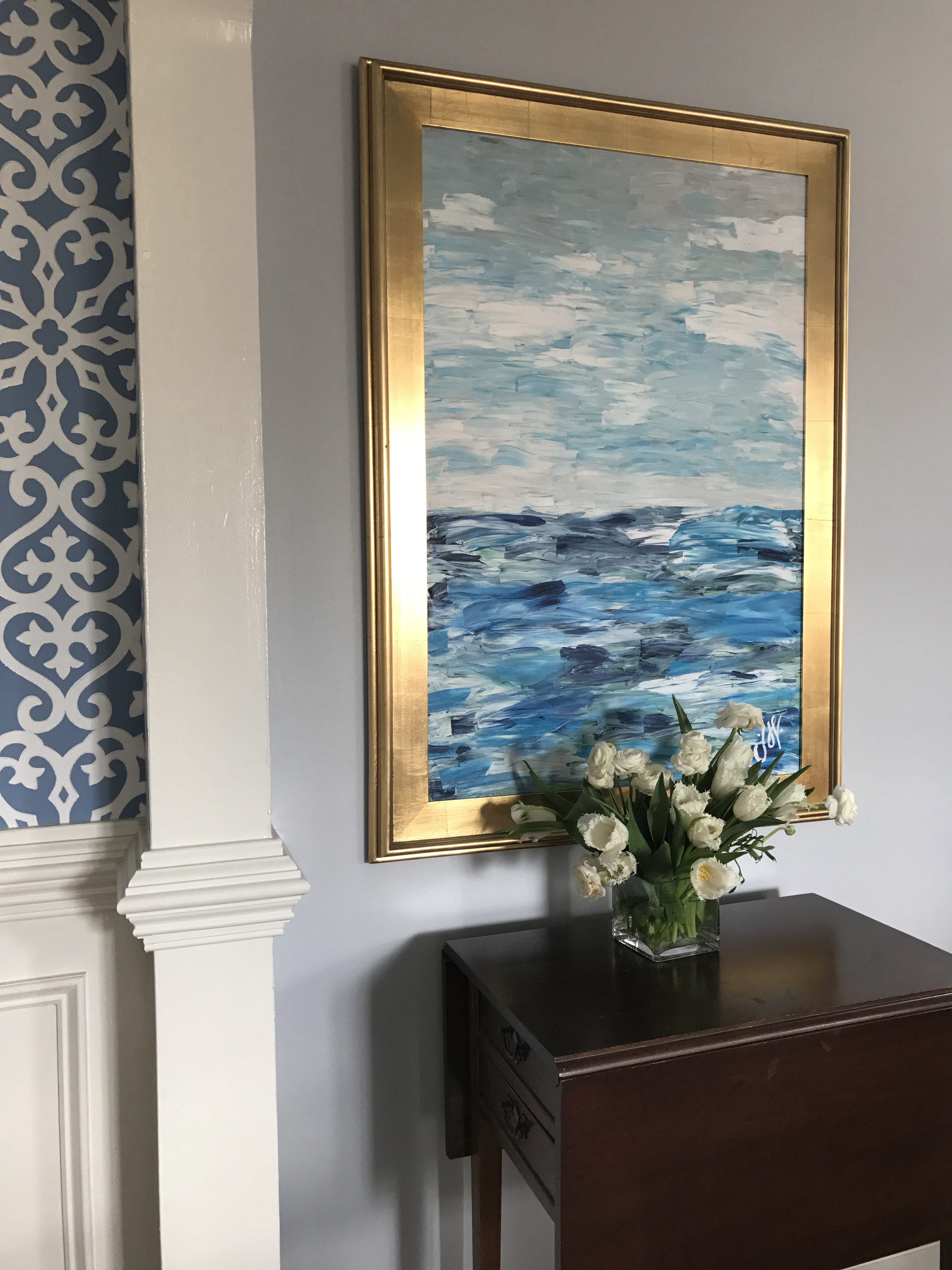 How would you describe your style of art?
Fun, bold, cheerful, and rich in color.

What is your preferred medium?
I mostly work in acrylics but also mix in oils, watercolors and charcoal on occasion.
What is your background?
I have a lifetime experience with art and design. Since 2001, I have managed a graphic design and branding business, Jeannie Wolfington Art and Design.  I have worked with many of the same clients for over 15 years, providing creative ideas for digital marketing and identity campaigns.  I started painting again after a 15-year break while searching for original artwork for my own home.  I realized how much I enjoyed painting and thought I would give it a try to start a business.  I've had a great response so far!
Is there a specific piece of style that is most popular?
I have many requests for the "Tulip Painting", also "Navy Blue Swirls" are very popular.
Can someone commission a piece of art?
Yes!  I welcome commissions!  I will work individually with you to create a custom piece of art for your home that you will treasure forever!
Around what price range is your art?
It varies with size and framing options.  Custom paintings range anywhere from $350 to $1500.
What is your inspiration for your art?
I love home design and interior decorating and I am inspired by an individual's space.  I always imagine while working on a piece if I would hang it in my own home.
How can someone reach you?
My email is:  jwolfington@verizon.net or info@jeanniewolfingtonart.com.  My Instagram is:  jeanniewolfington.art and I hope to have my website up in the very near future!
Please reference our previous post "Buying Art for Your Home" where we discussed things to consider when purchasing art.