There are thankfully many organizations throughout the Philadelphia region that work towards getting the homeless off the streets and into housing.  This help is invaluable and nonprofits throughout our city are working tirelessly to help these individuals. First and foremost, this new housing is a safe, clean and stable place for them to reside. Second, this aid actually costs less for the city than allowing individuals and families to stay on the streets.
For those fortunate enough to come into housing, there is another hurdle to cross as furnishing their new house is an added step most can't afford.  "We were finding that people were returning to the shelter in the evenings to sleep because they had no beds", says Robin Tracey, of The Philadelphia Furniture Bank, a signature program of Pathways to Housing, PA.   The Philadelphia Furniture Bank was the brain-child of CEO Christine Simiriglia of Pathways to Housing, PA, an organization that has some of the best success rates for permanently keeping people off the streets.
Christine had a simple belief that no child should have to sleep on the floor.  She and others wanted to find a way to provide furniture to those transitioning out of homelessness and into homes.  They had no idea how they would accomplish this goal but they were committed to inspiring others to see their vision and enrolling them to help out however they could.
Fast forward to less than two years later and the Philadelphia Furniture Bank, pictured above,  has provided furniture for more than 1000 families.  Not only do they provide furniture they also provide one year job training opportunities to the very people whose homes they've helped furnish.  When I visited the bank I could tell that this place is more than just a resource providing sofas and lights.  The Philadelphia Furniture Bank is about creating homes and futures for those that need it the most.  Often individuals on the streets are suffering from mental illness and/or addiction issues that cannot be addressed until their basic human needs are met.
I first heard about the Philadelphia Furniture Bank on Facebook.  Designer friends of mine were talking about how they were going to "upcycle" a chair for auction for the Philly Chair Affair on June 1st.  I was curious, asked around, and realized that there was a lot more to this Philly Chair Affair than just creating a nice piece of furniture to be auctioned off at a fancy event.  When I learned about the Furniture Bank, it struck a cord with me.  As a home lover, I know that a table is more than just a table.  It's a place where you have meals with your family and it's where your life unfolds. What we place in our homes has meaning.
I visited the Philadelphia Furniture Bank on a Friday which is normally a day where they restock all the inventory. I expected it to be quiet yet the bank was busy with activity.  I met some young ladies from the junior class of Merion Mercy Academy as they enthusiastically volunteered for one of their in-service days.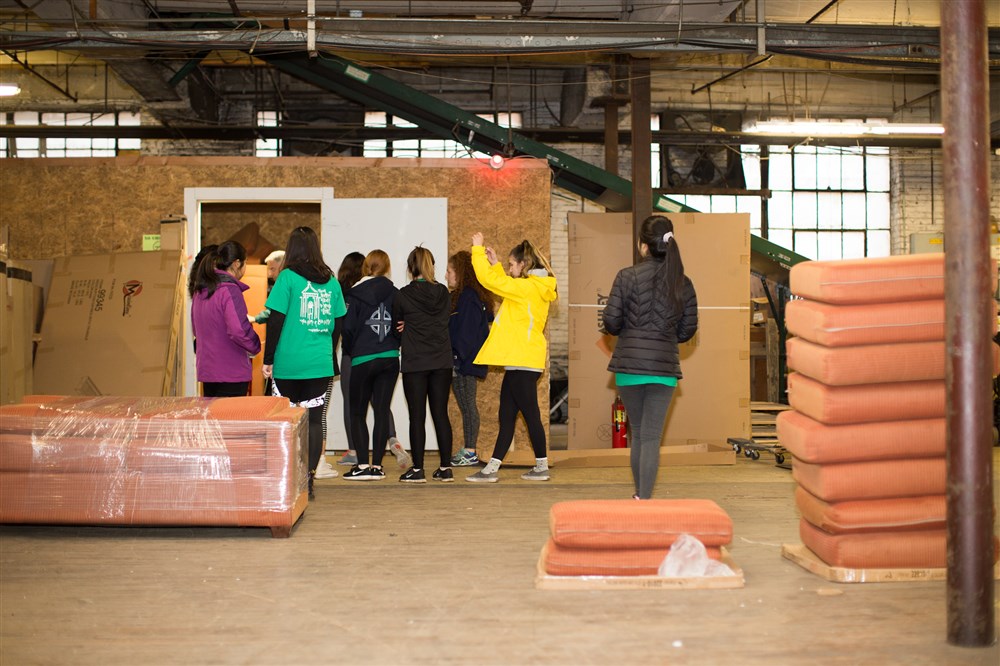 There's an entire process of getting the donated furniture into these new homes.  All furniture that comes into the Philadelphia Furniture Bank goes into the "hot box" which kills all possible bed bugs. Furniture is carefully wrapped and put into categories.  The bank often doesn't know when a large donation is coming in next, and they accept all donations.  Luckily their landlord allows the furniture bank to use additional space on the second-floor to store large donations whenever they arrive.
Often the donated furniture requires repair.  They rely on a few employees and volunteers who come and replace broken parts and get the furniture ready to be placed on the first-floor showroom.
One of the biggest expenses for the bank is bedding.  They are not legally allowed to give out used bedding so providing new bedding is one of their largest out-of-pocket expenses.  They rely on donations and discounted prices.  Retailers like Ikea have donated bedding and box springs in the past.  Walking around with Robin made me realize that there are so many people who work together on this mission.  From local hotels and universities that donate furniture to individuals who give their time helping out, to organizations that give financial support, there are so many working together for this great cause.
The one thing that I love most is that each person or family can come in and pick the furniture and art that they want for their home.  Filling a home with items that make you happy is part of the process of creating a home that you love.  Those working with local agencies that take part in the program make a reservation to come to the bank.  They work one on one with a staff member who goes around and helps them select all the furniture and items that they need for their home.
Drawers are one of the most needed items at the bank.  Due to shortages, they often can only offer one set per family.  They are looking for partnerships throughout the city such as working with inmates in prisons to help make simple drawers and tables.  They often ask other organizations or charities to consider doing drives for lamps, drawers or art.
It's clear that they will take any help that they can get.  What people might not realize is the sooner they can furnish a house, the sooner they can get someone a safe home.  They explained that often the houses and families are ready, but that the housing organizations won't place people until the homes are furnished.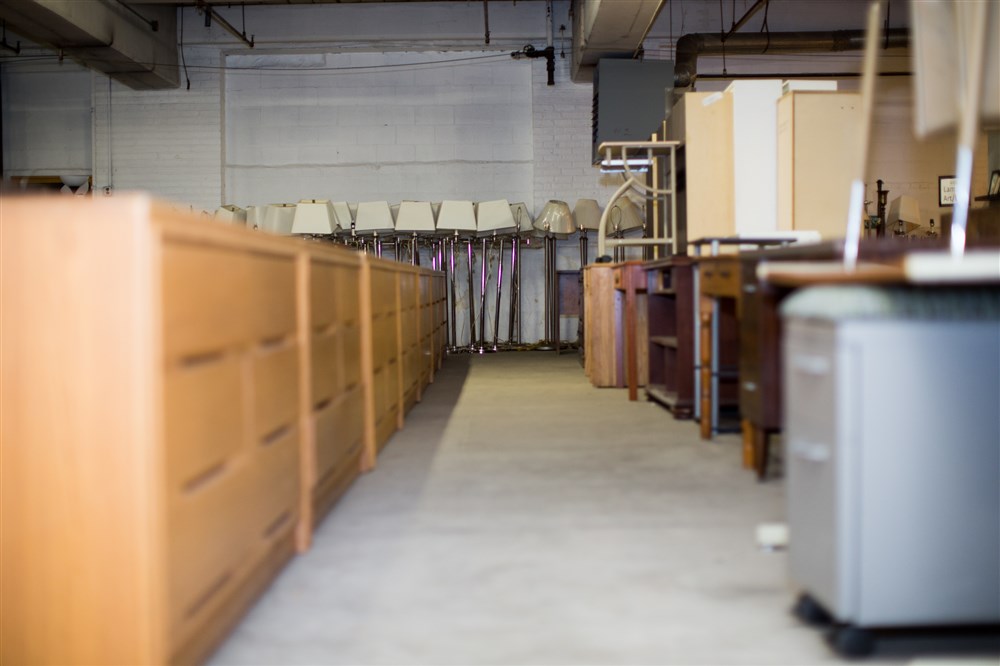 "The quicker we can furnish these homes, the quicker we can get people off the street", says Tom Maroon, Director the Furniture Bank in Philadelphia. The bank asks that the people getting items from the bank try and get friends or family to help them pick up the furniture as delivery is the only cost that they need to charge in order to keep the bank operating.  Tom, who leads the team at the bank, says that getting family and friends involved in the moving process is an important part of helping the family member recover.  He's seen everything from friends and family feeling extremely happy and proud to finally help get their loved ones off the street to loved ones having no idea that the person in need was even living on the streets. Support comes in so many different ways.
You can feel the love in this space.  It's more than chairs and tables, it's about healing and creating a life and home that you can be proud of.
I picked up my chair that I plan to upcycle for the Philly Chair Affair on June 1st.  The goal of the event is to raise money and awareness for the Philadelphia Furniture Bank to support their simple mission that no child should have to sleep on the floor.  Consider making a donation or finding out how you can get involved. There is no donation too large or too small and I know they'd love to hear from you.
I'm thinking an emerald green base with a fun fabric for my chair.  I hope to do another blog post showing how I transformed my chair, so stay tuned for that.  Thank you to my friend Amrit Gluck of Magnolia Main Line photography for capturing these photos down at the Furniture Bank.
I wrote this blog post because I wanted to do my part and raise awareness for this wonderful cause.  Many people in our area have never heard of the Philadelphia Furniture Bank and you may have a friend or family member that would be interested in helping out in some way.   I'm asking those reading this blog to consider sharing this post, because together is the way that we can make the biggest difference.
Lots of Love,
Haven