One of the biggest trends in home is outdoor living.  Every home should have an outdoor space where you can enjoy the season.  Grand outdoor living spaces are wonderful and can really add value to your home in the warmer months, but smaller more intimate spaces can be just as nice.  When you are creating these outdoor spaces, it's important to make sure that they have a good connection to the rest of your home and that they are designed so that you are getting the most functionality from the space.  It's all about what is going to allow you to get the most enjoyment from your outdoor living spaces.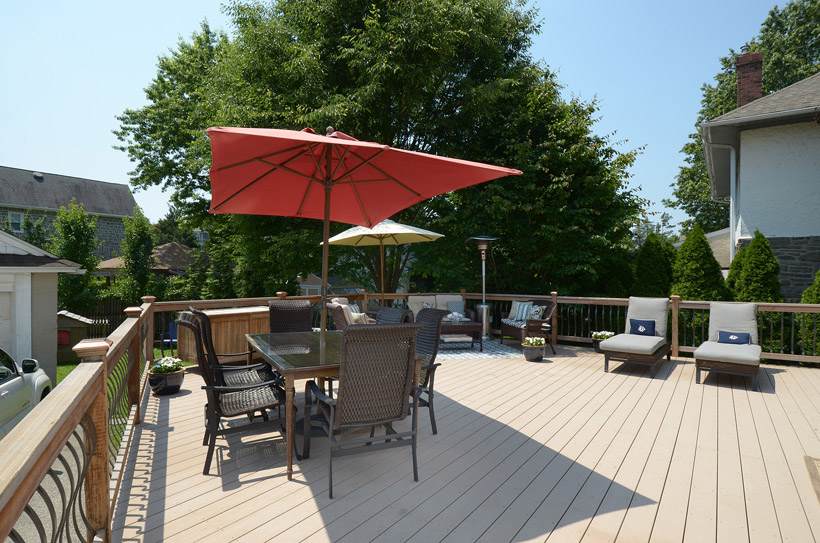 At our last house in Ardmore, my husband and I decided to add a deck on our home.  Our house was roughly 1,800 square feet and the deck that we built was roughly 700 square feet.  It was a large deck in proportion to the house size.  We decided to have a smaller yard and a larger deck because we thought that would serve us best.  And it turned out to be a wise investment, because the deck added tremendous value to our lifestyle and I believe value to our home as well.
Before the 700 foot deck was built, admittedly, our home felt a little tight.  Most of our gatherings would happen during the warmer months and the home felt slightly congested when we would entertain all of our friends.  By building on a deck, we were basically able to double the size of our living space.
The first year or so that we had the deck, there was only access through the back mudroom area.  The only downside is that the deck itself did feel a little disconnected to the rest of the house.  It was great and we could easily hold 25 people out there for a party, but we didn't end up using it as often as I would like because it felt somewhat disengaged from the house.  A year after we built the deck we decided to break down the wall in our dining room and install a large slider which would give access to the deck from the dining room.  Taking down this wall made all the difference and ultimately allowed the deck to shine.  Not only did it add light, but it more than doubled the value of our deck for us because it became connected to the rest of our space.   It's wonderful to have spaces for entertaining or ones that you enjoy, but if those spaces don't have a good connection to your home in some way, you won't ever be able to fully utilize its potential.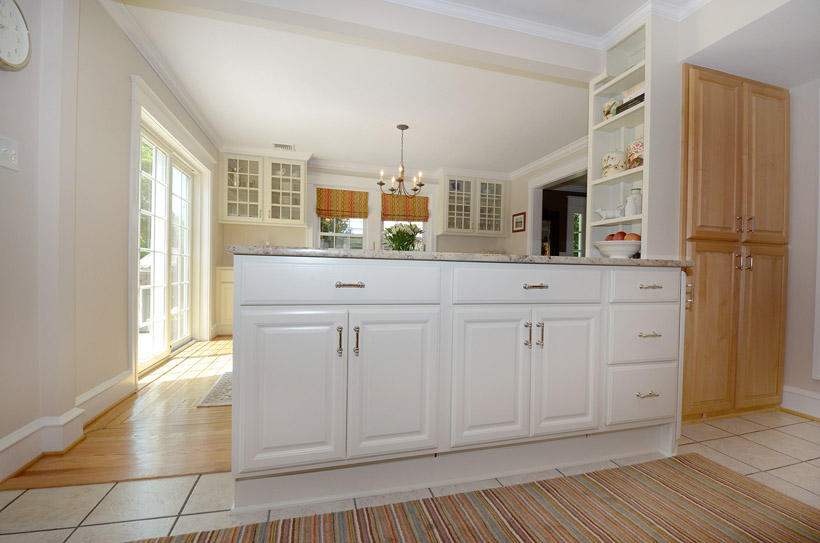 Adding a deck or patio is always an inspiring idea, but just as important is figuring out the best way to connect it to your home so that it can function at its best.  When you are investing money into creating outdoor spaces, it will be much more advantageous if you consider the connection to your home.  Often the project of installing French Doors to an outdoor space will be of great benefit because of the direct connection to the outdoor area and you will use it much more frequently.  When we invest into our homes, we really want to see a direct impact into our quality of life.  It can be simply delightful to build an outdoor space, but it is paramount to consider its connection to the rest of your home so that you will utilize the space to its fullest.  Often the price of making sure a patio or deck is connected well to your main home is a much smaller investment and sometimes it can feel like it's not necessary.  Don't be fooled by these thoughts.
Our current home came with a screened-in porch and I never realized how much we would utilize this space when we bought the house.  This is the ultimate connection to our house.  Located off a large slider in our kitchen, our screened-in porch feels more like an indoor space than an outdoor space.  From May until October, this is one of the most utilized spaces in our home.  It's where the kids go first thing in the a.m. to watch cartoons in the summer, probably because I will allow them to eat their cereal in front of the TV.  By adding a TV, outdoor curtains and a rug, our porch is truly an extension of our living space.  With protection from the elements (bugs, rains, etc.) and access to electricity, this indoor/outdoor space is about as good as it gets.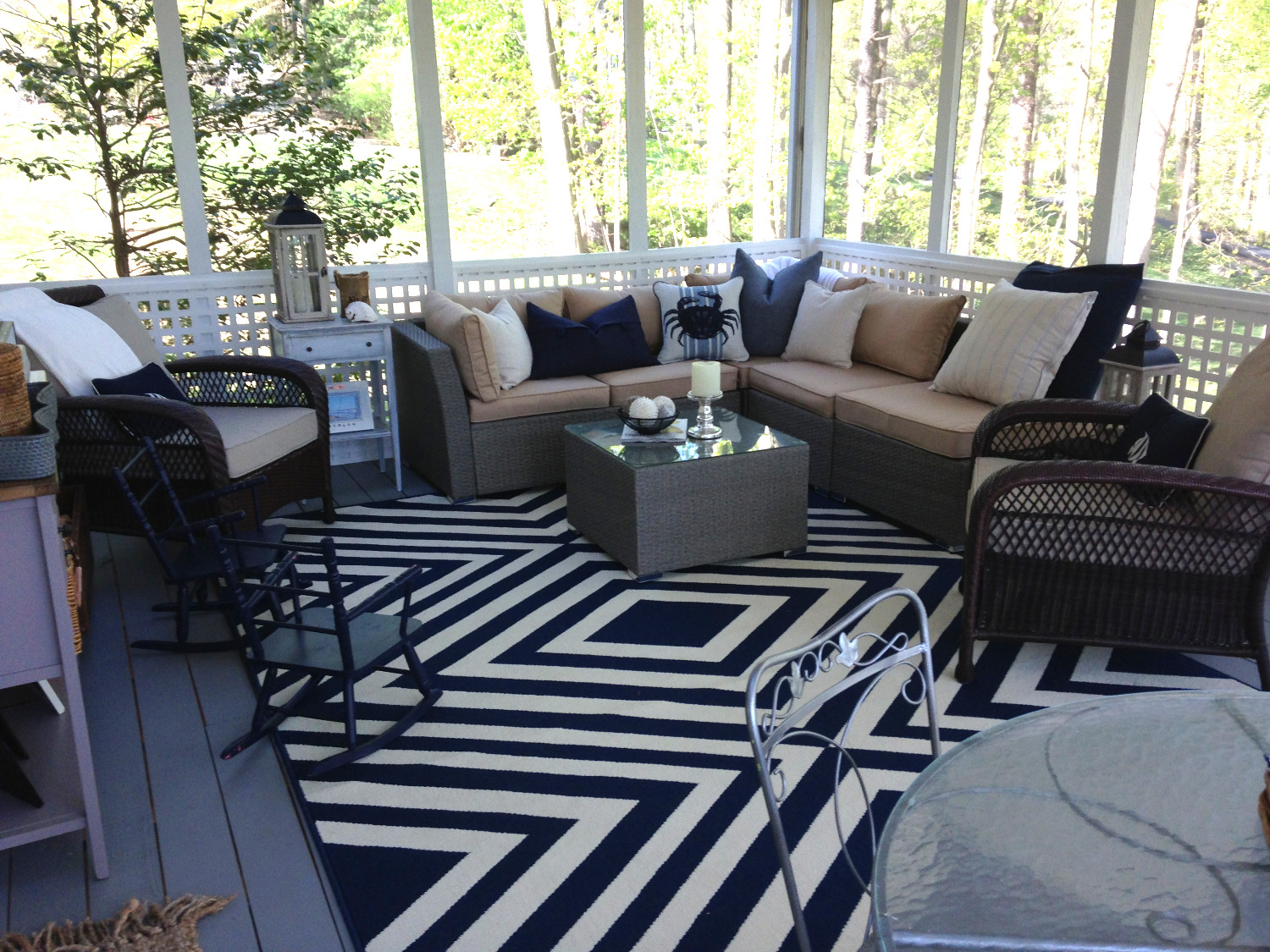 My other suggestion would be to think about how you really plan to use an outdoor space.  Sometimes we don't have room for everything that we want, so we have to make choices. Often there is a choice between a dining table and a seating area if your space is limited.
For example, my aunt and uncle who I lived with growing up used to have a small patio.  They love to eat dinner outside.  Their old patio could only accommodate a table which we used almost every night in the warmer months.  For our larger family it enabled us to eat dinner together and then also became a place where we would hang out after dinner.  Because they really love being outside in the summer months, they ended up putting in a pool and more than quadrupled the size of their patio.
They now have a seating area and a separate area with a table.  Now we hardly ever hang out at the table, but looking back, the table was best used when they could only accommodate one or the other.   For their purposes, a table was the best solution for their space.  But if someone doesn't enjoy eating outside they may benefit more from a casual seating area.  Time spent thinking about how you plan to use a space should not be forgotten.  With all things, the sky is the limit for options, but choosing the right option so that your home can function at its best for your needs is most important.
Privacy screens and pergolas are details to consider when you are designing outdoor spaces.  Both of these below were built for clients around the Main Line byDuddy Construction, our construction partner.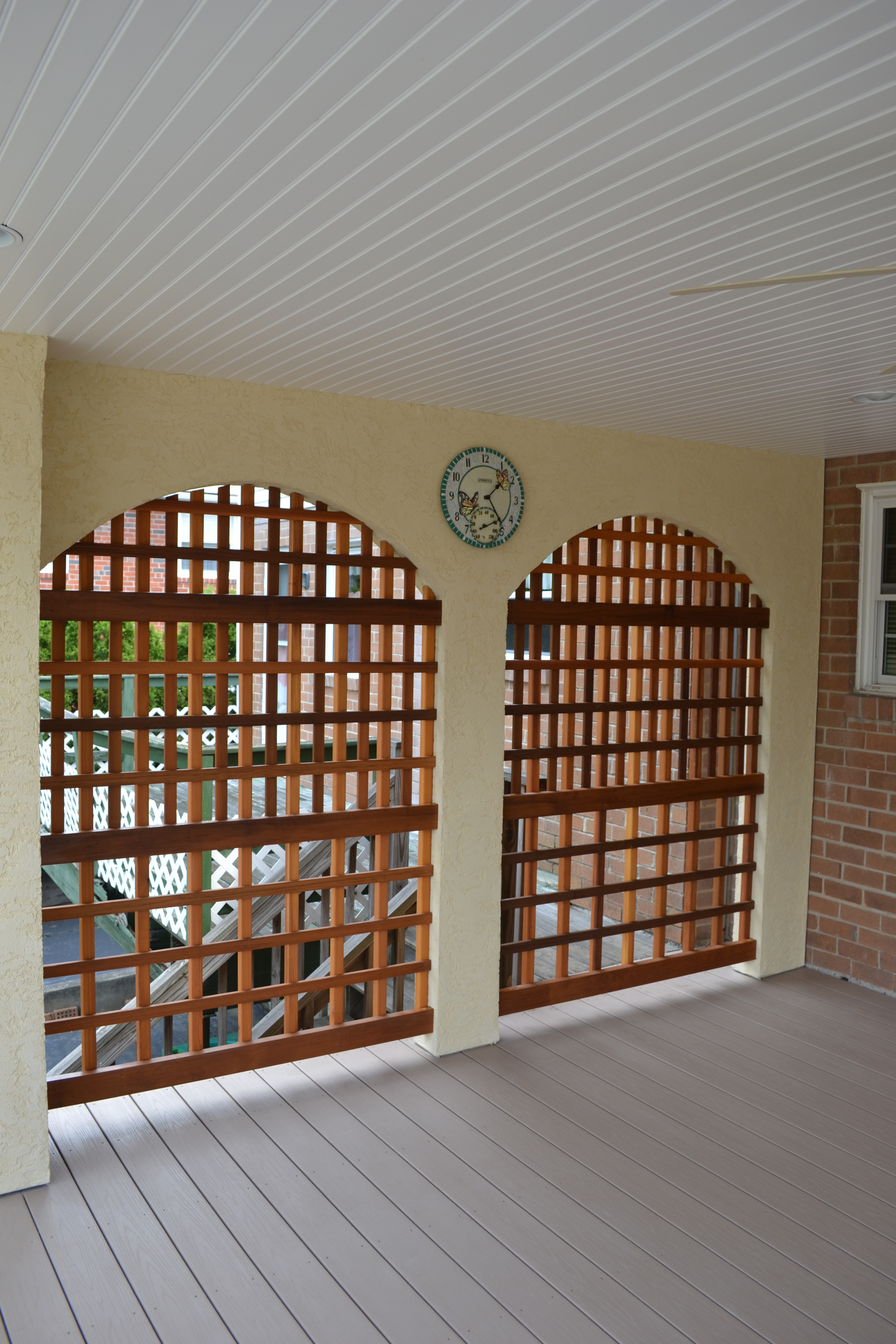 As my talented landscaper,Brendan Gibbons says, " your exterior is the largest room in your house".  Creating an outdoor living area extends the space of your home while enhancing your quality of life in the warmer months. Landscaping is the finishing touch to a home and should not be overlooked.
Here are some of our favorite outdoor products for outdoor living.  For this look and more Room Looks from Main Line Haven, click here.
Love the look of white crisp umbrellas.
Invest in quality outdoor products that you love.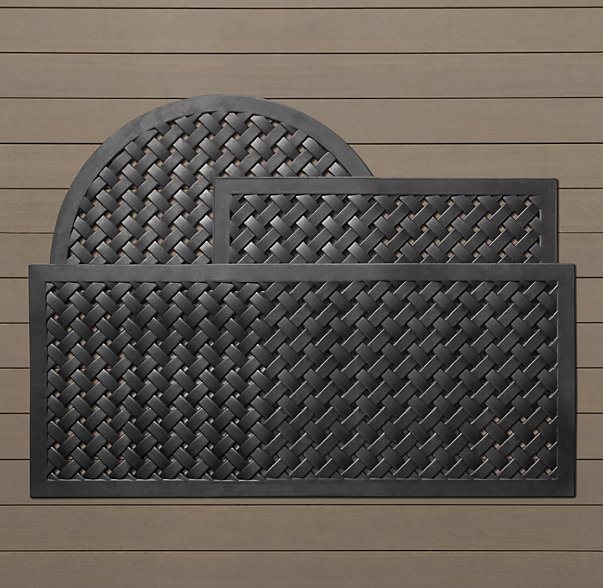 Black mats look great all year round.
I'm having a black and white moment with with outdoor decor.
Outdoor curtains are a great way to bring the inside outside.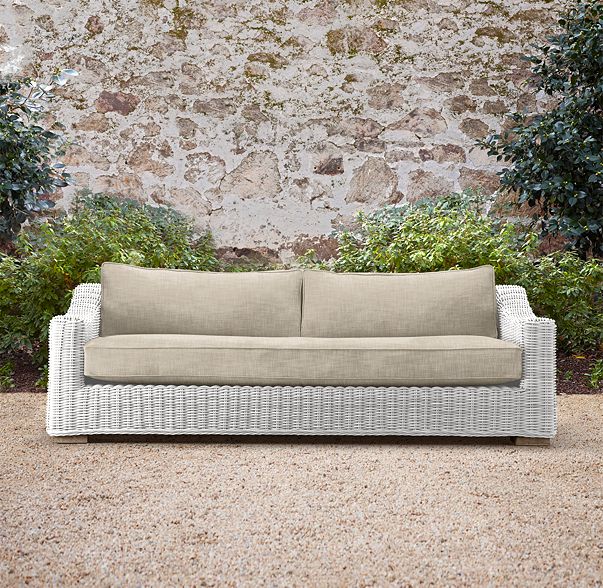 Furniture is expensive, but quality will last a lifetime.  So consider making the investment into pieces that will last.  Love the idea of a simple hammock as well.
We hope that you are enjoying summer and your outdoor spaces.  We want to see what you've been doing to improve your outdoor space.  Post in our Facebook Group, or tag us on Facebook or Instagram with #mainlinehaven
Join our Facebook Groupif you want to share ideas, get inspiration on all things home.  We have events and it's a great way to connect with your friends and neighbors along the Main Line for all things home.
Till next time!
Main Line Haven if your resource for all things home.  From real estate to construction and interior interior design, we provide service and resources to that you can create a home that you love.