House Tour and interview with local Main Line resident Amanda Barton.  Amanda lives in Berwyn with her husband and three children.  I wanted to feature Amanda's home this fall due to her love of everything orange, you'll see! When you walk into her home you instantly get a sense of her great style, how she lives and what's important to their family.  For them, home is all about making memories with their friends and family.
What does home mean to you?
I wish I could say that my home is a peaceful sanctuary where I chill out and lounge on the sofa watching Bravo, but truthfully, that only happens about one hour a night after my kids go to sleep! One day, I know I'll regain my peace, and will probably really miss the chaos of home with three little ones.  For now, home to me is about spending time with family and creating a place where we can all feel safe to be ourselves.
When we moved in, we enlisted the help of interior designer Phoebe Schuh of PS and Daughters. She was great about incorporating both my style and my husband's (yes, he really has an opinion on home décor) while maintaining function that fits our busy lives. I didn't want to constantly yell at my kids to get off the furniture, or be stressed out if our dog sleeps on the sofa. Kids are kids and I really think they should be allowed to enjoy their childhood as much as possible, within reason of course!
Love, love, love the wallpaper in their first floor powder room.    A powder room, foyer or dining room is the perfect space for wallpaper.   Smaller spaces are great for bolder options too. If you're going to use a paper, pick one you absolutely love.
How would you describe your style?
I think it's fun to mix styles, and definitely tend to blend looks in my home. I love to incorporate modern elements into my style, especially in this house where there is such a farmhouse vibe with the wide plank floors and the wooden beams. I also like that we have some older pieces from my dad and grandfather who passed away. It feels good to know that something that belonged to them lives on in our house.
What is your favorite thing in your home?
I love the big fireplace in the family room. We have fires a lot now that the weather is getting colder and it makes the house so cozy and inviting. After a fire department visit last year, I usually let my husband light the fires.
Is there anything you would have done differently?
There are always projects that you want to tackle (and I still have a long list!) but I think we started with the most important elements like paint, furniture and light fixtures. Next, I'd love to create a proper mudroom so the kids have a place to drop and store their stuff. Right now, their dirty shoes, bags and coats are pretty much everywhere and it can definitely drive me nuts!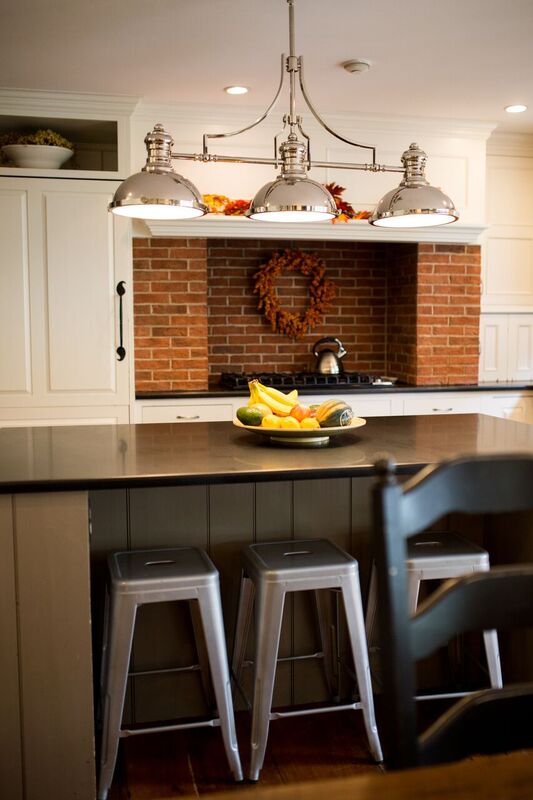 What is your favorite space in your home?
Besides my bedroom, which I love because I so value my sleep, I like spending time in the office. It's really the most functional room in the house. I work from home and like working at the desk, which is a really cool old drafting table that my husband found at work (even better that it was FREE!)  The room has a nice big television and fireplace, perfect for the nights we sneak in there to catch up on a show, AND it has a bar!  It's really the trifecta of rooms.
Amanda's desk, an old drafting table, fits perfectly in the den/office.  Amanda is in PR and marketing and is a principal at Barton South Communications. Having an office in her home allows her to work (mostly uninterrupted) from her home.
Headed down to the lower level.  This space can easily accommodate a party of 50 or more.  The lower level looked like this when they purchased their home a few years back and it functions well for their life because they love to entertain.  They decided to keep it as is.  It's a fun, no fuss space. Perfect space to share some cocktails and laughs with friends.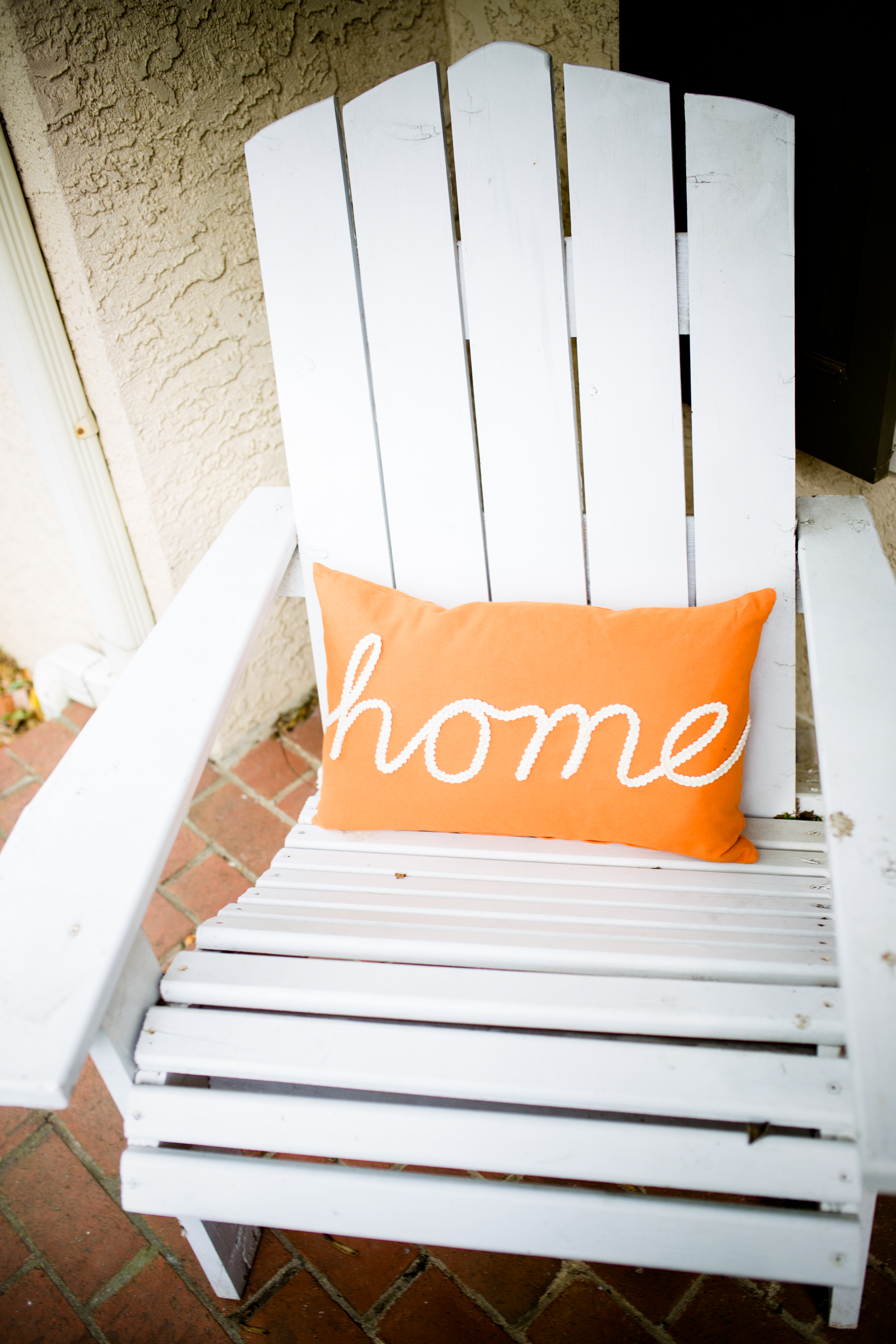 An orange door definitely  sets the right tone for this house.   Thank you so much for sharing your home with us Amanda!
Photography by Amrit Gluck, of Magnolia Main Line photography.
From your friends at Main Line Haven, We hope that you all have a safe and wonderful Thanksgiving.   Even though we talk a lot about improving our homes, it's the relationships and memories that we have within our homes that are the most important.
Enjoy our posts?  Share them with your friends!  Subscribe to our site so you don't miss any of our posts on all things home! Follow us on Facebook, Instagram and join our Facebook group where we discuss all things home.
Main Line Haven is your resource for all things home along the Main Line.  From buying & selling, to construction and design resources, plus how to truly live in your home and keep it looking and feeling like your own personal haven. There is nothing greater than the possibility of home and what that can mean in our lives. Start your journey to creating a home that you love today.  To learn more about Haven Duddy, click here.