I always say that you don't need Pinterest for home inspiration when you live around the Main Line. We are fortunate to be surrounded by some of the most beautiful homes and properties within the US, and it's the abundance of these homes that makes the Main Line.
My love of beautiful homes and properties began when I started visiting the Main Line as a child. My grandmother was a Realtor, and I remember her taking me with her as she toured homes that she would preview for clients. Now, having resided along the Main Line for the past 20 plus years, and being a Realtor for the past 13 years, I can honestly say that my love of the area and these homes has only continued to grow.
I travel our roads daily, and I see many of your homes. I love watching your projects come along, and even the small things like a change of flowers in your pots get noticed. Once there was a time when I pulled over and called my husband Patrick only to tell him that he too, had to drive by to see the completed exterior renovation on a home that we both passed often. I even wrote the owner a note just to say that I had loved what they did because it was the most amazing transformation that I had ever seen, and it opened my eyes to how you could change the exterior look of a home. It made my day when the owner called me back and invited me to personally tour the inside, which they spent the better part of a year renovating from top to bottom. I later heard that the home was to going to be featured in one of the most influential home magazines, which honestly didn't surprise me.
As a Realtor, I'm fortunate to see so many of these fine homes each day. As the wife of a general contractor, I see and appreciate so many of the older homes that have been beautifully renovated and restored. Many of these homes are deserving to grace the cover of magazines.
So, when Wayne Living Magazine asked me to have a monthly article where I showcase a home, called Haven's Homes, I was beyond thrilled, I mean this is my passion! Some of the homes that I feature will be homes for sale, but most will be homes that I admire. Some of you may even find a note in your mailbox, asking for you to consider letting me feature your beautiful home that I have been looking at for years.
The first home I'm honored to highlight is a 100-year-old plus renovated English arts and craft style home that was originally designed by William Price in 1885. This home sits on the corner of Pembroke and Louella Avenue in South Wayne, which is one of my favorite locations around the Main Line. I first saw this property on a real estate broker tour and it's one of those homes that you have to see in person to appreciate. The home, which is currently for sale, was recently renovated in 2016 by KingsHaven Properties, KingsHaven Design and John Milner Architects. I sat down with the CEO, Lauren Wylonis of KingsHaven Properties and KingsHaven Design and asked her some questions about the home and the renovation project.
Why did you choose to purchase 100 N. Pembroke Ave?
When I walked into 100 Pembroke Ave, I got a sense that the home had a wonderful spirit. I'm passionate about saving older homes and I could see past all the neglect and see that at the core, this was a beautiful home that had wonderful potential. From the handmade glass windows to the original plaster work on the living room ceiling, I knew that our team could not only bring back the original details but we could make changes so that the home would functionally serve a family by today's standards.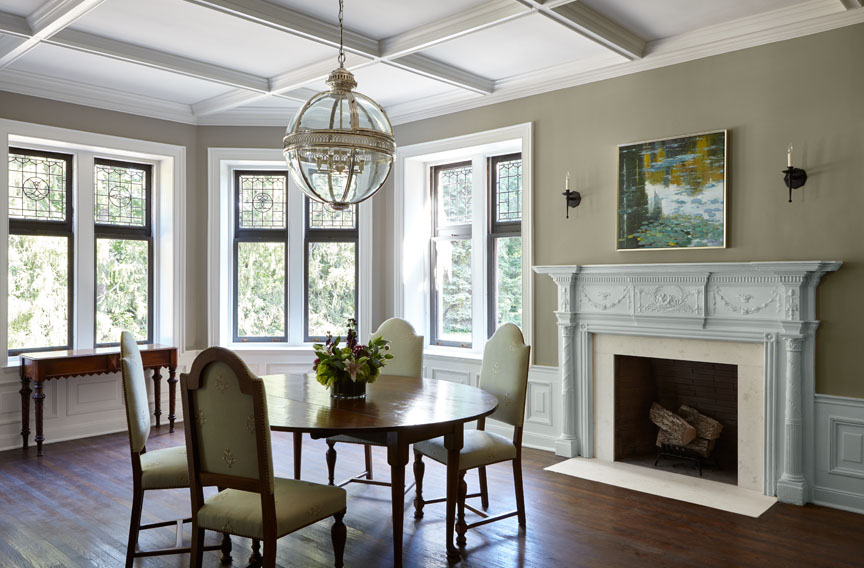 What were the biggest challenges during the renovation?
The biggest challenge is often creating a floorplan and general flow that works for how families live today. This is a grand home, but it was important to us that the home feels livable and homey. We wanted to create a home that felt just as cozy for a small family on Thanksgiving Day watching football as it would elegant during a black-tie event for 200 people. It was also important that all changes and design elements would be consistent and only highlight the original design elements of the home.
What do people love most about the home now that is complete?
Most people are wowed when they walk into the grand two story foyer, which is also one of my favorite elements of the home. The eat-in kitchen with imported calacatta marble backsplash and island is a favorite among many. We spent a good amount of time designing the brand new attached three car garage and new mudroom. The fact that most people think this space was original to the home is a testament to the good design.
What was the overall design concept for the home?
Our passion stemmed from our love to combine European (British and French) design elements with transitional and modern design elements which fit perfectly with the 100 Pembroke theme. We used custom lighting from our signature Kings Haven Lighting collection throughout the home and created a cohesive neutral color palette. When people walk into the home we hope that they feel that this is their dream home. We wanted to create a haven that exudes grace and elegance while still having the feeling that you can sit back, relax and enjoy the simple moments in life. To us, that is a beautiful home.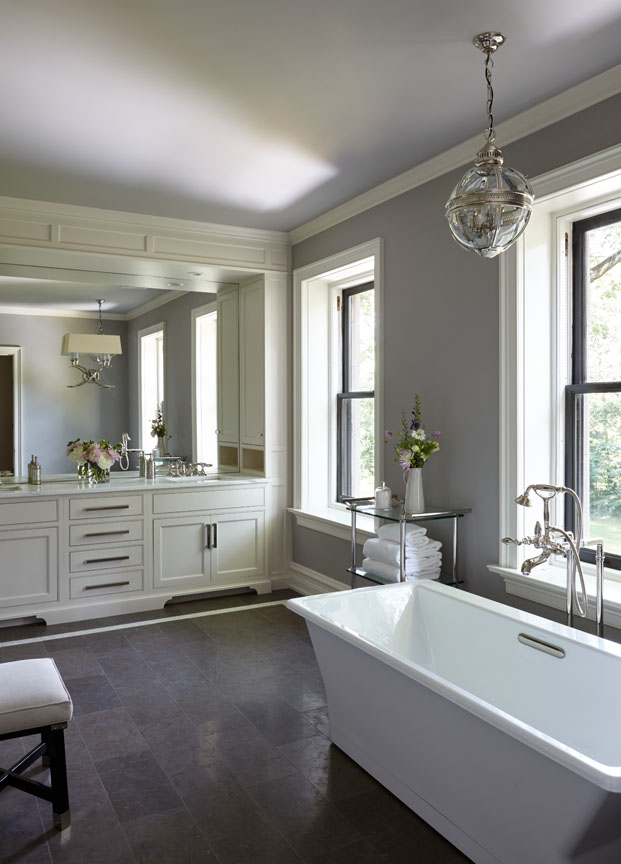 I hope that you enjoyed learning more about this beautiful home which is currently listed for sale by Beth Samberg of Keller Williams Main Line Realty for $6,999,000. I look forward to featuring more of my favorite homes. If you would like your home considered for feature, please email me at haven@mainlinehaven.com
If you would like more information on this home or any other homes currently for sale, email me at haven@mainlinehaven.com or call my cell, 484-614-2362.
There are so many homes that I love in our area and I look forward to sharing more with you!