This post was written by Greg Matusky.  When not growing tomatoes, Greg Matusky owns and runs Ardmore-based Gregory FCA, one of the country's largest public relations agencies.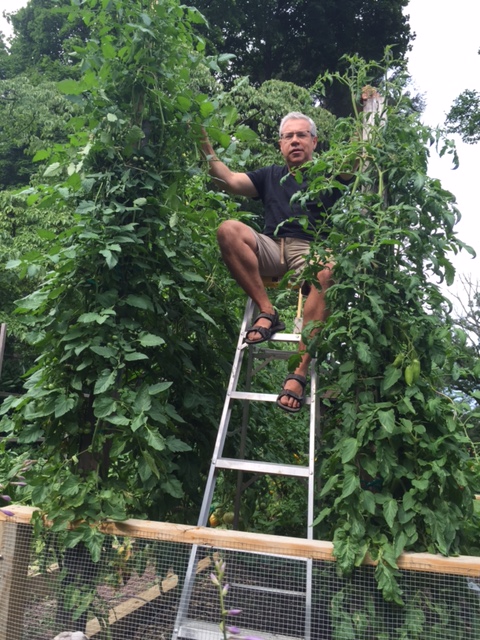 I am mad about tomatoes. They consume an excessive amount of my time and thoughts. My obsession starts in late February, when I plant 300 tomato seeds in a greenhouse atop my garage in my Ardmore, home and continues through the first killing frost of October. I keep only 20 of the finest specimens. I Fed Ex and give away the 280 others to family, friends, and coworkers. A Johnny Appleseed of tomatoes, I guess. The reason for my passion is simple: No other homegrown vegetable (I know they are really a fruit) has as much of a flavor advantage over store bought. Their sweet brilliance simply overwhelms the packing peanut flavors of the grocery store kind, even those found in the frou-frou stick-up joints, Whole Pay Checks, or Fresh Frauds.
And when it comes to backyard growing, there are tomatoes, and then there are those that make you drop to your knees and thank God almighty for being born. The latter are usually heirloom tomatoes, forgotten flavors that our grandparents once grew and ate before hybriding and industrial farming took control of our food supply.
You can find these seeds online—at places like SeedSavers.org—an archive of seeds passed down through generations and now being reintroduced to home growers.
My absolute favorite heirloom, and one that does remarkably well in the microclimate of the Main Line, is Cherokee Purple. Its huge, contorted fruit is ringed with green at the top and gives way to a dark, rich purple hue on the bottom. It has won my family's taste tests for 20 years running. Read the story of how Cherokee Purple was discovered and you can Friend the discoverer, Craig LeHoullier, on Facebook.
Start seeds on a sunny windowsill in early March. Make sure to water daily, but never ever let tomato seeds or plants sit in standing water. Like a drunken uncle, tomatoes love to binge and then dry out before imbibing again.
But seeds are only half the story of tomato growing. Soil is the other. All great food begins with soil, that scant six inches of loam that supports all life on our planet. Tomatoes love nutrient-rich soil high in organic matter. To get it, I compost my leaves every year, adding coffee grinds (I take home buckets full from the office) and chicken poop (doesn't everyone have a few backyard chickens on the Main Line?). Come spring, I add a few bags of Compost Alive, an organic compost starter comprised of beneficial bacteria. I mix the compost into the soil at the outset of the season, and then use it as a mulch to tuck around the plants once they are about two feet high. You can use the same approach with containers. Just make sure the pots are big—at least 10 gallons—and have plenty of holes in the bottom for drainage. Plastic, because it retains more moisture, is a wiser choice than ceramic.
Another great trick? Raised beds. A bed that's even four or five inches above the lawn warms soil quicker in the spring and allows for better drainage. Once growing, water plants frequently, drenching the soil six to eight inches while allowing soil to dry out before watering again. As for fertilizing, I go organic and use a fistful of Tomatoes Alive when I first transplant my plants outside and then again when they set fruit. It's a great balanced fertilizer, high in potash, which coaxes the full awesomeness from 'maters. You will want to fertilize and water more frequently if you're growing in containers, which dry out quicker and leach nutrients out of the bottom.
Staking is an issue unto itself. Nothing is more devastating than checking out the garden after a violent summer thunderstorm only to discover upturned plants. Fifteen years ago, I endeavored to find the world's best staking system. Doesn't exist. Cages don't work and skinny wood stakes are quickly overwhelmed by unruly plants. So I devised my own method, sinking 8-foot 4X4s 2 feet into the ground about 12 feet apart. I then string wire between them anchored with wire vises. It's similar to what wineries use to grow grape vines. It's never failed me, even if it looks a bit Tim Burton-ish in the starkness of winter.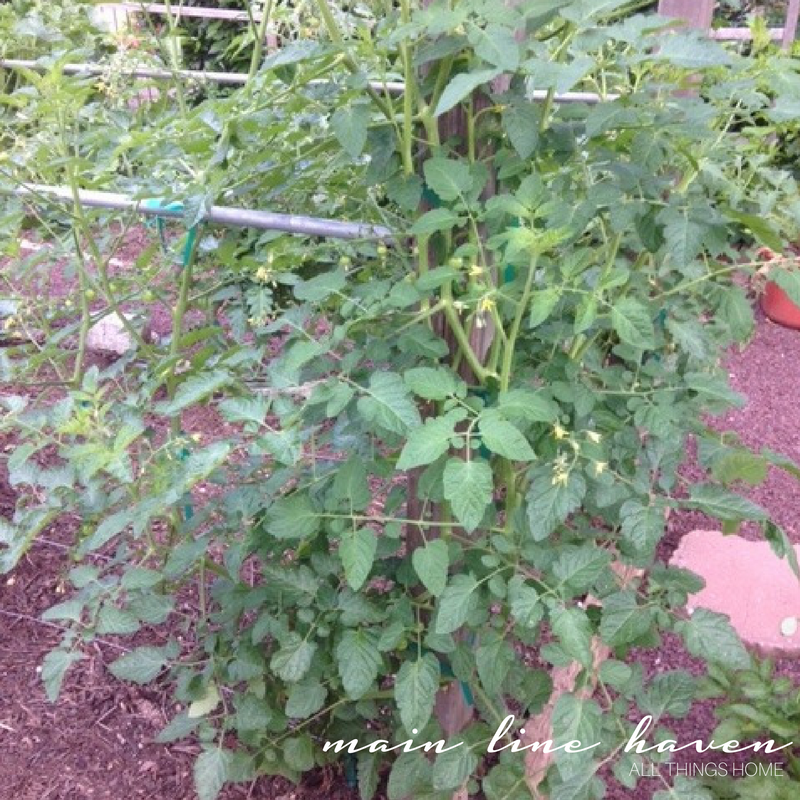 So there you have it. Some 30 years of tomato growing experience in way too many words. Start small. Overlook any failures and keep at it. The fruits of your labor are well worth it.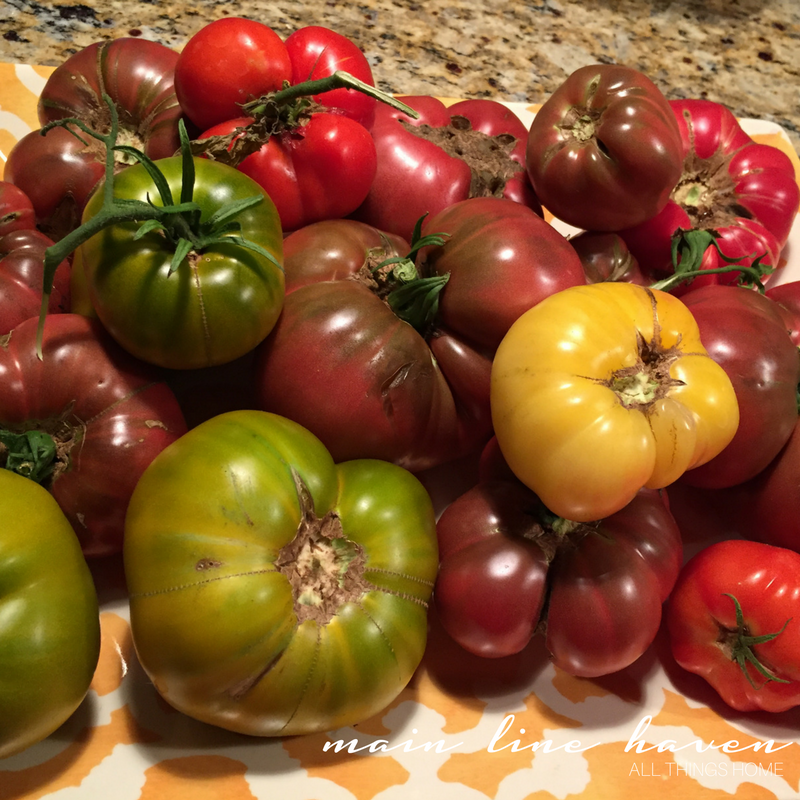 Thanks for sharing your garden with us Greg! Hopefully Greg will share more with us in the future as his Ardmore backyard garden is truly on another level.
Now you may be wondering what he does with all his tomatoes.  Well, Greg and his wife Judy, a registered and licensed dietitian/nutritionist make quite the foodie pair.  Greg grows the food and Judy turns it into delicious healthy meals for their family. If your not following her Cooking Fast and Eating Light blog, check it out here. You may remember our other garden post this past July, 5 Herbs Everyone Should Grow which was written by Judy.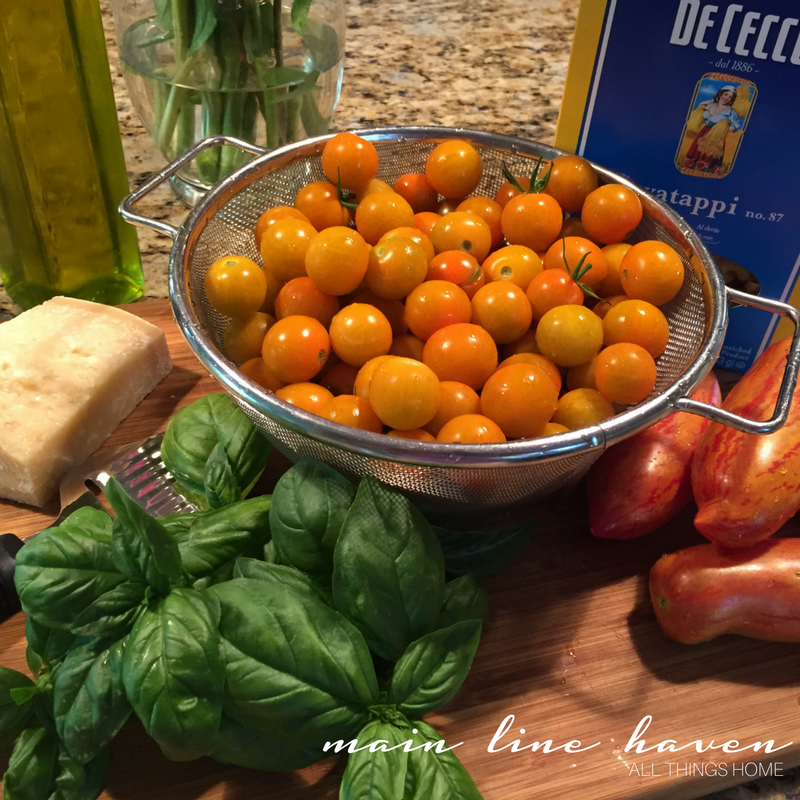 If you're ready to turn simple cherry tomatoes into a delicious pasta dinner, check out Judy's Sun Kissed Tomato Sauce recipe that she learned in a cooking class while traveling in Italy with her family a few years back.
Caprese Salad anyone?  This works for lunch or dinner and looks so good!
Judy plans to add more tomato recipes to her blog this August so be sure to keep checking her blog.
I love the idea of having a garden and feeding my family fresh healthy meals.  My husband would roll his eyes at me because I struggle with keeping our flowers watered in the hot summer, but a girl can dream right?
That being said,  I have a thing for gardens, especially really pretty ones like this that were built by my landscaper and friend Brendan Gibbons.  I mean, who wouldn't want one of these in their backyard?  #gardenenvy #marthamoment
So help me out friends.  I need some inspiration to actually move forward with a garden one day.  Show me your backyard gardens, share with me your yummy creations and tell me that all the watering, weeding etc would be worth it with the #justgrowagarden