In the past…for the most part, I've been someone who has incorporated some sort of fitness routine into my life.  But somehow through the juggling of work, family and friends, it seems like my personal exercise program was the first thing dropped when my life got busy this past year.   If I'm being completely honest, my exercise routine stopped after my summer vacation in 2015.  Yes, that's right, over 1 year ago.  My two week vacation was enough to break my routine and stop me from exercising for the past 12 months.  Now that I am back to work full-time, I feel more of a need to be home when I'm not working.  I wanted to find a way to incorporate exercise into my home.
I reached out to Platoon Fitness in Bryn Mawr and asked if they'd like to work with me on a blog post to show us how we can incorporate fitness into our homes.  They agreed to provide me with tips and also offered to give me some free personal training sessions which really got me pumped!
I've worked out with personal trainers before, but I have to say that this experience was different.  My first workout was at the studio so I could get a sense of what they offered. The Platoon Fitness studio is more of an open space with some machines, weights and various objects around the perimeter.  I don't believe we used anything except a bench and a mat during my first session.  My trainer focused on my flexibility, showing me ways that I should stretch and move.
My trainer, Mike, didn't seem as concerned with pushing me to my limits physically during this first session, although I did leave red faced and sweaty! That probably had more to do with the fact that it had been so long since I worked out vs. the workout actually being very intense.  He got me moving and focused on getting me to realize just how critical proper movement is to our overall health and well being.
The next week, Mike came to my house and showed me simple exercises that I could do at home even with my children.  During my workout we focused on stability, flexibility and mobility, the three pillars of what the body does, as he says.  As we worked he showed me different exercises that I could do around my home. His personality is part marine and part motivational speaker. His number one mission was to make me realize that even though we are really busy, we need to take care of our bodies.
There is also a real "back to basics" vibe at Platoon Fitness.  You don't need a fancy gym or expensive equipment to exercise.  Turns out you can do quite a few exercises with a cushioned coffee ottoman!
For those new to exercising at home, my suggestion would be to put on a timer…and don't stop until it goes off! Maybe you need some music to get you pumped or even make it a game with your kids.  I've found out that kids naturally like exercise, at least for the first 15 minutes or so.  Just get your body moving for 30 minutes a day!
In the past, I've had good experiences with home exercise videos such as the Jillian Michael's 30 Day Shred.  Initially, I was afraid to even ask Mike his opinion of workout videos because I figured that as a personal trainer he might be against them.  But I was pleasantly surprised when he said that he thought they were great.  He also mentioned that anything that is going to get you moving is good!  People just need to be careful that you're not doing the movement improperly, which could lead to an injury.
In the past, it's been easy for me to find excuses or to justify why I should start tomorrow.  And I can tell you from experience, that one day can quickly turn into 12 months if you're not careful.  All we really need is 30 minutes a day, a 5 by 7 space in our home, and a commitment to getting it done.  And don't forget to use what you have around the house. Who needs a stair climber when you have stairs?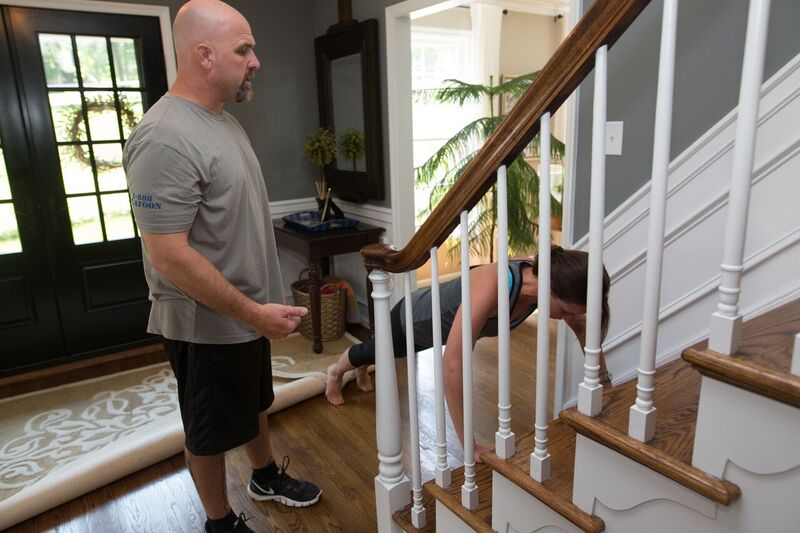 Their approach was more of a "we'll teach you how to fish attitude".  He explained that I already had everything that I needed if I wanted to start an exercise routine within my home.  "Use what you got", seems to be their attitude.   With some teaching and motivation, they were there to help get me moving towards a healthier lifestyle.
And for those looking to create a home gym, they specialize in designing gyms that work well for your fitness goals and your space.  Home gyms also happen to be one the most desired features within the luxury home industry, so feel confident in creating a gym within your home if you want to take it to the next level.
Even though working out at home is convenient, there is something to be said of comradery you feel when you are inside the Platoon Bryn Mawr studio.  When I first walked into the studio, I felt welcomed, not intimidated.  I also got the sense that people were having fun too.  It was a different vibe than your traditional gym.  I could envision wanting to start my day off at this space.  In addition to personal training, they offer classes both inside their studio and at various outdoor locations along the Main Line.
Sometimes even if we know what we should be doing, it helps when we have support or a little push to help us reach our goals.  That's one thing you'll experience when you work one on one with a personal trainer.
And for those like myself who want to incorporate exercise into our homes, I hope that we've motivated you to give it a try!  I can tell you that everyday I've been getting up and putting in 30 minutes of exercise before my kids wake up and I'm feeling more energized, clear-headed and ready to tackle my day!  It really is all about creating a behavioral pattern and using what you have.
Q&A with Mike!  How to get started and stay on an exercise program!
What is your advice for someone just starting out on an exercise program?
The best advice for anyone starting a workout program is to get MOVING!!  Literally, start moving. Create activities that get you out of your chair or off the couch and require you to move your body. The body was meant to move and it is much more resilient then we give it credit for.  If you just allow your body to get in the habit of moving, then you will be in essence, exercising.  Also, keep it simple! Often people try to do too much and they get sore or strained. Then they steer away from what made them feel that way to begin with.  A little can go a long way.
For someone looking to exercise at home, what is one piece of advice that you would give them?
Always look for new and inventive ways to work the body.  Avoid the same workout day in and day out.  Just because you may only have one piece of equipment or no equipment at all, doesn't mean you are locked into routine.  Utilize the internet and Platoon Fitness to investigate new movements to do with the tools that they have to offer.  Again, a little can go a long way!
What are a few exercises someone could do at home?
There are literally thousands of exercises to do with no equipment. I suggest you start by finding movements that you are comfortable with and allow you to move in a safe way, while physically challenging yourself, and at the same time having fun.  There is no point in attempting to do handstands if you cannot do a push-up yet!  I would always recommend a multi-joint movement (aerobic), an upper body (push or pull), a lower body (push or pull) and a core movement.  Although it should be stated that most body weight movements focus on core development.  Here are my personal "Daily 5". I complete these 5 movements throughout the day until I achieve my age in the number of reps. I do push-ups, sit-ups, squats, walking lunges and burpees.
What are the biggest obstacles you see for people to continue with a routine? Why do you think people fail at committing to exercise over a long period of time?
I think the biggest obstacle that people face is knowledge; knowing what exercise to do each day.  I think people fall off their routine because of boredom and that again comes down to knowledge.  It is really hard to keep routines fresh and fun. And still progressive enough to get the results you want.  Knowledge is really the key, whether you are buying a new TV or programming your microwave. The funny thing is that people will figure out all the in's and out's of a new computer or spend the time to program the highly complex new remote.  But they will barely spend any time to learn about the only machine that matters…their body!   Once someone "owns" the information, they inevitably will have an easier time practically applying it. Learning how to mix it up and change a routine is key.  So, that the long period of time that you are working out isn't so long and redundant.  Knowledge will allow someone to find what works for them, and what doesn't.
Is there a time of the day that you would recommend exercising?
The best time of the day varies to exercise.  People should look for a block of time or block(s) of time that will allow them to accomplish their daily training goals.  This means that it is OK to break a workout up and complete it through the day.  Actually, this is a more natural and functional way to exercise.  The social standards of having to train for 60 minutes are not realistic for most.  I would prefer to see someone take advantage of 10 minutes in the beginning of their day and 20 minutes at the end to exercise.  I think people are too rigid in their schedules.  For example, if someone misses their scheduled workout time because the fridge repair guy didn't show up on time, they feel that they missed their workout for that day.  Train when you have the time and you will find you will have the time to train.
Besides exercise, what other areas should people be focusing on for overall health?
Overall health is a funny animal.  You have to be willing to sacrifice to achieve your goals, but not so much that you can't enjoy life.  In the end, it all works hand in hand.  If you are eating correctly, you will feel good. If you feel good, you will want to move more. If you move more, you will maintain a lower level of stress. With a lower level of stress, you will sleep more sound.  These would be the 3 pillars of maintaining a healthy lifestyle.  OVER- focusing on only one or two of these and not all three will ultimately lead to a down spiral.  The biggest thing is not stressing over FAILING. EVERYONE fails at some point. The key is getting back on track right away.  If you are at a party and have bad food, then the next meal you eat must be healthy.  Typically, the answer is to eat healthy and healthy habits will follow.
How long does it take to notice results or to feel better if you're just starting an exercise routine?
You will feel better in 5 days or less once you start exercising.  Results are dependent on the goals and whether those goals are realistic or not.  If all 3 pillars are being addressed, then there really isn't a goal that cannot be attained.
Thanks Platoon!  For more information on Platoon, check out there website here. Or follow them on Facebook here.  If you enjoyed this post, please share it with your friends!
Mention Main Line Haven for a free exercise class at their Bryn Mawr studio!