I first "met" designer Taylor DeBartola on Instagram, where I was drawn to his bold, elegantly designed interiors. His work has been featured in House Beautiful, Conde Nast Traveler, Houzz and Apartment Therapy, and (lucky for us!) he recently relocated his design firm TD Interiors to historic Philadelphia.
Taylor graciously let me pick his brain about a stunning, two-part renovation he completed on an historic row home that he and his partner purchased in Charleston, South Carolina. Modernizing the interior while preserving its rich history and detailing was a delicate balancing act, but Taylor executed it beautifully, with his trademark style and whimsy. Keep reading for more about this incredible renovation, along with Taylor's love of estate sales and his top design tip. Also, be sure to tune in THURSDAY, APRIL 7 AT NOON for my chat with Taylor on Instagram Live.
Why was this your favorite project?
This project was a favorite of mine because it gave me permission to really go for it with regards to the design and color choices and encouraged breaking the rules in all the right ways.
Particularly, it was the private outdoor space and its interplay between the indoors. It's not a huge home, but it lived incredibly large. Many of these choices are now over five years old yet still reflect all sides of my design sensibilities.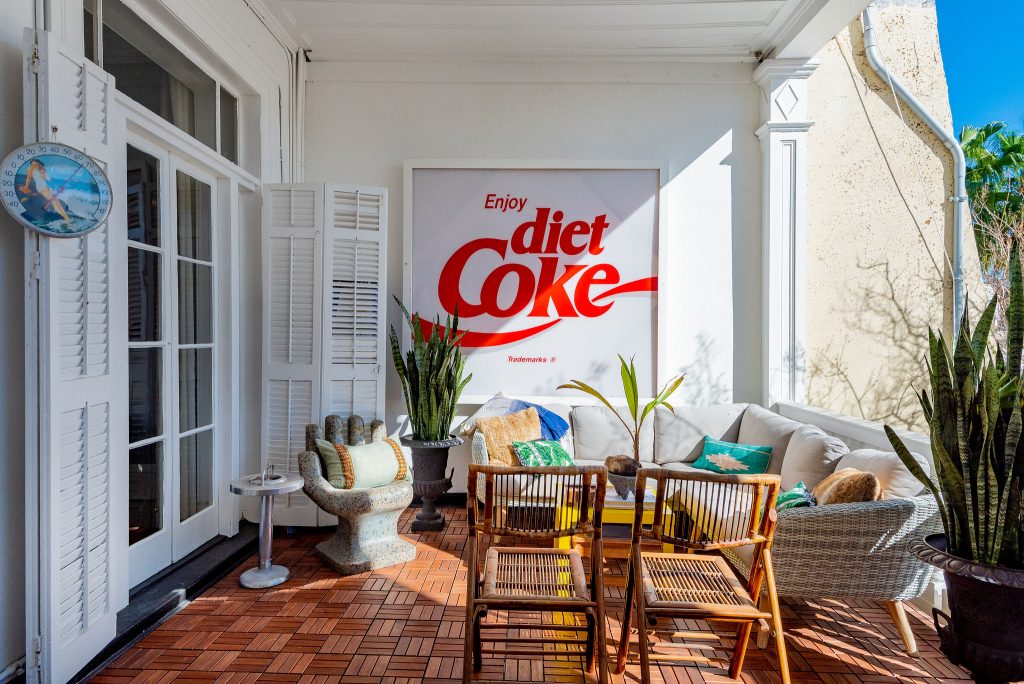 How did your career start?
A good friend of mine from college who I hadn't seen in years asked me out to lunch. She told me she was four months pregnant, had just bought a very large home and needed "soup to nuts" design help. She wrote me a check at the table. She's an entrepreneur and self-made person in her own right, and I credit her with giving me the nudge in this direction that has been a real joy for me.
Favorite place to shop on the Main Line?
Estate sales! You cannot beat the opportunities estate sales provide you to discover casegoods, antiques, sideboards, credenzas, coffee tables and the like. For furniture items, along with newly made upholstery and a host of other home design elements, I almost want to veer away from what's available to me in my own neck of the woods. The designers and shopkeepers I admire the most source goods from far and wide and can investigate options that your neighbors certainly won't all have.
If not for creating unique homes reflective of our own stories, what's the point of interior design? It's perfectly fine to just furnish a home, but I work with my clients to create spaces that feel organically layered and well traveled––as if acquired carefully over time.
What is your dream project?
Any project with trusting clients who value their family, their home, art and getting the absolute most out of the place they've chosen to call home.
Aside from that, I'd love to redesign all of Delta's Sky Clubs and eventually their airplanes. Like Delta, I was born and raised in Atlanta and if I'm factoring in the age of their fleet, I figure now is the time to start manifesting that job opportunity for myself. Think brown stitched leather seats, chrome, matte walnut…I wonder if the FAA would allow kilim carpet?
While I'm manifesting––a museum. I would love to design around an existing collection of art and objects and give them the space to be properly showcased.
Number one interior design tip?
Hire an interior designer! Kidding. But really. We all have strengths, and I'm all about letting experts be experts at what they do. I've remodeled and sold a half dozen places and I certainly wouldn't do it for sale by owner….it's likely your biggest investment and as far as I know, the only investment you're going to live with your family in.
But, my guiding interior design mantra comes from my Mom: "If you like it, it goes."
Thanks so much Taylor for the peek inside your gorgeous home! Click here to view more of Taylor's unique, inspiring interiors.