If you follow me on Instagram, you probably know that my husband and I just bought a beach house investment property in Avalon. We've been renting in Avalon for over 10 years, so finally having our own place is literally a dream come true. We closed on our new house at the end of January. The house was recently renovated and came fully furnished but there was still room for improvement. My goal was to redesign the space to make it feel a little more beach house chic with a Serena and Lily vibe. Not only would it be more of what I wanted in terms of look and feel, but I figured it would also be more attractive for renters.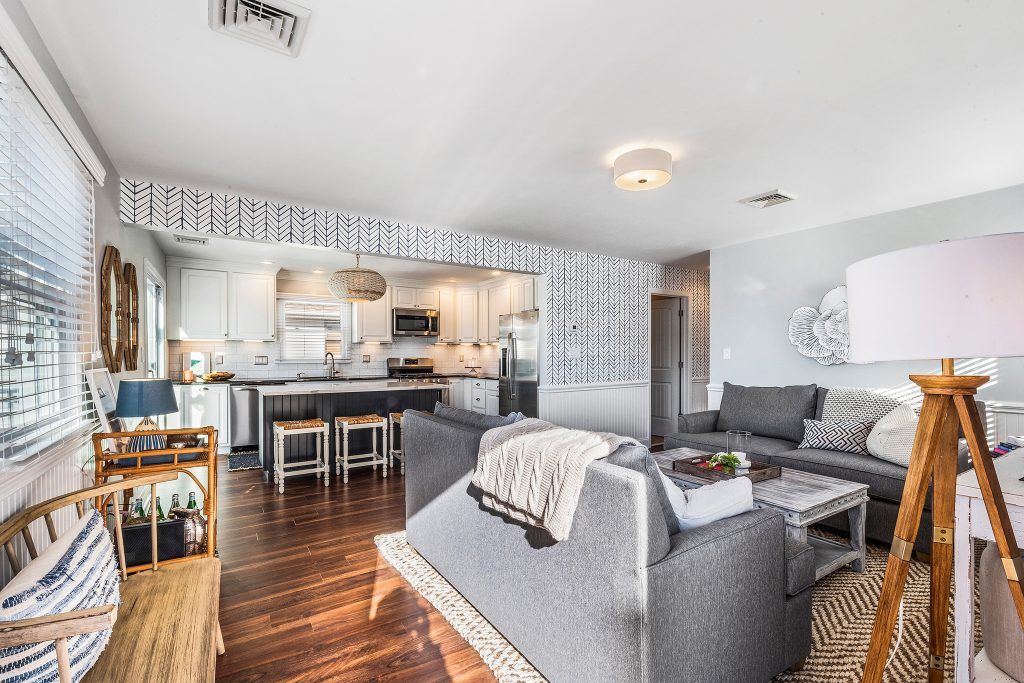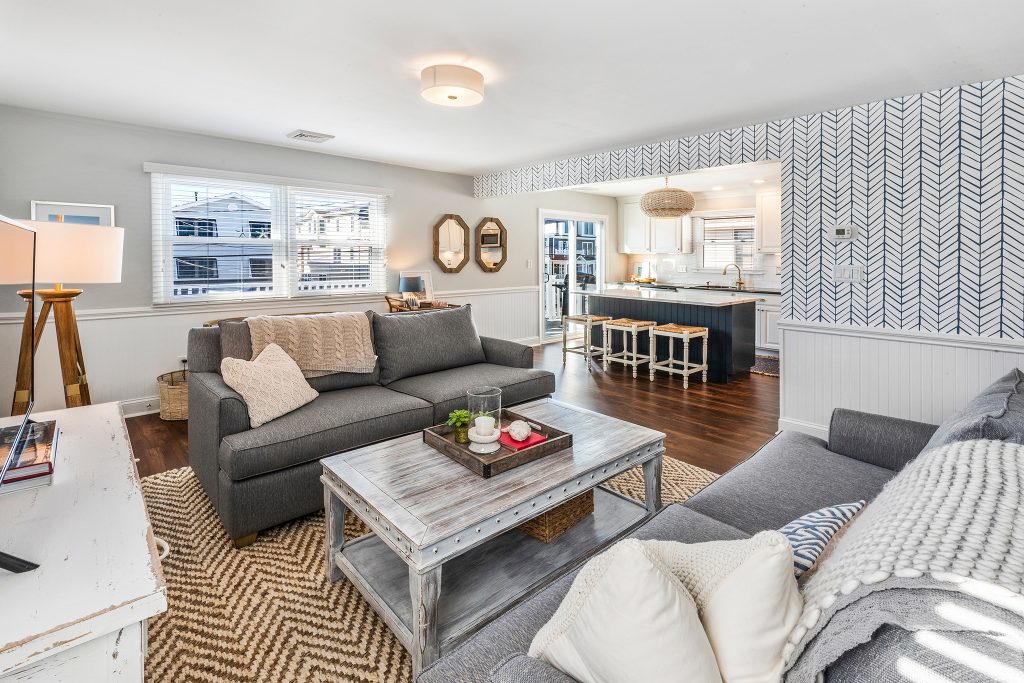 My Realtor explained that most houses that rent in the summer are leased up by March so we were feeling the pressure to get the house completed so we could list it for rent. I planned to have everything ready to go at settlement, so I relied on photos and room measurements to design the space. From the wallpaper to the outdoor furniture, everything was ordered and waiting in our garage at home so that we could get started with transforming the space the day of settlement.
The house is small, only about 1,100 square feet so I knew that adding wallpaper in the hallway and on the wall that separates kitchen from the living area would make a big impact. I decided to use this navy feather wallpaper by Serena & Lily and I couldn't be more pleased with how it turned out.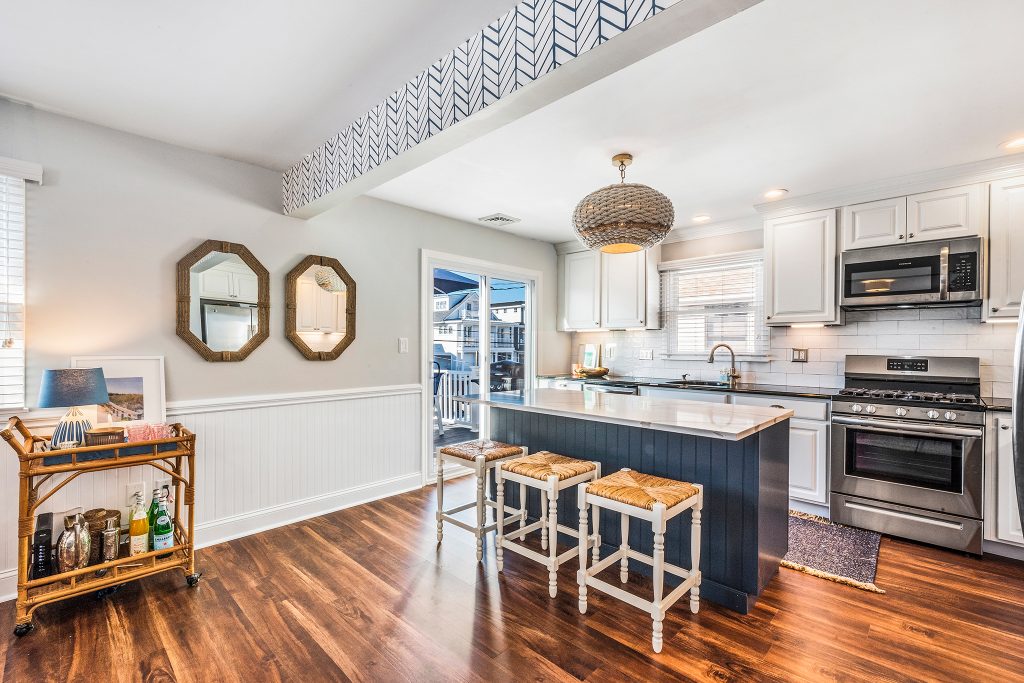 When we purchased the house, the kitchen had a table in the middle of the space. It was one of those high top tables and it just felt way to large for the space. We decided to install a navy island that we ordered from Century Kitchen in Malvern and paired it with a white quartz counter top. Not only did we gain extra storage, but the island makes the house feel larger. Luckily we were able to make the island large enough to accommodate three stools, perfect for our three children. I added this pendant from Anthropologie which I believe fits the space perfectly.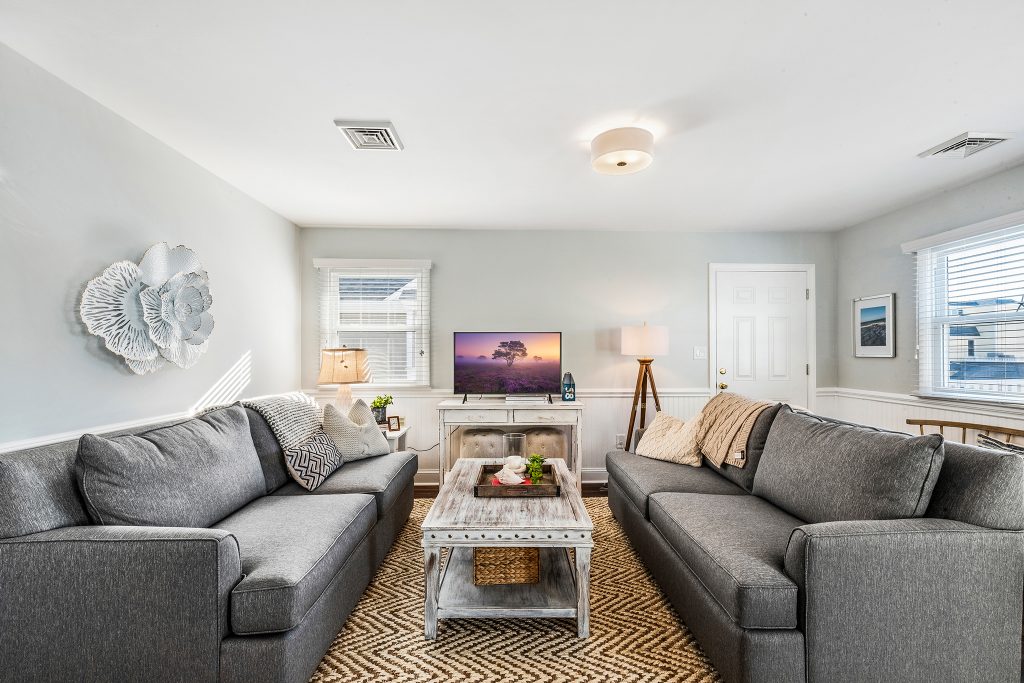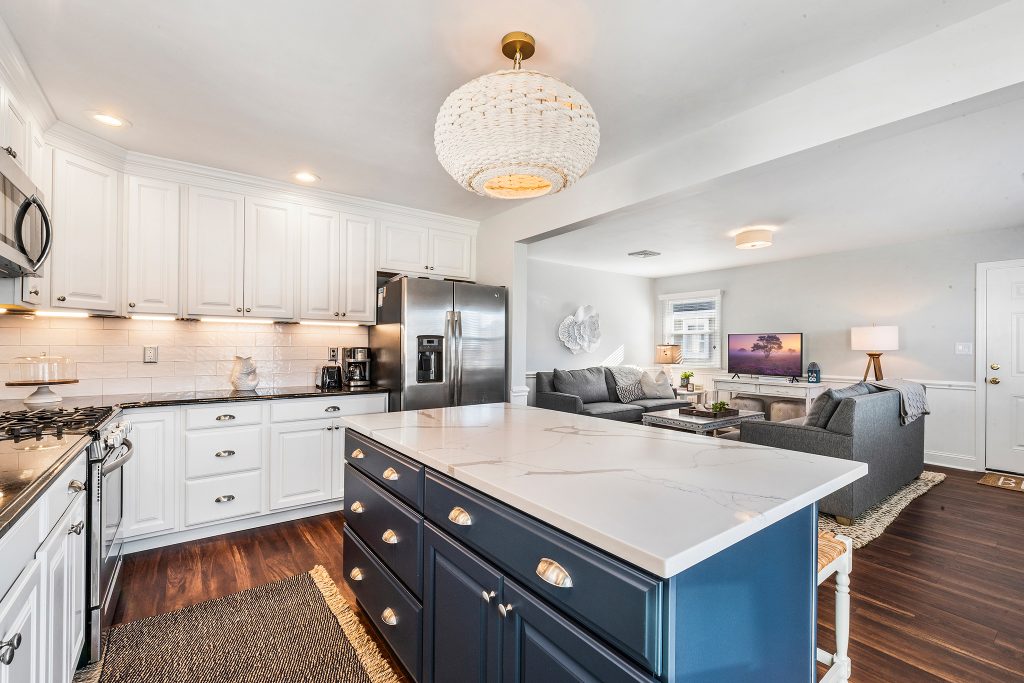 The living room area was a bit of a challenge. When we first saw the house, the way that the living room was laid out didn't make sense to me. Luckily they had two sofas in the space so by moving them around, I quickly realized that two sofas would work well in the space just in a different layout. We ended up purchasing two new sofas from Pratt's Furniture in Somers Point in a high performance fabric. This layout also allowed us to create a bit of an entry into the space. We added this bench, a basket for shoes or flip flops and this bar cart, all of which I found at Target. I'm debating whether to spray paint the bar cart gold so that may or may not look different down the road. I found the two rope mirrors on Amazon. Most of the bar accessories came from Target such as the small lamp and frame where I put a photo of the 22nd street beach path that I took last summer.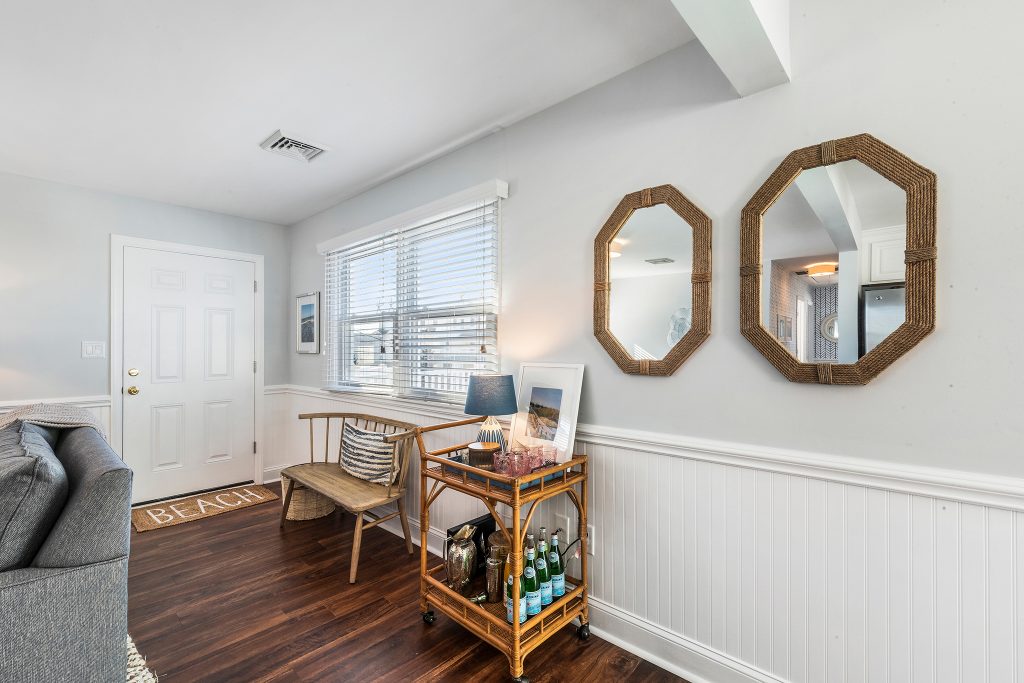 I was able to rearrange the furniture in the master bedroom and ended up keeping most of the decor that came with the house for this space. I added this mirror from Target above the turquoise chest. I also added a glass top from Bryn Mawr Glass that they made custom for us to protect the chest, since I figured that it might be a place where ladies would do their makeup, etc. I added this rug from Rugs USA. I thought that all the turquoise bedding was a bit too much so I added a simple white quilt and put the existing comforter at the end of the bed with a throw blanket from Potterybarn. All of the bedding that came with the house was actually new, so I tried to use as much as I could instead of buying all new things. I added some coral accent pillows and called it a day in this space.
We figured that we could change the position of the beds and add a bunk bed, which allows all three of my children to sleep in this room. The navy bunk bed was purchased from Ashley Furniture. My Realtor at the shore, Marilyn O'Donoughue , (who was absolutely amazing and found this house for us), recommended it to me as she has the same one at her shore rental and it has held up very well for her over the years. It only took my husband a couple hours to put the bunk bed together so it wasn't too bad. Our children seem to be enjoying sleeping together in the same room, which is great since it allows us to use the third bedroom for guests.
When we bought the house, this room had two twin beds which you can see above but we decided that wasn't the right sleeping accommodations for our needs. I wanted the third bedroom to be able to accommodate guests like my in-laws or possibly a family with kids. Instead of twin beds, we opted for a full sized bed with a pull out single trundle which we purchased from Pratts Furniture. Pratts is really great, the prices are amazing and delivery/assembly is included so we didn't have to lift a finger getting this bed together. The trundle part of the bed is on back order but it should arrive in the next month or so. The bedding is from Target. The rug is from Rugs USA. The dresser, nightstand and light came with the house. There was a ton of beach themed accessories such as the starfish light that came with the house. Even though I might have purchased something different if I was making the selection, I tried to use as much of the decor that came with the house as I could throughout. The items that we didn't use, I ended up selling pretty easily through an online Facebook yard sale group for the beach.
I would love to add a fun wallpaper, thinking about this, in the laundry room at some point down the road. We added a bunch of coat hooks, perfect for wet towels and bathing suits. I put a ocean print that came with the house over the electric panel and I figured that it was good that you could see the bottom of the panel still, as this way people know it's there if they needed to locate the panel.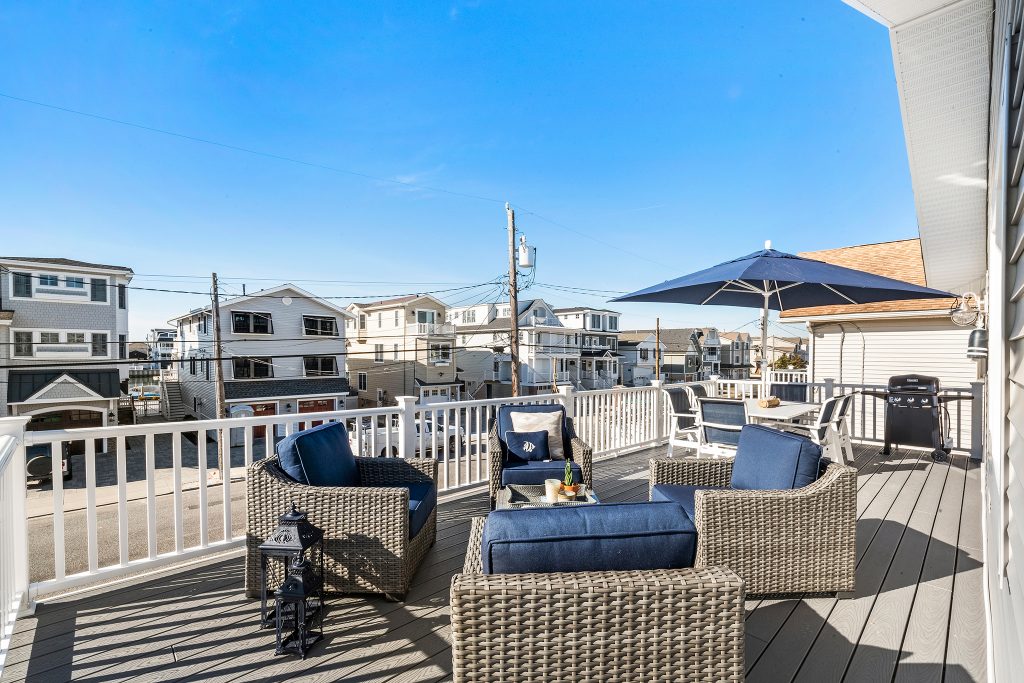 The large deck was the biggest selling feature of the house. This was the largest deck that we had seen and considering that the house is only 1,100 square feet, we felt that the deck really doubled our living space in the warmer months. I loved that the deck was large enough to have a seating section plus a dining table. We are currently looking into getting a fixed awning since we are on the sunny side of the street, but I'm not sure if we should try it without for one summer before installing one. I'm worried that it might be too sunny and hot without an awning but I'm also worried that it might make the house darker inside or that someone might actually want to sit in the sun at times. Let me know if you have an opinion on this! We purchased all the outdoor furniture from my favorite outdoor store, Fortunoff in King of Prussia. I believe that they have the best quality for the best prices. They run amazing sales starting around July 4th. I actually purchased this furniture at Christmas for about 50-75% off normal prices so it definitely pays to wait for sales.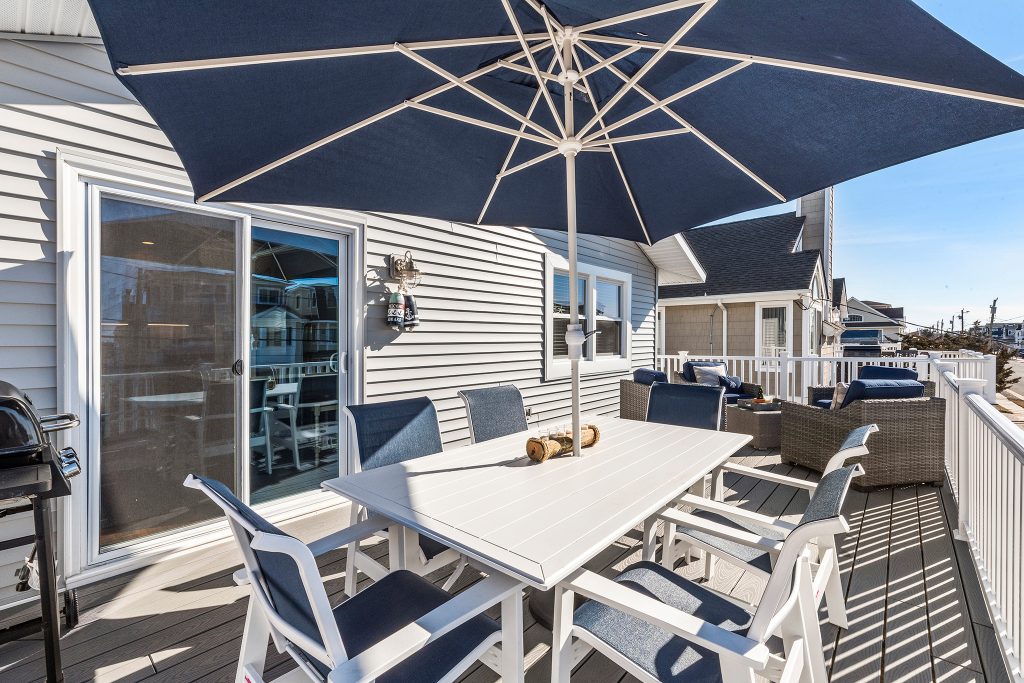 That's about it. If you're not already, be sure to follow me on Instagram. If you're interested in renting our beach house, visit www.stayhereavalon.com for more information. The house is also available off season for weekly or weekend rentals. Just send me an email if interested or if you have any questions at haven@mainlinehaven.com