A few months ago, I shared photos of my renovated kitchen. Now it's time for my lower level and back patio reveal (#betterlatethannever)! I could not be more pleased with how these spaces turned out, and they have quickly become favorite gathering spots for our family and friends. Before I share all the details of how we planned and executed this home renovation, here's a short video of the finished space:
To reach the main floor of our home from the garage, you must walk through the lower level and up a flight of stairs. When we purchased our home, the basement was unfinished. Every day, we'd park in the garage and go through the dark dingy, cement floor basement, breathing a sigh of relief when we reached the main floor. Relocating the garage wasn't an option of course, but redesigning the lower level to make it functional and inviting was definitely doable. At the same time, we decided to renovate our outdoor patio to create a large entertaining and gathering space that seamlessly connects to the lower level.
This renovation is a great example of taking two negatives (a ground floor garage entry and a steeply sloped backyard) and turning them into positives. It took some creative space planning and workarounds, but the end result is a cheerful, well-designed space that easily adapts to our needs, whether we're hosting a large party or enjoying a quiet night at home. The new space is so enticing that we no longer race upstairs after entering through the garage. Instead, we use this space just as much as our main living area.
Here's what our unfinished lower level looked like before. Ugh!
And here it is after! We completely transformed this space by creating separate "zones" for our family's needs, including a living room and hangout area for the kids, a mudroom, a home office for my husband, a laundry room and a full bath.
I painted the walls white to keep the space bright and airy and installed commercial-grade carpet for maximum durability. The textured walls behind the television and reading nook add interest and depth.
I knew I needed something to balance the television inset, so I added a large reading nook with built-in shelving––the perfect place to nap or cozy up with a good book! We also opened the stairway to create a more natural, open flow.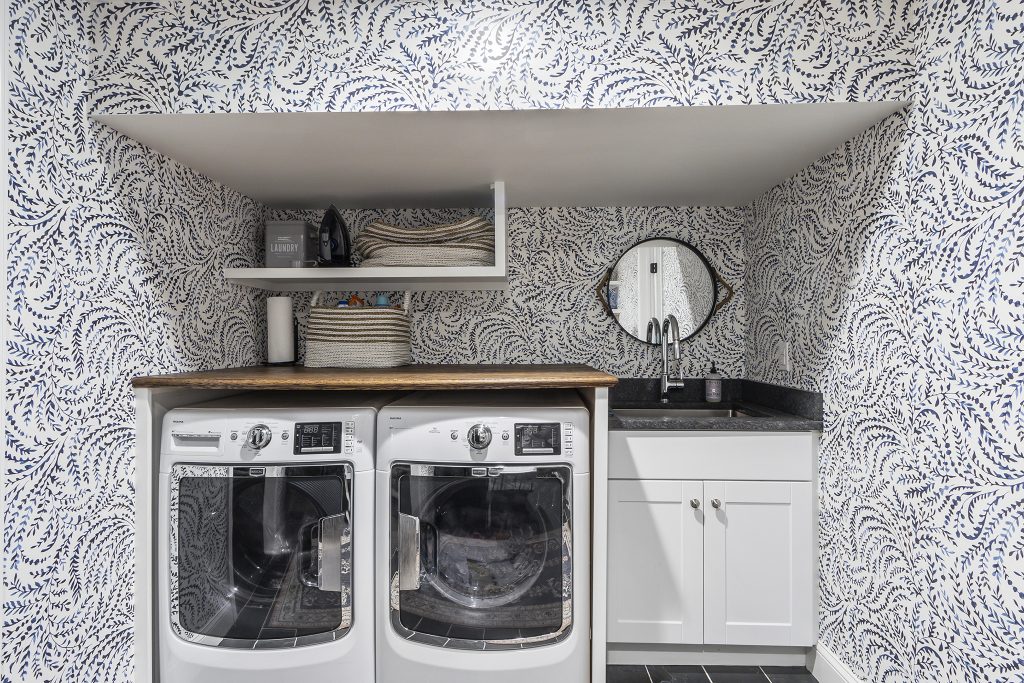 Just off the living room, we converted a storage area into a laundry room that connects to a full bath. The wallpaper adds a splash of sophistication, and the large counter over the washer and dryer offers plenty of room for folding and sorting.
A "drop zone" next to garage door is essential when the kids return home from school or sports.
Moving on to the adjacent outdoor space, here's a photo of our back patio before. Note the sloped backyard, which many people told us was completely unusable.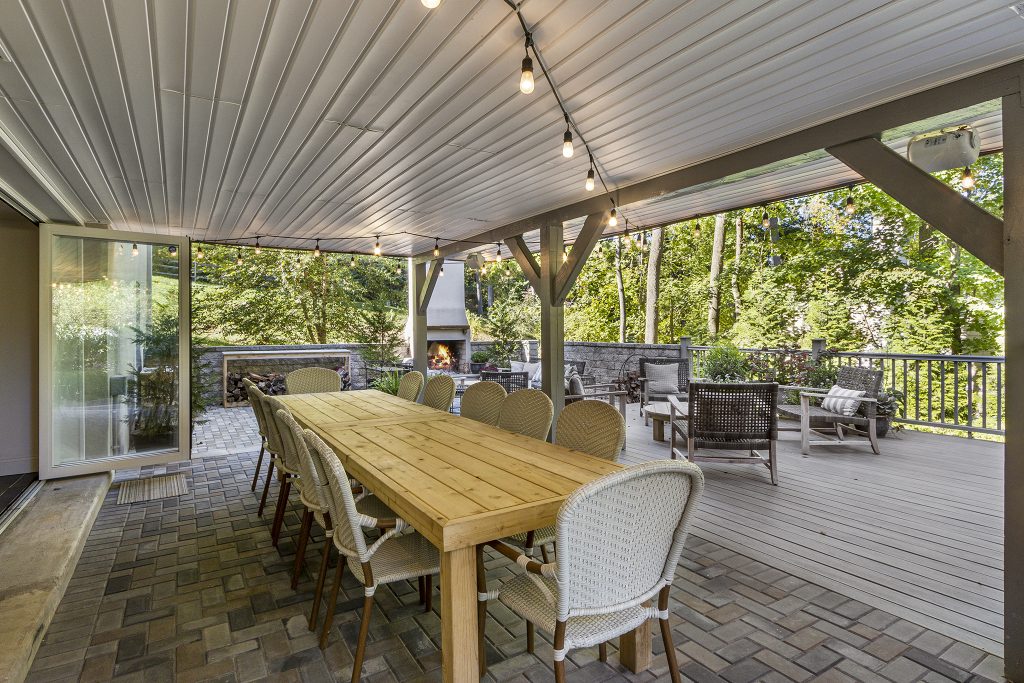 And after! The renovated backyard space is now a true extension of the lower level, with a custom folding glass door leading to a spacious patio and deck featuring a fireplace, large dining table (made by my husband Patrick!) and hot tub. Our old "patio" used to end right where the brick transitions to the composite deck, above. Beyond that was a steep, 15-foot slope leading to a small grassy landing. Building a deck over the slope enabled us to triple the size of our original patio.
Before we started construction, I spent A LOT of time measuring and taping out this space. As you can see, this area includes several amenities and designated spaces (fireplace, large dining table, grill, hot tub), and I wanted to make sure there would be plenty of room to move around and enjoy them. I always recommend going bigger than you think when designing a patio or deck; trust me, you'll be grateful for the extra space.
For those debating fire pit vs. fireplace, I vote fireplace if you can. It's more expensive, but it creates a natural focal point and the smoke and ash release up through chimney, so your clothes don't stink for days. It's perfect for a crisp fall nights. For the stone portion of the patio, I varied the brick pattern and color to keep it from looking too uniform. Patrick built both coffee tables.
After renting a vacation home with hot tub, I wanted one for our own back patio. It does wonders for my sore back and neck. However, I wanted our hot tub to blend into the surroundings. Patrick and I spent hours deciding how to incorporate it into our patio design. We eventually decided to place it off to the side, using a half-wall to separate it from the main patio and adding extra-wide custom stairs for easy access. A pergola on the other side adds privacy.
And there you have it––our transformed lower level and back patio. Watching our dear family and friends use and enjoy this space every day makes all the hard work we put into the design and construction worth it. A special thanks to my husband Patrick and his team for helping to turn my vision into a reality.
SOURCE LIST:

Construction: Duddy Construction (my husband's company)
Masonry: Kelly Masonry, 610-716-7552
Landscaping: Brendan Gibbons Co
Landscape Design: Jen McGowan
Basement carpet: Norman Carpet One
Laundry room wallpaper: Serena & Lily
Patio dining chairs: Target (old)
Patio lounge chairs: Fortunoff Backyard Store, King of Prussia
PS Ready to start your own home renovation? Check out my list of top Main Line Service Providers!