I often say that you don't need Pinterest when you live on the Main Line.  You just need to drive down some back roads to get inspiration on what you can do with a property and a home.  I'm always looking around to find inspiration and since I am on vacation right now with my family, I wanted to share with you one of my favorite outdoor spots and a place that I find so inspiring on what can be done with an outdoor space.
The outdoor dining space at the Diving Horse in Avalon is about as good as it gets when it comes to outdoor spaces.  There are many reasons why I love this space but ultimately my fascination comes down to what they were able to create with a relatively small amount of space located on the edge of a road.
The entrance from the road to the back deck of the Diving Horse is picture perfect as you step on slate pavers surrounded by pretty flowers.  The entrance of any space should reflect what's ahead and set the tone for the overall space.  And this entrance perfectly reflects what's ahead.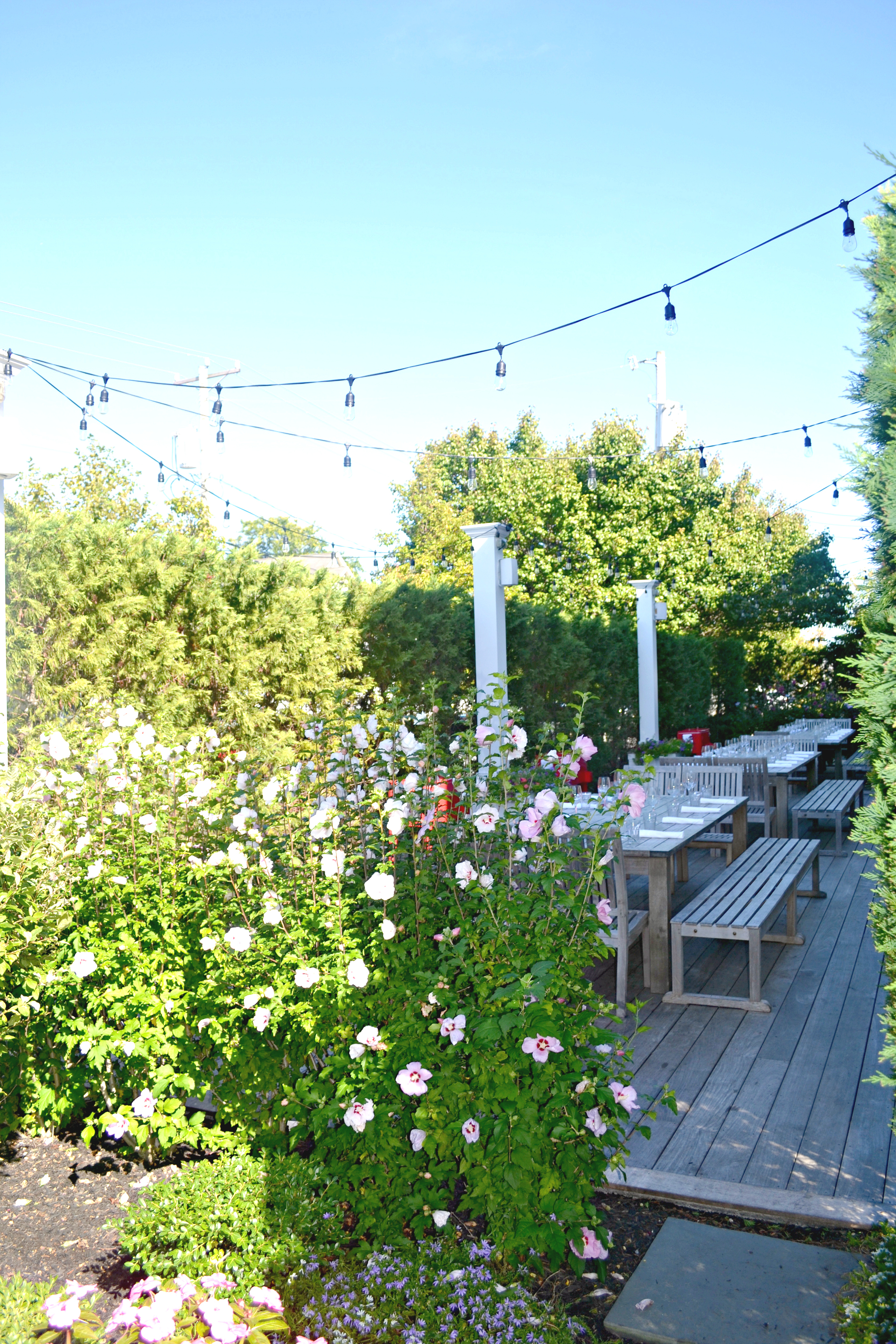 As you step onto the deck, you instantly feel like you are in a garden of sorts.  This romantic space reminds me that you don't need to have a lot of space to have a great space. In fact, often smaller entertainment areas can feel more intimate and inviting.
The next reason why I love this space is because it's shows how landscaping can have a big impact.  This particular area sits adjacent to the street where cars often park.  But once you walk out onto the deck,  you certainly don't feel like you are sitting near the road.  A simple screen of arborvitae trees blocks out the entire world.  For anyone who struggles with close neighbors, this is a great example and inspiration to show how you can create your own  outdoor living area separate from what's happening all around.
The construction of the deck, landscaping  and the elements that make this such a great space were clearly thought out during the design phase.  The columns that were built opposite of the restaurant help anchor the deck and make it feel more symmetrical.  The long tables which serve as communal dining tables run down the center of the deck also add to the symmetry of the space.  The string lights add the perfect amount of whimsical making it a perfect place to transition into evening.
I love how the furniture is a simple beautiful teak. The simplicity of the furniture allows for the other elements of the space to shine.  By blending into the rustic vibe, the furniture  only compliments the space.  With a quick switch of summertime flowers to fall mums this space easily transitions to fall.  Some rustic plaid tablecloths could easily make this space ready for some cooler September dining.
Beyond the deck, you will find one round table.This space could be recreated in any backyard either with a table as seen above or could be re-imagined to include a small fire pit with surrounding natural Adirondack chairs.  Created out of pebbles, slate tiles and a privacy screen, this would be a great inspiration for anyone wanting to create an intimate space.  From a city brownstone to a suburban home, this outdoor area only needs a small amount of space to be recreated.
Planting shrubs and small trees are best completed in the fall making this a perfect DIY outdoor project to tackle this fall.  The fall is a great time to consider completing an outdoor living project.
If your looking to complete a larger outdoor project and you plan to hire someone for the job, don't wait till next May to contact a landscaper or contractor.  Most landscapers and contractors will already be booked with projects.  Now is a great time to start moving forward with an outdoor space  so you can enjoy it by next spring/summer.
The reason why I love this space so much is because my own backyard entertaining area is quite small.  We are on a slope and we only have a small sliver of a flat area which will become our outdoor entertaining space at some point down the road.
I love the Diving Horse's outdoor dining area because it inspires me to embrace what I have and just focus on making it the best it can be vs. wishing that I had a larger flat backyard like others in my area.  We can't always have everything we'd like, but we can make the best of what we have.
Amazing that this somewhat sliver of a space adjacent to a busy road just might be my favorite outdoor spot down the shore.   If you're in Avalon, be sure to check it out this BYOB.  For a date night or for a place to meet up with friends, believe me the food and the atmosphere does not disappoint.
The Diving Horse is located at 2109 Dune Drive in Avalon, New Jersey.  If you are walking by, take a peek between the bushes to check out this magical space.  And if you are not into communal dining, they have a beautiful indoor dining area as well.
Main Line Haven is your resource for all things home along the Main Line.  From buying & selling, to construction and design resources, plus how to truly live in your home and keep it looking and feeling like your own personal haven. We believe that there is nothing greater than the possibility of home and what that can mean in our lives. Start your journey to creating a home that you love today with us.
Looking to discuss all things home with your friends and neighbors around the Main Line, join our private Facebook group here.