In Part One of this three part series we discussed the idea of taking layers away from our home décor to create space. That space can be used to open up a room to give it a more light and airy feeling, or it can be used to add new elements to enhance the overall look. While this is a very important step to take in keeping your home fresh, there is another more important step that often goes overlooked. Creating the proper foundation to build upon, meaning the basic elements or details of a room or space.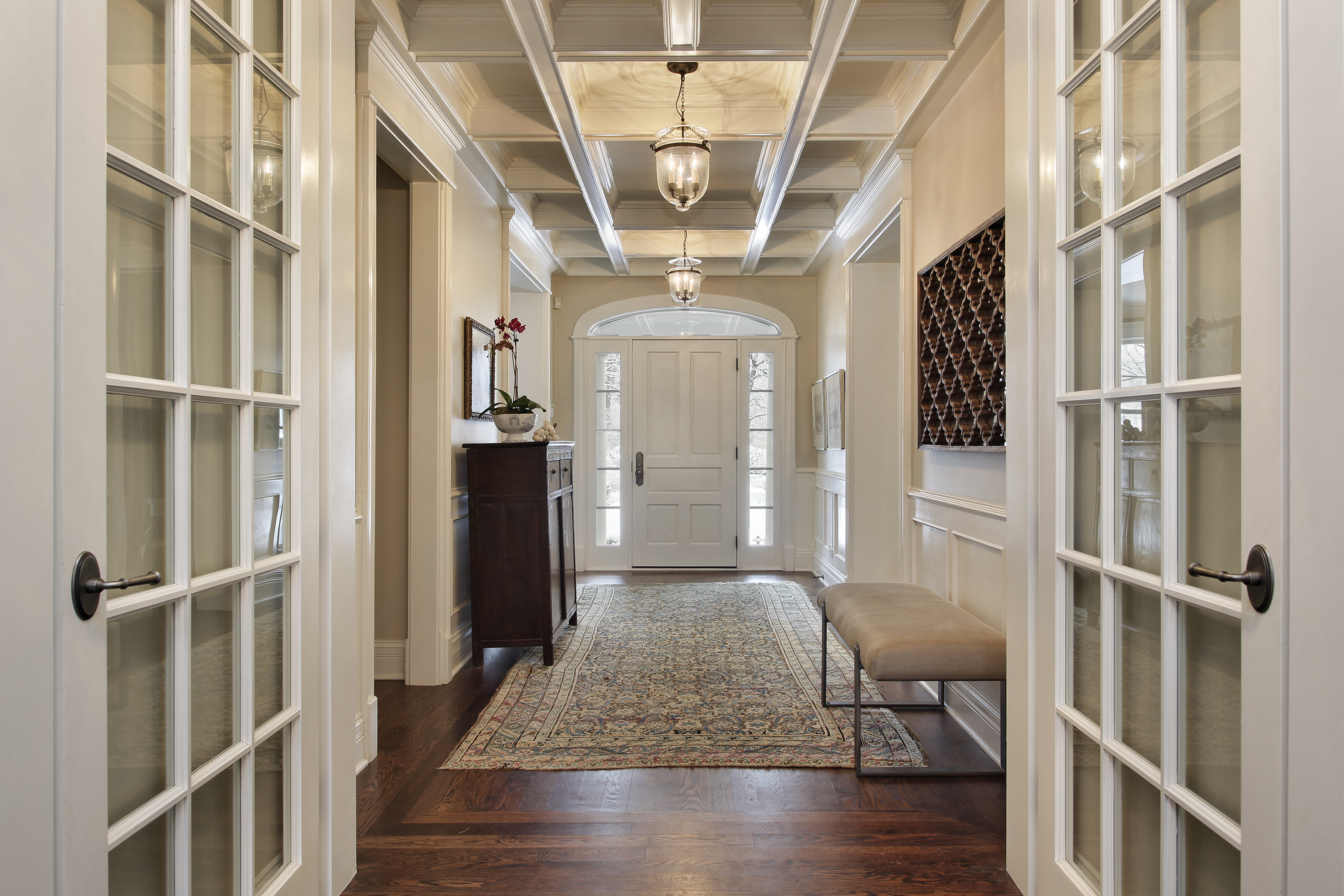 Taking away layers will always be much more effective if the fundamental components of a room are in place. It makes sense to invest in the basic elements of a room such as lighting, moldings, custom cabinetry, floors and walls before you move onto décor. I am a firm believer in always having a plan and for every plan there is a starting point. Whether you are just starting off in your new home or considering a redesign, it is important to make sure your foundation is right.
When we bought our new home, we only had six weeks to renovate. We decided to focus on the downstairs. Because we had limited time for the upstairs, we decided to paint the rooms and install lighting fixtures as there were none throughout the entire house. Because we weren't able to complete the moldings throughout the second floor, I'll never be completely happy with any rooms upstairs because I love the look of moldings and wainscoting. To me, it completes the look of a room.  Here are some photos of our first home in Ardmore where we did the same thing.  You can see how these elements make a big difference in the look of a home.
If you aren't able complete all of the room elements, try and break it up to fit your budget. I personally think that lighting is very important. It's both functional and aesthetic, making this a good project to tackle first. In a perfect world, flooring would happen before you ever move into a space. When we bought our current home, due to budget and time constraints, we decided not to finish our first floor hardwood floors as they were in pretty good shape. Looking back, my husband and I regret this decision because to do it now would be a much greater project. We will probably have the floors refinished during our kitchen renovation which is the next time it will make sense.
After lighting and floors, I would move on to crown molding. It's nice when this element runs throughout a home from room to room. You can then move on to wainscoting or custom cabinetry if you wish to add additional detail. Personally I love wainscoting and I would have it in every room if I could.
Do you like to add seasonal decor or do you find your style often changing? Creating a neutral backdrop will allow you to switch up your look more often with the changing seasons and your own personal style trends and will allow you to continue to love your home for longer. Focusing on the basics and building a strong foundation will allow you to make bolder choices in décor because you know you won't have to be married to those decisions forever. And if an empty room looks beautiful because of investment made into the basic elements of a room, your décor and personal style will only add to the overall feel of the space. Think of Pottery Barn. They generally keep a neutral foundation but can easily update the look through fabrics (pillows and blankets) and seasonal décor.
I wanted to create a neutral backdrop in my family room because that is a room where I envision wanting to change up the look more often. But in my dining room, I created a backdrop that really makes a statement which I also love. A dining room, powder room and foyer are great places to take more of a risk and make a statement. A neutral backdrop will more easily allow you to keep your home up with trends and will help you avoid time stamping it with a certain period. But it's good to also put your own stamp on your home. I think it's important to create a balance as this makes a home more versatile.
I think we can all recognize homes where it is obvious when certain renovations were complete.  Colors and décor often give clues to when a space was completed. I suspect we may look at these last few years as the years of gray. When you want to incorporate your latest style into your home or what's popular, consider that style and trends are always changing so make sure you mix it up.Click here to see before after photos of our current home renovation. You'll see how I use different wall colors, wallpaper and other elements to complete my first floor.
Going with a neutral palette and investing in the basic elements of the room will also add to the value of your home. If you're not sure how long you plan to stay in a home, making an investment in updating the lighting, flooring and moldings will add value to you now and will also add value to your home. Most buyers today don't want to do a lot of work to a home, so by making these updates, your home will be more sought after.  Whether you are between seasons or between redesigns, always make sure that you are building upon elements.
Think of your home or a specific room as if it were a dress. You want to invest in a quality dress that will last for years. With the dress being the foundation, it can be accented with jewelry, shoes, scarves or hats. I'd much rather invest more money on a gorgeous dress and add less expensive accessories than try to enhance a lesser dress with more expensive ones. The same can be said for a room.
Abraham Lincoln once said, "Give me six hours to chop down a tree and I will spend the first four sharpening the axe." Obviously we aren't chopping down trees, but the basic principle is that creating a good backdrop, the foundation as we call it, simplifies the work that comes after. So remember that investing in the basic elements of a space should be considered before spending money on decor to compliment it with. Use your foundation as the canvas to paint your own home masterpiece.
But don't just be satisfied with keeping the interior updated. In the third and final installment we will discuss how to handle your outside space in order to add value and functionality to the entirety of your home, as well as happiness to your life.