Judy Matusky of  "COOKING FAST AND EATING LIGHT " shares with Main Line Haven how we can have a "Garden to Table" experience everyday.
Fresh herbs elevate a dish with nutrients and flavor but they can be expensive to purchase at the market. Here's a tip, herbs are extremely easy to grow and many are perennial, meaning they will return year after year. You don't need to be an experienced gardener to grow them; you don't even need a garden. A few pots placed in full sun on your patio will do. It is true, my husband is the gardener in our family so I can't take any credit for growing the herbs but I do love having them a few steps from my kitchen door so I can add them to spirited drinks, summer salads or light and luscious desserts. My top 5 herbs are basil, rosemary, thyme, sage and spearmint. A runner-up would be parsley.
Basil is an easy-to-grow versatile herb that compliments just about any food. It does well in pots and its lush, green leaves beautifully accent patio, deck or garden. Basil likes the heat of the summer and hates to be over watered. It can be started from seed or bought as immature plants.  Basil does not grow well indoors and it's hard to start in the cool, early spring so it's best to wait until June to plant. It's an annual so expect to replant every year. It plays well with eggs, tomatoes, salads, melon, even lemon sorbet. Make sure to snip off the leaves frequently. The more you pinch the better it grows. Make sure to snap off any flowers at the top of each leaf cluster.
Rosemary is a must. My mother's name is Rosemary so that in itself makes it special to me. Rosemary is a stronger flavored herb but like basil, works well with many dishes. I love it tossed with roasted potatoes, lightly fried in olive oil, sprinkled on chicken and mixed into drinks. Rosemary can be a perennial, if you live in warmer climates. But it also can be easily grown in pots and wintered over on a sunny windowsill.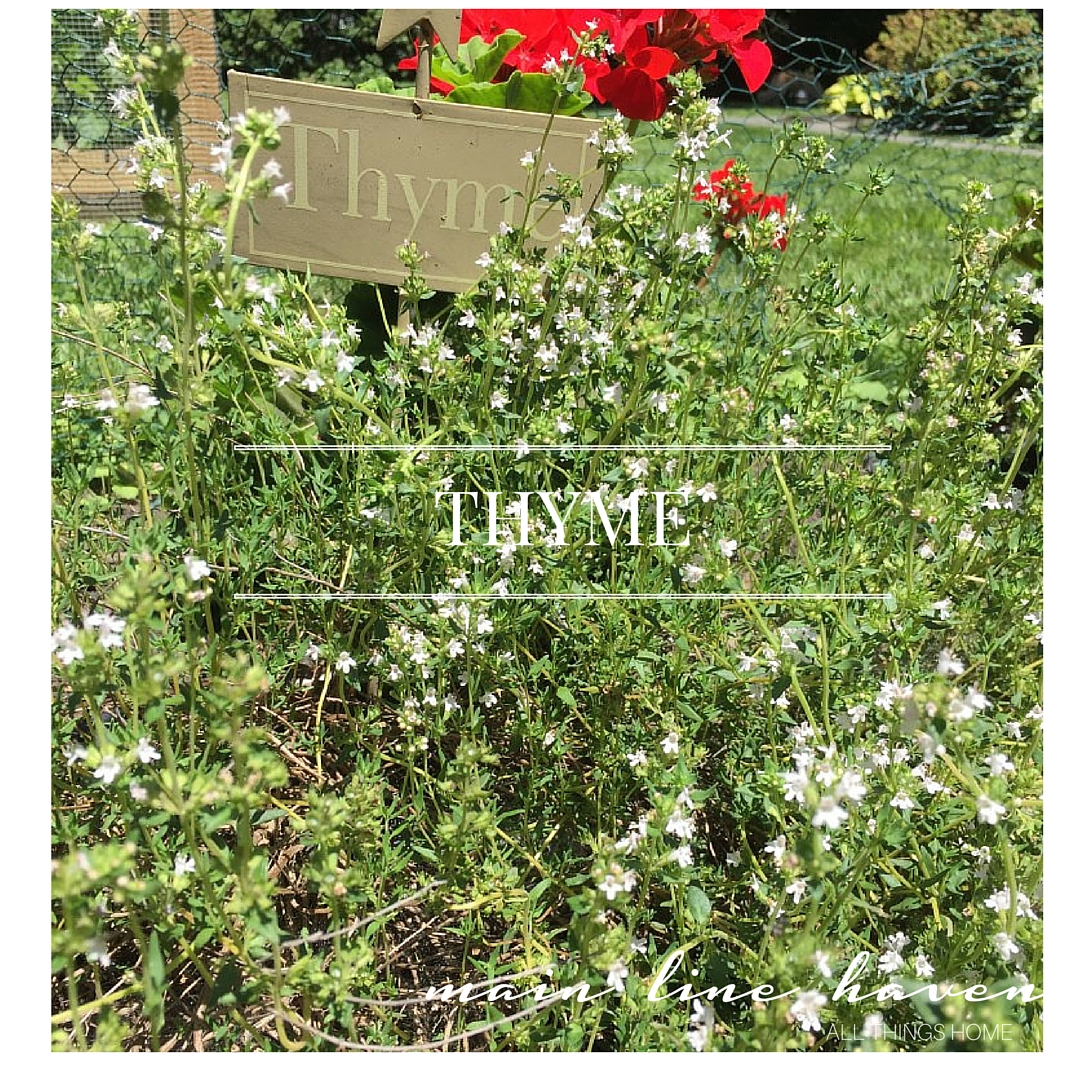 Plant it once and thyme could return every summer for years to come. A perennial in many areas of the country including here in Philadelphia, its beautiful white flowers lovingly accent gardens, decks and patios. It grows well in pots where it's wandering ways can be easily contained. Plant around rock walls and along paths. Thyme grows wild in most Mediterranean countries, releasing a beautiful aroma as you brush by it on a hillside hike. It's a must for any home cook because it's called for in many recipes. To use fresh thyme, simply pull your fingers gently down the stem to release the tiny leaves. It adds depth of flavor to vegetable soup, beef stew, roasted chicken and even a Gin Rickey.
Like thyme,sage is a perennial that can grow into substantial plants if left to its own accord. My husband cuts it back hard every year to produce tender shoots the following summer. Left to grow, it produces beautiful purple flowers that attract swarms of honey bees. One of my all-time favorite herbalicious recipes is to lightly sauté sage in olive oil then delicately lift it from the hot oil with tongs. The resulting dark green leaves looks like a lattice of lace and literally melts in your mouth like a healthy cheese puff.  You can eat fried sage as a snack or add it to potatoes, pasta or fish. Of course, sage is an essential ingredient to any Thanksgiving feast.
When growing mint, a lot of people confuse peppermint with spearmint. In short, don't grow peppermint. A highly invasive plant it will take over your garden and remain there for years. It also tends to be bitter in the fresh form. Spearmint, however, is a less aggressive grower that adds a refreshing taste to drinks, salads and desserts. Muddle spearmint for mojitos or lemonade, toss it with chopped watermelon or add it to grain-based salad like tabbouleh. It's the right mint for lamb chops and a perfect garnish for strawberry shortcake, chocolate desserts or fruit sorbets.
Growing Tips: There are a few basic rules to growing herbs in pots. First, frequent watering of pots washes nutrients from the soil so you'll want to fertilize pots more often than you would if growing herbs in your garden. For organic gardening, Google Gardens Alive. My husband loves their organic fertilizers.  Second, when it comes to pots, think plastic not ceramic. Plastic pots look just like ceramic pots, are cheaper and retain moisture much better than ceramic. Third, make sure your pots have drain holes at the bottom. Herbs do not like to sit in water. Finally, trim your herbs frequently. This will help them to grow fuller, delay them from going to seed, and will allow you to cook with fresh herbs all summer long.
Here's a recipe for a refreshing, herbal cocktail, perfect for your next summer patio party; The Rosemarie: rosemary, gin, lemon juice and a splash of club soda.  Link to Judy's blog for recipe in photo.
Judy Matusky is a registered and licensed dietitian with Main Line Health. She lives with her family in Ardmore. Her cooking and nutrition blog, Cooking Fast and Eating Light, can be found here.